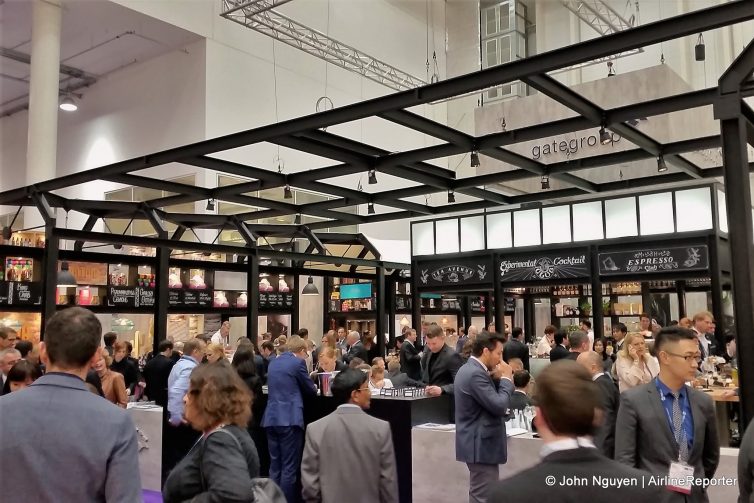 In conjunction with the Airline Interiors Expo last month, the World Catering & Onboard Services Expo (WTCE) was also co-located in Hamburg, Germany… talk about a week of #PaxEx (passenger experience)! WTCE brought together vendors who showcased the best of their food and drink, wares, and concepts, all in the name of passenger comfort and meeting customers" demands (of course, by that we mean the airlines as customers). Everything from futuristic catering systems to plastic spoons and condiments, we take a look at some highlights and personal favorites.
WTCE Highlights: Automated Beverage Cart by SkyTender
One of the coolest and game-changing technologies at WTCE was an advanced beverage cart that recently received FAA certification. SkyTender has a pop-up fountain that automatically dispenses a pre-set amount of the selected beverage at the touch of a button. The cart uses tanks of purified water in a closed-loop system to mix and create up to ten different beverages, hot or cold, still or carbonated from a CO2 tank.
Each cart holds enough water to make up to 250 beverages, and can be easily replenished in-flight by the crew from additional storage carts. On a single charge of its swappable battery, the cart can dispense 2,000 beverages or more.
The SkyTender setup itself weighs just under 45kg (100lbs), while in comparison a standard, fully-loaded beverage cart weighs around 98kg (more than 215lbs). Beyond its own weight savings, the system is designed to reduce over-catering, which improves operating efficiency by reducing product waste decreasing fuel burn due to additional weight. An onboard computer not only manages its primary function of dispensing tasty drinks, but also collect data on how the drinks are dispensed, giving the airline insight as to which beverages are popular… and which are not.
The only waste produced by the SkyTender cart are empty drink syrup boxes, which are collapsible and recyclable. Consolidating beverage service into SkyTender frees up space in the galley by both reducing the number of carts and eliminating redundant systems such as the coffee maker, saving further weight and fuel burn, simplifying maintenance, and allowing for additional ancillary revenue by having space for other carts, such as duty free or buy-on-board.