For those following the impacts of COVID-19 on American aviation closely, it's been an exhausting couple of months. Airlines have been hemorrhaging money, arguing for CARES Act exemptions from a fairly-inflexible DOT, and reducing their employment obligations to tens of thousands of employees. The full impact of the crisis on aviation, and the economy at large, still isn't known.
The airlines have been reacting to the decreased demand for passenger flights by operating fewer flights with fewer aircraft. Being the avgeek I am, I was interested to see the evolution of each airline's fleet as it reacted to COVID-19 – which types are getting hit hardest? Do airlines have a preference for newer, more efficient equipment, despite decreased fuel costs? There has been some coverage of the overall number of flights getting operated, pre-crisis vs. post-crisis scheduling, but I was interested to see how many aircraft each airline was actually operating.
The charts that follow show the total number of unique aircraft that flew for each airline, by type, each week from 30 December 2018 through 26 April 2020. This includes all flights that were detected, primarily derived by ADS-B reports, to JetTip's data provider, including ferry, maintenance, cargo, etc. In other words, not all of these flights were necessarily revenue passenger flights – several carriers are doing cargo-only flights with their heavies now, and some flights are being operated to keep up with maintenance requirements.
In addition to showing the total number of unique aircraft operated by type by each airline, a percentage is included in the legend, which shows the change between the week of 1 March 2020 (a very recent "normal" week just before the crisis hit) and the week of 26 April 2020, the most recent full Sunday-Saturday.
Southwest Airlines
Southwest operates the most mainline flights in the U.S. with their fleet of 737 aircraft. In early 2019, you can see their MAX drop out of service (along with a bump where they were flown to storage), followed by a fairly steady year of around 700 operating aircraft. As a result of COVID-19, 1/3 of their smaller 737-700s haven't been operating, and a small number of 737-800s have also dropped out of circulation. In total, Southwest operated 169 fewer aircraft last week than they did at the beginning of March.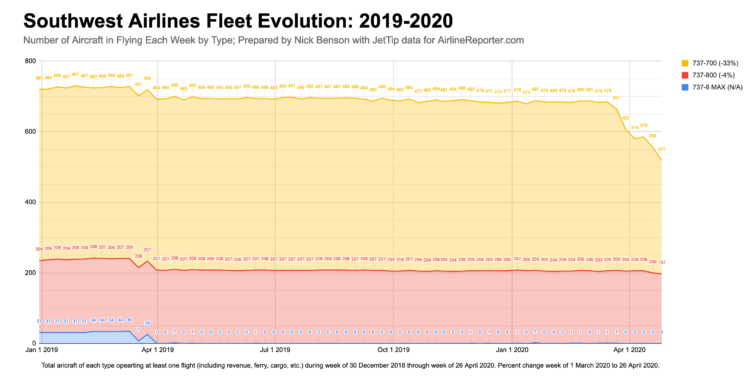 Delta Air Lines
Delta's operating wide-body fleet has decreased by nearly 100 aircraft; the A330neo, A350, and 777-200ER have fared best; I suspect fuel economy on the Airbus variants and belly cargo capacity on the 777 have served those types well. The older A330s and 767s have been cut very deeply.
Their diverse narrow-body fleet has shed about 400 members from its roster; the A320s have been grounded completely, as have the majority of their MD-90s, 737-900ERs, and both flavors of 757. Notably, the new and efficient A220-100 fleet hasn't been impacted.
Delta has announced the MD-88s and MD-90s will leave the fleet entirely in June.
American Airlines
American has announced the largest number of fleet retirements in the wake of COVID-19; their A330-300s, 757-200s, 767-300ERs, E190s, as well as PSA's CRJ200s will be leaving the fleet soon – in fact, based on the data here, it's entirely possible the last revenue flights of those types for American have already taken place – pretty remarkable.
For the remaining types, cuts have been more modest; it appears the larger belly cargo capacity of the 777-300ER is keeping more of them airborne than the 777-200ER. American operated about 350 fewer aircraft last week than the beginning of March.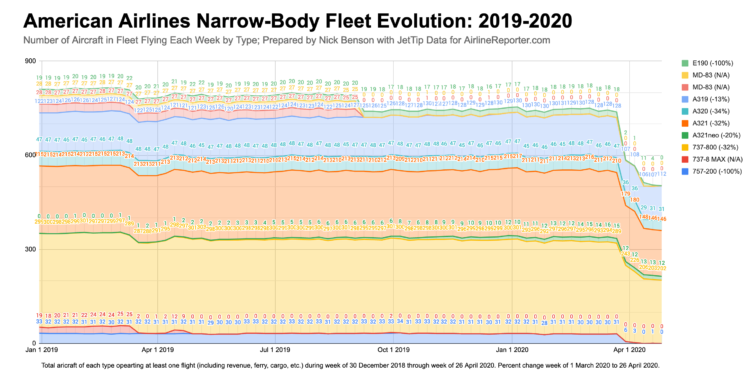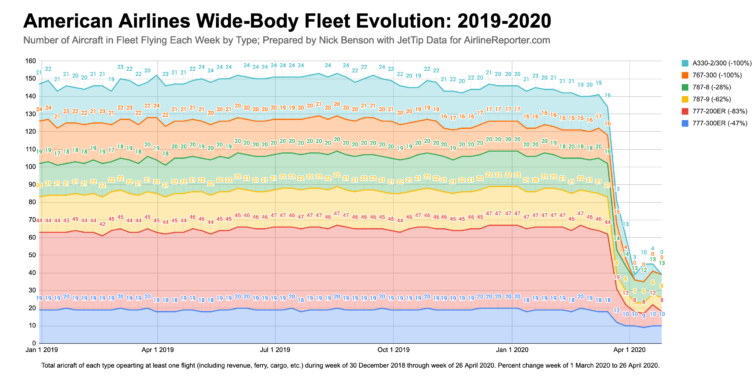 United Airlines
United has trimmed about 400 aircraft from their active roster; their 737-800/900s and 757s have been hit hardest on the narrow-body side. For heavies, the 767s have almost stopped entirely, and the smallest versions of the Dreamliner and Triple Seven have been cut completely, while their larger counterparts continue at pre-crisis levels.
United hasn't announced any fleet retirements as a result of COVID-19; if they were to follow American's lead and consolidate/simplify their fleet, the 757 and 767 would seem logical candidates, though whether or not that'd make sense for United is beyond my area of expertise.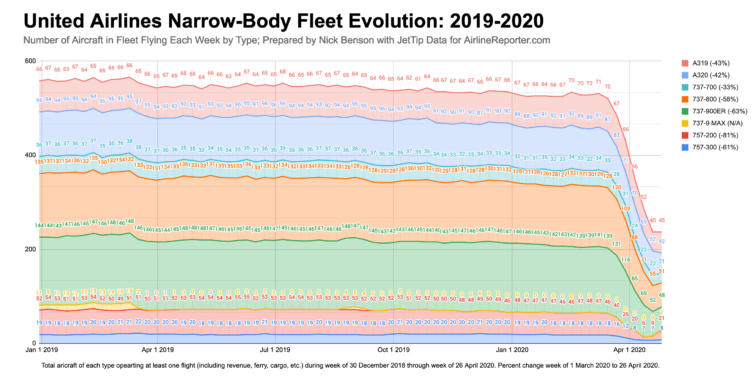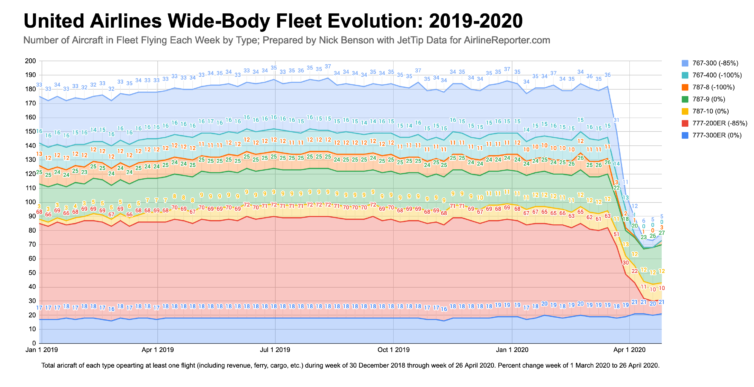 JetBlue Fleet Evolution
JetBlue has reduced its active fleet from ~250 aircraft down to ~100, and made across-the-board cuts of 60% to their E190, A320, and A321 fleets.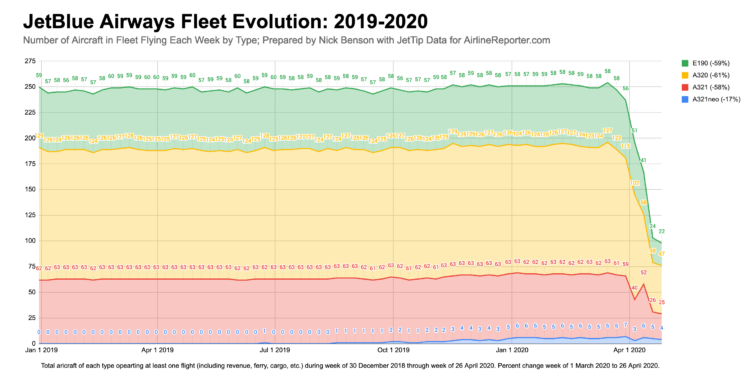 Alaska Airlines
Alaska has reduced their active fleet from around 225 to 80.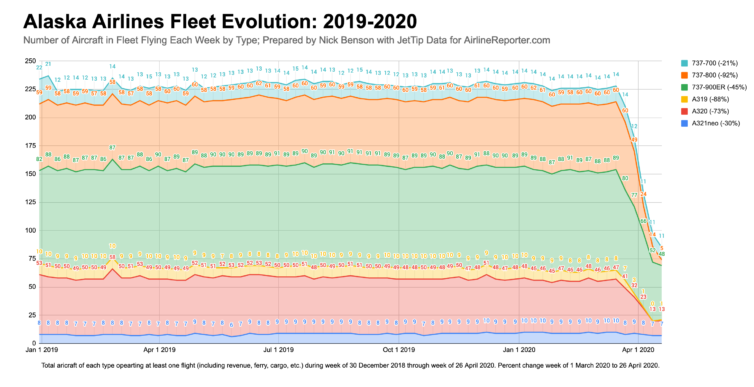 Spirit Airlines
Spirit's Airbus fleet has been trimmed down to about 50 from 150. Their newer A320neo  has fared relatively well, though they're keeping more of their conventional A320s in service altogether.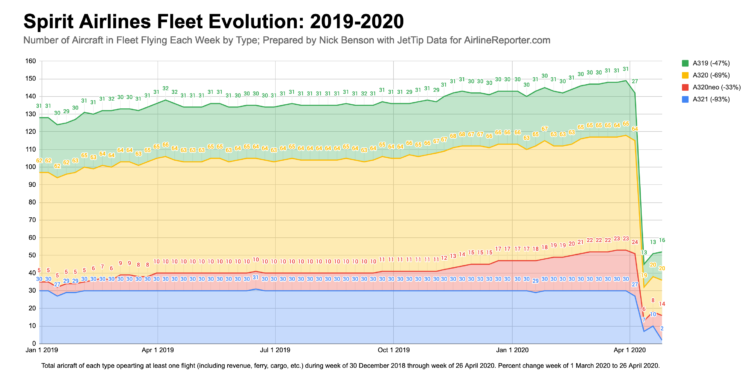 Frontier Airlines
Frontier has consolidated their fleet in the most elegant fashion of any carrier, cutting everything but the A320neo, reducing the fleet from roughly 100 to 55.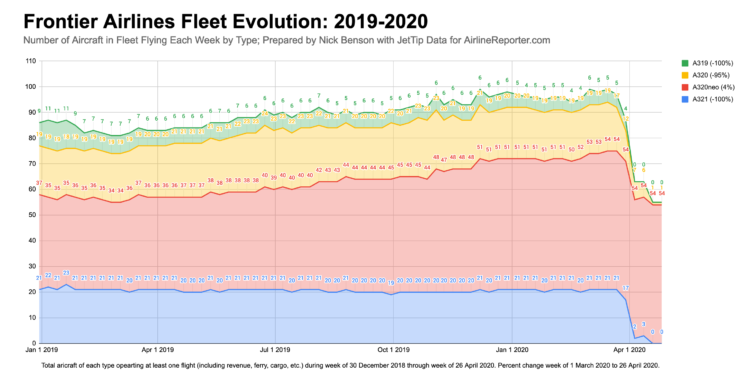 Allegiant Air
Allegiant had made fairly deep cuts early on, but has been adding more aircraft back to the active mix as they resume some service at the behest of the DOT; they appear to prefer the larger A320 over their A319s.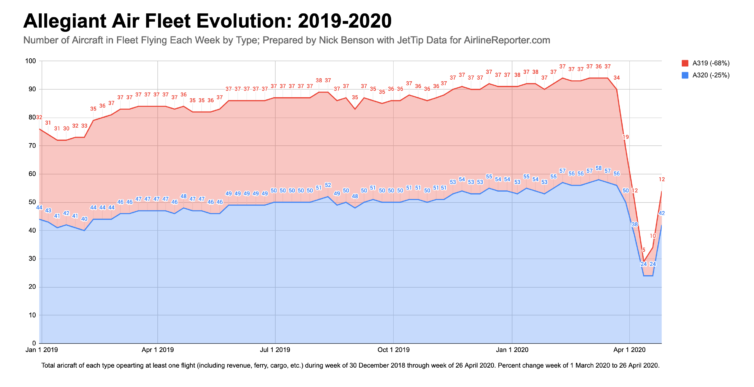 Hawaiian Airlines
Hawaiian's 717s, which fly inter-island, remain in service; the long-haul A321neos are grounded, and 2/3 of the A330-200s are out of service.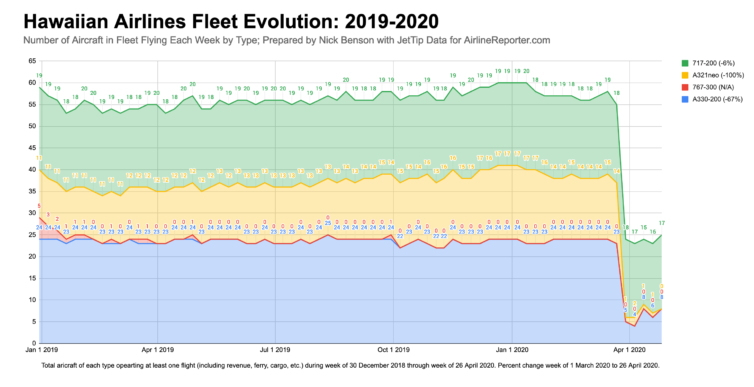 Sun Country
Sun Country has a fairly simple fleet now, with 737-800s and a single charter-configured 737-700 (a few of their Amazon Air freighters, not yet in service, got picked up in the numbers here too, but didn't make an appreciable difference). Sticklers may also notice the Transavia lease aircraft, which operated on behalf of Sun Country over both winter seasons, do not appear in these figures.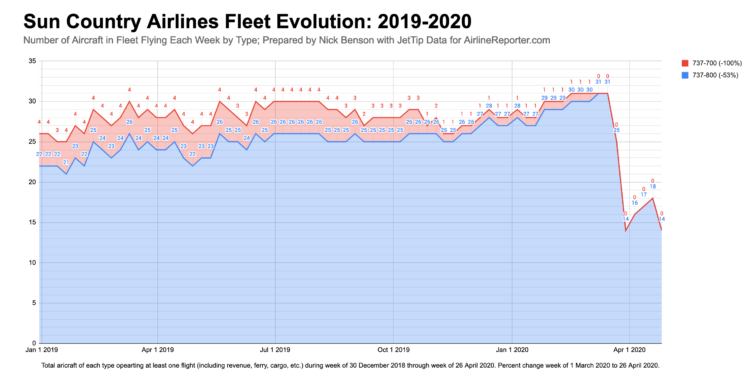 Half the Aircraft Carrying a Fifteenth of the Passengers
Of the mainline commercial passenger airlines surveyed, there were 4,065 aircraft flying before COVID-19 impacted the industry. As of last week, they were flying 2,133 aircraft – a combined reduction of 48%, with each airline reducing their fleets by an average of 51%.  Several fleets have been retired, and the future for some of the remaining types, and airlines, is uncertain. There's been some recent chatter lately that TSA screening numbers have been increasing, which is a good sign, but as it currently stands, American carriers are operating half of their fleet to serve roughly a fifteenth of the passengers they had last year.