I adore Southwest Airlines and I'm a proud Missourian. Can you imagine how excited I was to attend last week's special event?! As soon as my Missouri-centric invite came through, I knew we were dealing with a Missouri One, but held back as I didn't want to ruin the fun. Those who fancy themselves Southwest experts knew something might be up when N280WN (Penguin One- a SeaWorld plane overdue for de-livery as a result of contract termination) entered the paint shop in Spokane, Washington but never left. What could cause such a delay in the paint shop? A new livery, of course!
My first thought when I put two and two together: "Isn't our state flag kind of boring?" Okay, fine. It is. But our state seal is pretty sweet and thankfully the folks at Southwest and their advertising firm GSD&M took a bit of artistic privilege. The result? My new favorite special-liveried bird. This isn't the first time they've had little to work with, yet hit a home run. Has anyone seen Florida or Nevada's state flags? Sort of dull, but absolutely stunning on a 737.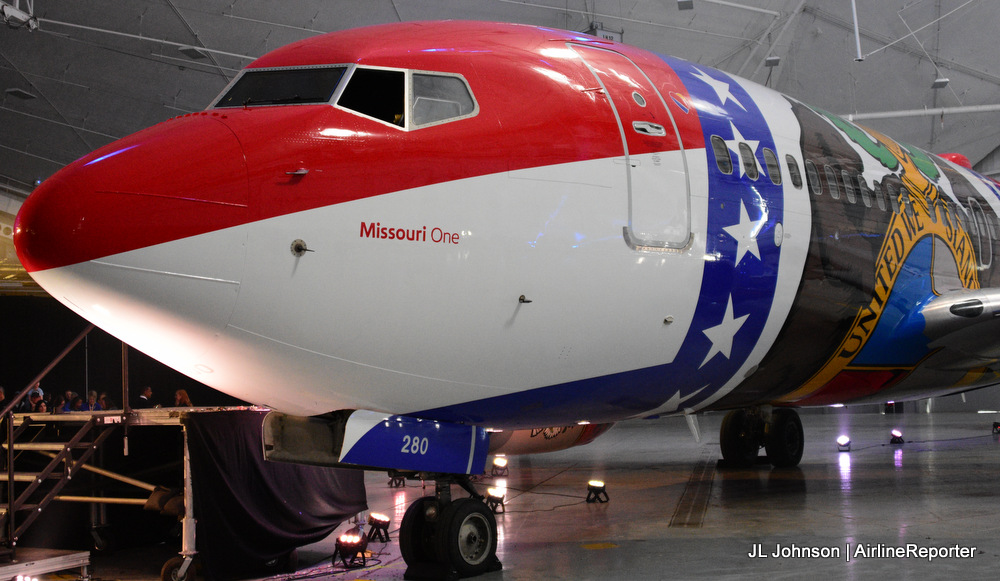 I'm seeing stars
Missouri was the 24th state inducted into the union, and as a result there are 24 stars on our flag as well as our seal. To my relief, the designers of the livery took note of the significance of this number and there are 12 stars on each side of the plane. Add them up and we've reached that magic number.
BONUS: Airline Special Liveries of the Week '" Southwest Airlines
Red white and blue
Behind the state seal, the plane is draped in bold red, white and blue, each color having its own significance but together honoring our nation's colors while also giving a nod to the French who had such a large part in the state's heritage.
Two bears are better than one
"Isn't there already a Southwest special livery flying around with a bear on it?" Yes, and that would be California One, a very cool plane in its own right. The two bears on Missouri One, however, represent the size and the strength of our state, but also the courage of Missourians. Famous courageous Missourians include Ulysses S. Grant, a renowned Union General during the Civil War who went on to become President of the United States, as well as John J. Pershing, one of the most decorated and highly revered [WW1] generals in our country's history. Then there was this scrappy fellow named Charles Lindbergh who made Missouri his home. I think as AvGeeks we can all agree barnstormers, in particular the early ones, are nothing short of courageous and perhaps a bit crazy.
We love bears so much we added a third — I can bearly believe it!
The left side of the seal, enshrouded in "United We Stand" represents the state, while the right, the seal of the United States. The symbolism here is striking, showing even early on in Missouri's history, the acknowledgement and desire to balance the needs and powers of the state with those of the union.
Crescent moon
Fans of astronomy will note that the moon on Missouri One is a waxing crescent moon. A new moon (a totally dark moon) begins its transformation from dark to light with the new crescent (waxing) moon. Here we are reminded of possibility and note that the future, which is in our hands, has possibility to become ever brighter.
Conclusion
Having the opportunity to attend an event with my favorite airline honoring my home state in such a big way was a real joy (not to mention, seeing my pal Gary Kelly again). It was of particular significance that Missouri One's first passenger flight would carry VIPs from KC to St. Louis, where the plane enters the fleet as part of regular operations.
Southwest is the dominant carrier here in KC as well as with our "big brother" in the far east of the state (St. Louis). After over 30 years of operation in this great state it's clear Southwest's commitment to Missouri is unwavering, even at a time when others are pulling back. I'm pleased to see the largest domestic carrier recognize the contributions the Midwest has to offer. The dedication of this beautiful plane is a testament to, and affirmation of, said partnership.