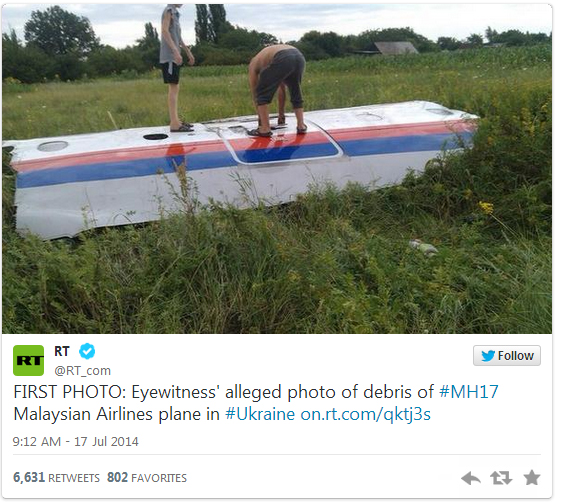 A Malaysian Airlines flight operating from Amsterdam to Kuala Lumpur has crashed in Ukraine with 298 on board; 283 passengers and 15 crew.  The tail number is reported to be 9M-MRD. The flight was operating as flight 17.
The plane, a Boeing 777-200ER, was delivered to Malaysia Airlines in 1997. The plane's first flight was July 17, 1997, which is exactly 17 years before its crash. At this point, we know that the plane was taken down by a surface-to-air missile, but we are unsure who fired it.
MALAYSIAN FLIGHT 17 CRASH UPDATES
11:05aPDT: According to airlineroute.com, the flight number will be changed from MH17 to MH19 on July 25, 2014. The delay in changing the flight numbers is because each ticket issued on the flight needs to be re-issued and that will take time. The airline likely wants to make sure they have the proper time to get the new numbers in the system.
9:15aPDT: President Obama has identified that one of the passengers on the plane was an American.
8:37aPDT 07/18/14: Malaysian Airlines has released another statement partly defending the actions of MH17 and their decision to fly over Ukraine:
MH17's flight plan was approved by Eurocontrol, who are solely responsible for determining civil aircraft flight paths over European airspace. Eurocontrol is the air navigation service provider for Europe and is governed under ICAO rules.

The route over Ukrainian airspace where the incident occurred is commonly used for Europe to Asia flights. A flight from a different carrier was on the same route at the time of the MH17 incident, as were a number of other flights from other carriers in the days and weeks before. Eurocontrol maintains records of all flights across European airspace, including those across Ukraine.

In April, the International Civil Aviation Organization identified an area over the Crimean peninsula as risky. At no point did MH17 fly into, or request to fly into, this area. At all times, MH17 was in airspace approved by the ICAO.
At this point, all but four of the nationalities of the passengers have been identified by the airline: 189 Netherlands, 44 Malaysia, 27 Australia, 12 Indonensia, 9 UK, 4 Belgium, 4 Germany, 3 Philippines, 1 Canada, 1 New Zealand.
According to CNN, during an emergency meeting of the U.N. Security Council, they stated that the plane was "likely downed by a surface-to-air missile … operated from a separatist-held location in eastern Ukraine."
5:40pPDT 07/17/14: Malaysian Airlines has provided an updated list of the passengers and crew on board the aircraft:
Netherlands: 154
Malaysia: 43 (including 15 crew & 2 infants)
Australia: 27
Indonesia: 12 (including 1 infant)
United Kingdom: 9
Germany: 4
Belgium: 4
Philippines: 3
Canada: 1
Unverified: 41
Total: 298
The updated list shows there were 298 people on board flight 17, not the 295 originally reported. It is likely that the infants were not included in the initial count.
The release also included the following:
With immediate effect, all European flights operated by Malaysia Airlines will be taking alternative routes avoiding the usual route.

Malaysia Airlines flight MH17, which was on a scheduled flight from Amsterdam to Kuala Lumpur went down in eastern Ukraine. Malaysia Airlines confirms that the aircraft did not make a distress call.

The usual flight route was earlier declared safe by the International Civil Aviation Organisation. International Air Transportation Association has stated that the airspace the aircraft was traversing was not subject to restrictions…

…Malaysia Airlines is in the process of notifying the next-of-kin of the passengers and crew.

Our focus now is to work with the emergency responders and authorities and mobilize its full support to provide all possible care to the next-of-kin. Malaysia Airlines is deploying its 'œGo Team' to Amsterdam  with a group of caregivers and volunteers to assist the family members of the passengers.

Our thoughts and prayers are with all affected passengers and crew and their family members.

The airline will provide regular updates on the situation.
2:30pPDT: The Prime Minister of Malaysia has released a statement about the Flight 17 crash. In it he states, "If it transpires that the plane was indeed shot down, we insist that the perpetrators must swiftly be brought to justice." He continues with, "This is a tragic day, in what has already been a tragic year, for Malaysia. As we work to understand what happened, our thoughts and prayers are with the family and friends of those onboard the flight. I cannot imagine what they must be going through at this painful time. The flight's passengers and crew came from many different countries. But today, regardless of nationality, we are all united in grief."
You can read the full statement here.
2:15pPDT: US officials have stated that they believe that flight 17 was hit by a surface-to-air missile. However, at this time it is not known who fired the missile; it could have been Ukrainian forces, pro-Russian rebels, or Russian military.
When the nationalities are released and it is determined who shot down the plane, this could obviously cause quite a bit of strife in the region.
1:22pPDT: Jon Ostrower, with the Wall Street Journal just tweeted, "Intel Detected Surface Missile Launch, Tracked Explosion of #MH17, Official Says." According to CNBC, there is a dispute over where the missile originated from. More information to follow.
11:30aPDT: Ukrainian officials are saying that the plane was brought down with a Buk anti-aircraft system; the wreckage is consistent with missile strike.  From AirlineReporter's Russian military expert Bernie Leighton:
The Buk (Beech tree) missile system is a medium range surface-to-air-missile capable of engaging targets at a range of around 20 miles with an equal radar range for the ground control system. Assuming that the missile involved was a 9K37-M1 (modernized Buk) up to three missiles can be guided to a target by a single unit. 
The important thing to remember is that this missile is radar guided, but cannot have its target changed once it is fired. The 9K37-M1 missile was further modernized into an almost wholly different system called the Buk-M3 (or as NATO calls it SA-17). Only Russia operates the SA-17, but everyone from Ukraine to Finland uses the classic Buk system alleged to have been involved in this tragedy.
10:45aPDT: The evidence from sources on the ground seem to point more and more to the likelihood that the Boeing 777 was shot down. The AP is reporting that, "both the government and the pro-Russian separatists fighting in the region denied any responsibility for downing the plane."
An AP reporter on the ground is stating that it appears the aircraft broke up before impact, and that debris, passenger belongings, and bodies are scattered around the crash site. The Financial Times tweeted, "'Little doubt from reports on the ground that it was shot down,' says defense analyst." Many airlines have announced that they will no longer fly over Ukrainian airspace. We have added the image above showing the lack of aircraft in Ukrainian airspace.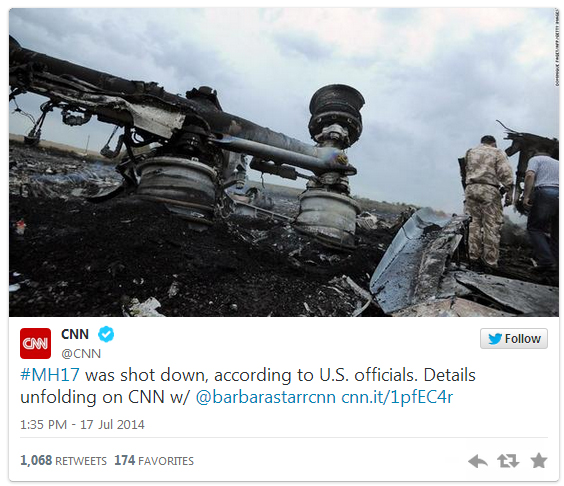 10:20aPDT: The White House has confirmed that President Obama and Russian President Putin have discussed MH17. 'œI can confirm that President Putin near the end of this morning's phone call with President Obama noted the early reports of a downed passenger jet near the Russia-Ukraine border,' White House spokesman Josh Earnest said.
10:05aPDT: Malaysian Airlines has released a statement to the media:
Malaysia Airlines confirms it received notification from Ukrainian ATC that it had lost contact with flight MH17 at 1415 (GMT) at 30km from Tamak waypoint, approximately 50km from the Russia-Ukraine border. Flight MH17 operated on a Boeing 777 departed Amsterdam at 12.15pm (Amsterdam local time) and was estimated to arrive at Kuala Lumpur International Airport at 6.10 am (Malaysia local time) the next day. The flight was carrying 280 passengers and 15 crew onboard. More details to follow.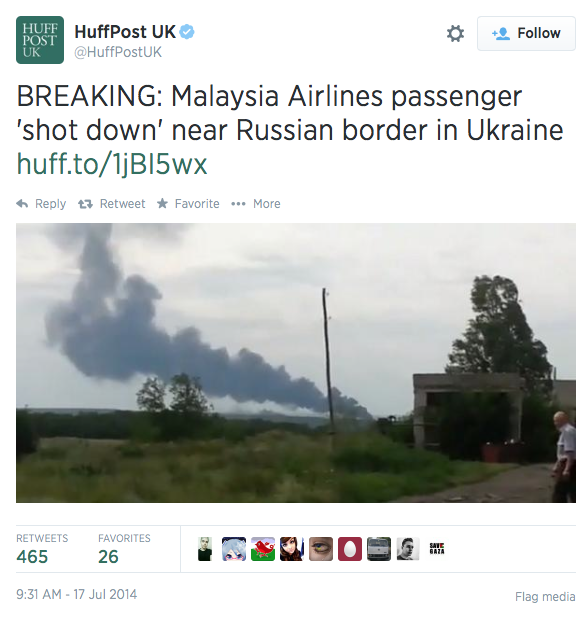 9:50aPDT: The Associate Press is reporting that Ukrainian's President, Petro Poroshenko said that his country did not shoot down the aircraft. 'œWe do not exclude that this plane was shot down, and we stress that the Armed Forces of Ukraine did not take action against any airborne targets,' he said. 'œWe are sure that those who are guilty in this tragedy will be held responsible.' It has also been confirmed that the aircraft flew on its standard and assigned flight path and did not deviate.
9:21aPDT: We have found a VIDEO LINK of the reported crash site on YouTube (seen below). Reuters is reporting via Twitter, "Reuters correspondent on the scene in Eastern Ukraine sees burning wreckage of air plane, bodies on ground"
The Malaysian Prime Minister tweeted, "I am shocked by reports that an MH plane crashed. We are launching an immediate investigation."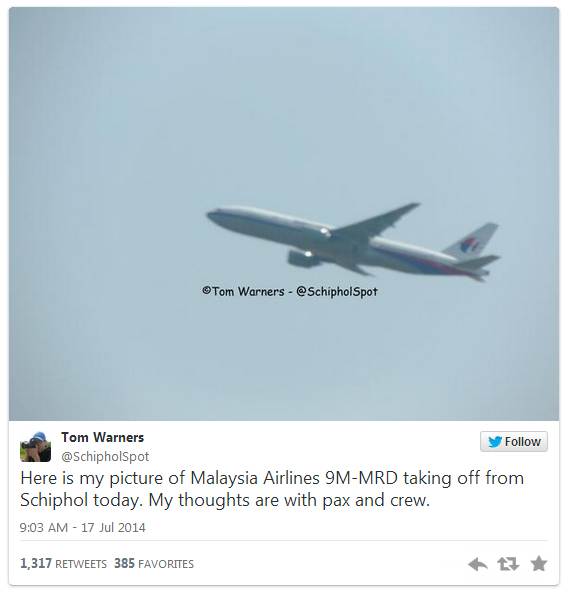 8:53aPDT: Boeing is aware of reported crash.  There are no confirmed reports, from outside the conflict area in Ukraine, regarding the missile.  We are attempting to verify sources, but information is changing rapidly.
The airline has also put a message via Twitter: "Malaysia Airlines has lost contact of MH17 from Amsterdam. The last known position was over Ukrainian airspace. More details to follow." If the plane was indeed shot down, it is critical that unbiased investigation teams have access to the site early, otherwise there will be very little credibility if only local teams have access.
8:38aPDT: Reuters is reporting that the flight was brought down by an ground-to-air missile over Ukraine, with all passengers and crew dead.  Via Interfax, reports indicate that the plane was at cruise level, and brought down approximately 20 miles from the Russian border.
8:32aPDT: The flight did not squawk 7700 (for distress), via @airlineflyer
8:29aPDT:  Interfax's website is offline, presumably from heavy traffic.  Story is being widely reported in mainstream media.
This story was first posted at 8:25aPDT and has been written by multiple AirlineReporter staff – it will be updated as new information surfaces.