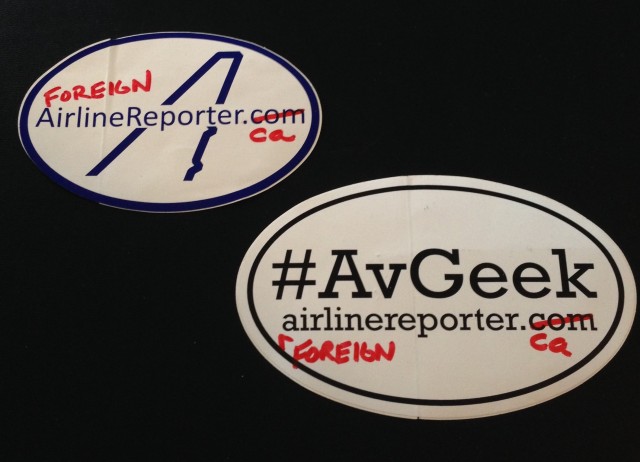 G'Day!  Welcome to the new ForeignAirlineReporter.ca, your new source of all the airline and airliner news you could want, as long as it is not based in the USA.  Under the leadership of the 'œForeign Core' of the site previously known as AirlineReporter.com, and in conjunction with the governments of some foreign nations (who will remain secret for the moment), a hostile takeover has occurred that has changed the management of this website.
After a very productive six years of Founder David Parker Brown's leadership, the AirlineReporter.com brand was ripe for the pickings.  With a great following around the world, respected not only amongst #AvGeeks but the airlines themselves, AirlineReporter.com was at a stage in its life where it could be expanded much further into a worldwide powerhouse.  Today's takeover, lead by former AirlineReporter.com staffers Mal Muir (Australian), Bernie Leighton, & Howard Slutsken (both Canadian), was done to ensure that AirlineReporter's growth was bigger and more in-line with today's more global aviation market.
As part of the takeover, several staff have been promoted to form the new leadership of the site.  Bernie Leighton forms one part of the 'œForeign Core' as a Co-Founder and also holds the official title 'œManager of all things Loud & Noisy.'  Since Bernie's passion is for anything that can destroy an eardrum, expect to see lots of comments about how the newest aircraft just aren't noisy enough.
Howard Slutsken, is promoted from 'œSenior Contributor' to 'œCo-Founder and Director of Corporate Apologies '" Sorry'.  Howard will cover all things Canadian (so nothing really new) but he will be free to mention everything about hockey, Clamato Juice & testing poutine and maple syrup as alternative aircraft fuels.
The final piece of the ForeignAirlineReporter.ca is Mal Muir, who was the first of the outside contributors to write for AirlineReporter.com and now comes online as the third Co-Founder.  Like Bernie & Howard, he also holds a special title, Chief Executive Vice Manager in Charge of Airline Utensils, looking after all things that has to do with food and airline cutlery.  Expect a lot of 'œThat's not an Airline Knife, this is an Airline Knife' remarks!
There is one extra support member of the ForeignAirlineReporter.ca team, Blaine Nickeson.  Although Blaine is originally from the United States, the team believes that he can do his editing job (or else) as well as any of the other members.  Blaine, as the 'œTranslator-in-Chief,' fills a similar role to the one he held at AirlineReporter, however under strict new guidelines to ensure that all mentions of Harbour, Centre, Favourite, or Colour will not be edited and remain the correct spelling.
David Parker Brown remains affiliated with ForeignAirlineReporter.ca.  His new job will be to manually correct each and every #AvGeek sticker we have in inventory.
Though the site doesn't look at all different right now, over the coming weeks we will roll out a new look & feel to the site (at time of print there was still a fight going on over maple leafs or kangaroos with boxing gloves and which was more appropriate). All the new staff at ForeignAirlineReporter.ca hope that you will remain with us in the future and know that with these changes, this is just a new beginning, one that will bring prosperity to everyone'¦ eh?!
UPDATE:
It now appears that David has re-gained control of the site. "After quite the ordeal, I once again have taken control of the site and changing the name back to AirlineReporter.com," Brown stated from his AirlineReporter command based in the United States (insert "U-S-A, U-S-A" chant here).
"I will be changing all the stickers back to the way they were and going on the website and deleting many additions of the letter "u" that was added to the site during the maple-flavoured take over." Brown is just amazed that his Australian/Canadian members would try this on April Fools' Day out of any day of the year.  When asked if there will be any punishments for what happened today, Brown stated, "Haven't they been punished enough already?"