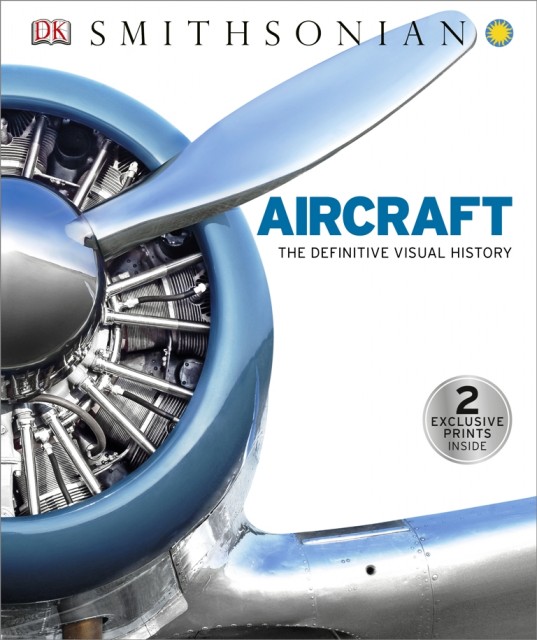 This website gets pitched to review quite a few books and most of the time, we respectfully decline. But when I was asked to take a look at Aircraft: The Definitive Visual History, I was intrigued. SEE BELOW ON HOW YOU CAN WIN A COPY [it is easy and fun].
The book is an entertaining and light way to explore the history of aviation. People who are not too interested in aviation and those who are hardcore AvGeeks will be able to enjoy different aspects of the book.
Really, the book is more of an information starting point than an tell-all source. Although there is not much information for each aircraft, there are  tons and tons of aircraft and photos in the book. Keep a computer near, because there were more than a few times I become interested in wanting to learn more about a plane and did some additional research.
The book is divided into different decades and starts with zeppelins "Before 1920" and goes to SpaceShipTwo in "After 2000." There are about 300 pages of content and thousands of photos = tons of eye candy.
Worked among the pages are highlights of either a particular aircraft or aircraft manufacture that gives much more detail. The sections for aircraft share multiple photos from inside and out.
Although, I was overall very pleased with the book, there were two parts that made me do a double take. First, when talking about the MD-88, the book refers to Delta as "Delta Airlines," versus "Delta Air Lines." It is a common mistake, but still something to be noticed.
More of an issue was on a page talking about airlines developments in the 1990s and the A320. It says that the A320-200 came out in 1995 and that, "The A320-200 series is similar to the earlier -100 models, with the most obvious difference being the addition of enlarged winglets (sharklets)."
A few things wrong there. First, the A320-200 did not come out in 1995, but in 1988. Secondly, the first A320 with sharklets was delivered in 2012, well later than 1995. Also they used an image of the first A320 with sharklets (reg F-WWIQ) that was from 2012 versus an A320 from 1995. It seems odd that multiple people were able to overlook this information, but I don't think it is enough to ruin the whole book experience for sure.
WIN A COPY OF AIRCRAFT: THE DEFINITIVE VISUAL HISTORY
The publisher of the book is willing to give out two free copies of the book to our readers. After thinking of a way to make this contest happen, I want to keep it as simple as possible. All you have to do is leave one comment stating your favorite aircraft ever [more than one will not increase your odds and if you try cheating, you will be disqualified].
When you leave your comment [there are no wrong answers], make sure to include a valid email address in the proper place [I will be the only one to see it and ONLY use it to email the winners]. You have until Thursday July 25th, 2013 at 5pm PST to leave your comment. At that time, I will run a random number generator twice to determine the two winners and the books will be mailed on over to you. Good luck!
CONGRATULATIONS to Steve Z and Micah E who won copies of the book. Thanks everyone for sharing! 
| | |
| --- | --- |
| | This story written by… David Parker Brown, Editor & Founder.David started AirlineReporter.com in the summer of 2008, but has had a passion for aviation since he was a kid. Born and raised in the Seattle area (where he is currently based) has surely had an influence and he couldn't imagine living anywhere else in the world. |
Comments are closed here.