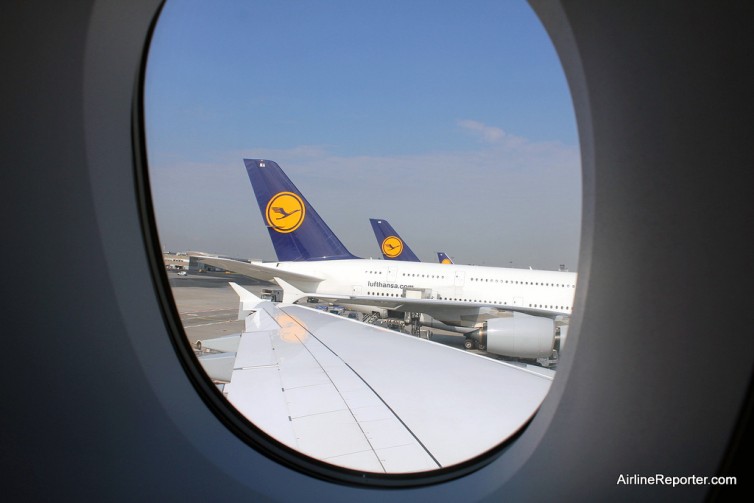 Traveling from the Bay Area to Europe? Chances are you may find yourself on the Star Alliance trunk route from SFO to Frankfurt. I did recently as I kicked off a trip to Germany, India, and Southeast Asia, celebrating my final few months of freedom between a journalism job and medical school. In my experience, flying to Lufthansa"s "Fraport" mega-hub from San Francisco generally meant a trip on United"s venerable — and noticeably aging — 747-400s. While they are beautiful birds from the outside, they don"t make for the best long-haul economy class flights: no seatback screens, no power outlets (although that has since been corrected), and cramped seats, unless you can bump up to Economy Plus or better. Interested in something new, I leapt at the chance to try out Lufthansa"s A380 flight on the same route.
I was glad to be able to book the flight on United ticket stock (ticket number beginning with "016″), which meant I earned both premier qualifying miles (PQMs) and dollars (PQDs) for the flight. With the current UA premier qualifying system, you earn PQMs when you book non-UA ticket stock with Star Alliance partners, but not the PQDs – which are needed for elite qualification.
Curiously, the confirmation code United provided me allowed me to manage my reservation on Lufthansa"s website, but did not work for online check-in. I found a Lufthansa-specific code buried in a separate email. A bit confusing, but not a huge deal. One downside of booking a Lufthansa-operated flight through United is that you are not always able to pick a seat in advance. That ended up being the case for this flight, and I was dreading the possibility of a back-of-the-bus middle seat. Luckily, seat availability was still good when I checked in online, even though the flight ended up being full.
I had only flown the A380 once before (on Emirates) and assumed that the upper deck was first and business class only. To my surprise, there was an "upper deck" tab on the seat selection window during online check-in. It turns out that on Lufthansa"s newest layout for some of its A380s, there is a premium economy section in the front of the lower deck and a small section — five rows, to be exact — of standard economy at the back of the upper deck. I snagged a window seat at the front of the latter section, thrilled that I would finally get upper-deck bragging rights (though without the usual business class accouterments that usually go with it).