Right now is an awful time to fly. But with many of us grounded and stuck at home, it's been an OK time for daydreaming about flights we want to take once things get back to normal. I wanted to share my list, and then (more importantly) hear from you about what your post-COVID AvGeek priorities are.
Flying a 747-8. I've flown my fair share of 747-400s. And my time riding seat 1A of a United 747 is still one of my favorite AvGeek memories. But as beautiful as the Queen looks from the outside, most 747-400s are old and have uninspiring interiors. That's why I'm so excited to try a Dash-8. I think it's even more gorgeous than the -400. And I'm hoping the younger age means a better onboard experience.
Ultra-Long-Haul. Thanks to the Airbus A350, Boeing 777, and the Dreamliner, airlines have pushed the envelope of long-haul flying. While I've flown some fairly long routes, I haven't made it onto any of the top-ten longest flights in the world. But I want to! Maybe after 18+ hours on a plane I'll regret it. But for now, it's a high-priority item on my list.
Date night at the TWA Hotel. I live in New York and got to drop by the new TWA Hotel — truly one of the best AvGeek destinations out there — for a press visit a few months ago. Was I excited to go back for a real stay? Definitely. Was I going to go in a retro outfit? Probably. Did I have to put those plans off for now? Obviously. Though the hotel and some of its features are open.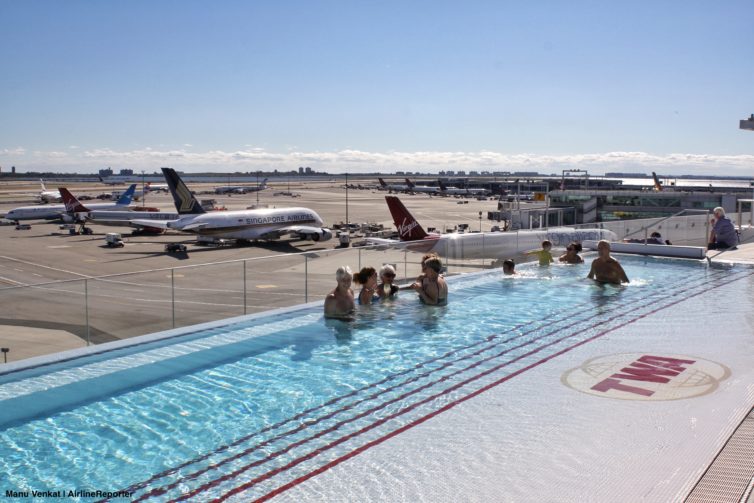 Flying an Airbus A220. It isn't as majestic as the 747-8. But it's really impressive for what it's done for inflight comfort. Especially in an era where seats were otherwise getting more cramped.
Exploring new international mega-airports … and exploring my local refreshed not-so-mega airport. In the past few years the big dazzling new airports have arrived in Asia and the Middle East. I can't want to make it to the new facilities in cities like Istanbul and Beijing. At the same time, it's been nice to see the notoriously awful LaGuardia airport near my house get a MUCH-needed facelift, and I'm excited to explore it — especially the over-taxiway skybridge and the dazzling new lounges.
Okay, it's your turn! What's on your AvGeek to-do list for once the world gets COVID under control? The comments section awaits your answer.