Part of what fascinates me when I visit an airport is wondering where the aircraft have been. Look up a tail number for any commercial aircraft, on a site like FlightRadar24, and you'll find a long list of destinations. For widebody aircraft, those destinations get noticeably more far-flung. While many aircraft have a rich history, few have made an impact like the MD-10 known as N330AU – also known as the Orbis Flying Eye Hospital. This is not just any 'ol commercial or cargo aircraft, it provides some very special services. 
Val Suberg, Orbis' senior manager of aircraft maintenance, can prove that point with just one story about two sisters from Ethiopia. They were blind as a result of pediatric cataracts, which would be a simple surgery in many countries. The sisters, though, had traveled to Addis Ababa and found out that the hospital there only served adults. A member of the hospital staff told them that the Orbis Flying Eye Hospital would arrive in a few weeks, and that they could treat the sisters. They waited in Addis Ababa and were selected for surgery. They got to see each other for the first time, and were eventually able to attend college. Now that is a special plane, with some VIP crew!
'œThat's the impact we can have,' Val said. 'œI had 31 years at Fedex before I came here and that was a good job. They support Orbis with a lot of things including the donation of this airplane. But as an aircraft mechanic, there's not a lot much you do to give back. So my little part of taking care of the airplane is my way of helping Orbis fulfill its mission.'
Val is one of Orbis' full-time staff members. Its medical professionals and pilots, though, are all volunteers. Many of the pilots work for FedEx, which also flies MD-10 aircraft and donated N330AU to Orbis. The Flying Eye Hospital was at Phoenix Goodyear Airport for nearly two months undergoing a Heavy C Check during the spring of 2018. The Orbis team opened the aircraft for AirlineReporter and explained some of the features that make 330AU one of the most-interesting aircraft in the sky. 
The current aircraft is the third Orbis Flying Eye Hospital.
The first Orbis aircraft was a DC-8, which was succeeded by a DC-10. Orbis received N330AU from FedEx in 2008, and it took nearly eight years to convert it from freighter to flying eye hospital.
There's an interesting story behind the aircraft's tail number: Let's start with the 'œAU' part of it.
That stands for Al Ueltschi, who was the personal pilot of Juan Trippe. He's considered among the more-influential minds of modern flight training, and even founded FlightSafety International. As for the 330 part of the registration, that follows the pattern of the first two Orbis aircraft. The DC-8 was N110AU and the DC-10 was N220AU (which is on display at the Pima Air Museum).
Most medical aircraft are transports, but N330AU is certified as an actual hospital.
The aircraft travels with equipment to provide ground power. It can even convert local water sources to hospital-grade water using an onboard filtration system. The hospital section of N330AU is built from modular units that can be removed to convert it back into a freighter. The units could also be moved to another aircraft; Orbis expects to operate N330AU for 10-15 years.
The Orbis crew and volunteer medical professionals sit at the front in seats arranged 3-3-3, with a few rows also arranged 3-4-3.
This area doubles as a classroom, complete with a large-screen TV at the front. There's also a galley. Speaking of galleys, the original galley has been transformed into a maintenance bay and office. FedEx removed the plane's original elevator and replaced it with a staircase/ladder.
The hospital equipment and other gear make N330AU a heavy aircraft.
And not in the typical callsign 'œheavy' way – heavy in actual weight. Because of the extra weight, it usually doesn't fly more than eight hours at a time.
Younger patients get extra attention.
Each child patient receives a stuffed bear; if the child is having surgery on the right eye, the bear will have a bandage on the right eye. When the child's procedure is over and the bandages are removed, the bear's bandage will also be removed.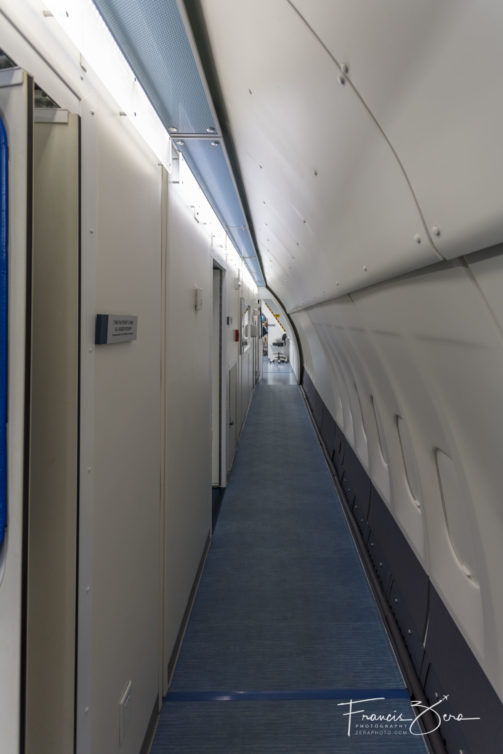 Surgeries aboard the Flying Eye Hospital take up to four times longer than the same procedure performed elsewhere. That's because the Orbis volunteer medical professionals use each surgery as a teaching opportunity. They help local medical professionals sharpen their skills and enhance their knowledge.
If you'd like to support this important mission, you can find a number of ways to help Orbis on their website.