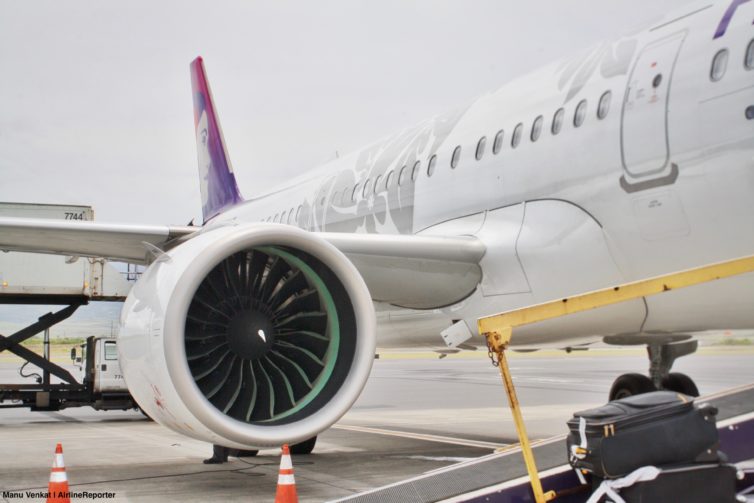 Right plane, right size, right mission. Hit the trifecta and — if you're an airplane — you've earned a fruitful career in your airline's fleet. Hawaiian Airlines has been flying for a mind-blowing 90 years, and for most if its recent past it's had two sides to its fleet: big double-aisle aircraft like the Airbus A330 and Boeing 767 (recently retired) for long-haul flights to the Hawaiian islands, and smaller single-aisle planes for short hops between the islands.
But over the past few years, led by the U.S. legacy airlines, Alaska, and (most recently) Southwest, we've seen an explosion of a new middle market: extended-operations-certified narrow-body (AKA single-aisle) planes connecting the West Coast and the Hawaiian Islands. A lot of those flights hit secondary markets other than Honolulu, like Maui, Kauai, and the big island.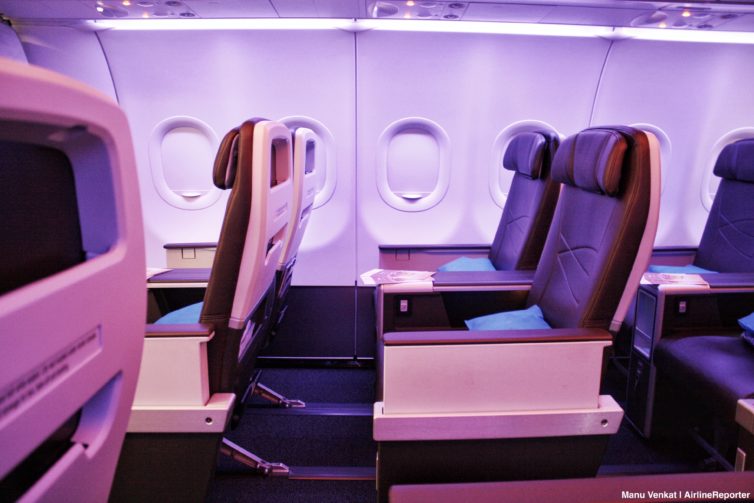 Hawaiian Airlines wanted to get in on that game, and they picked the Airbus A321neo to do it. The fuel-efficient next-gen narrowbody kicked off service with Hawaiian in early 2018, featuring a new premium cabin seat designed for medium-haul flights. And on a recent flight from Oakland to Maui, we put Hawaiian's newest plane and seat to the test.
Read on as we say aloha to the Hawaiian Airlines A321neo!
First, an AvGeek Fun Fact
To be honest, before planning this flight I'd assumed the A321neo was the first single-aisle plane Hawaiian flew to the mainland. But it turns out I was dead wrong! Back in the '80s and early '90s, Hawaiian DC-8s flew between Hawaii and Los Angeles.
If that livery doesn't scream 1980s I don't know what does.
Preflight Prep
If you're flying Hawaiian and have a smartphone, consider downloading their sleek and useful app.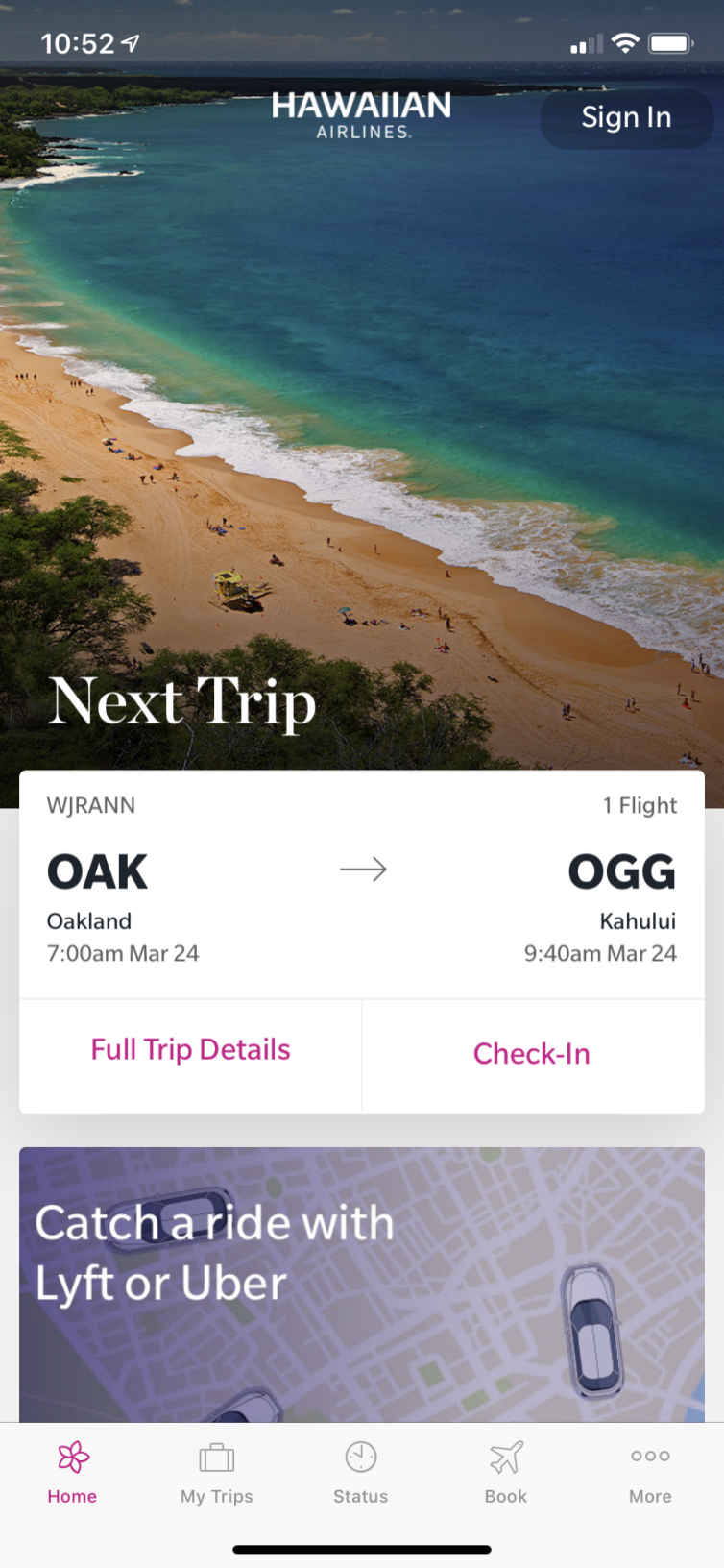 In Oakland, Hawaiian departs out of terminal 1, which serves all airlines other than Southwest. If you have a fancy AmEx or are willing to pay $40 beforehand (or $45 at the door) you can get into the Escape Lounge. It's small but actually a really solid lounge for its size.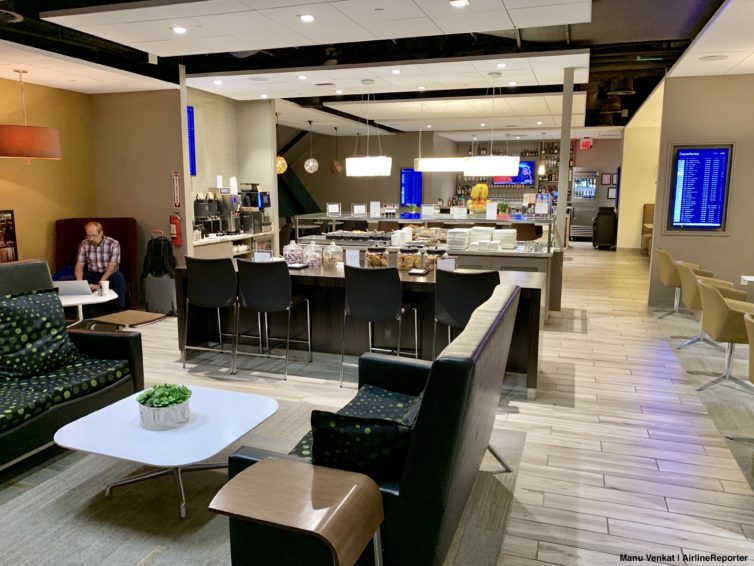 BONUS: Kaiser Permanente Redesigns a TSA Checkpoint in Oakland to Minimize Stress and Maximize Your Health
My flight to Kahului Airport — Maui's main point of entry — boarded before sunrise. So the glamor shots of the plane had to wait until arrival. At least I got a good look at Hawaiian's mascot, Lady Pualani, printed beside the boarding door.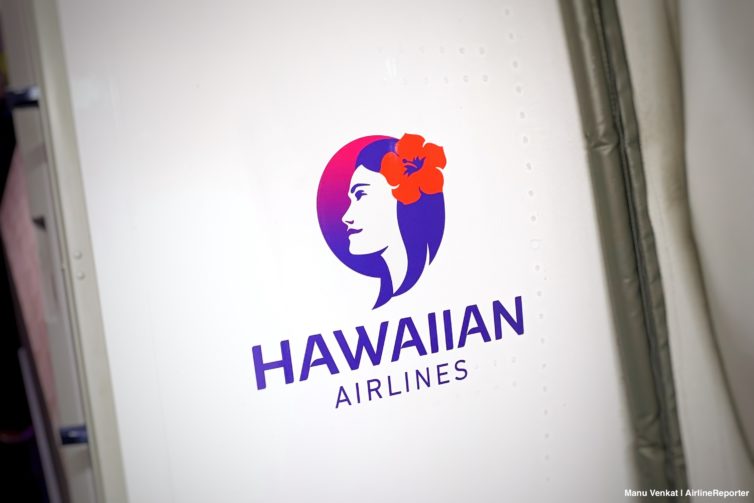 Meet the Seat
Hawaiian has lie-flat premium cabin seats on its long-haul A330s, designed to compete with the international-style premium cabins on other airlines' long-haul planes. But Hawaiian's A321neos aren't playing the same game. Instead, they're supposed to compete with 737s, 757s, and A320s flying medium-haul from West Coast markets. So they're equipped with a more standard domestic first class seat.
Still, it's a fresh look for a recliner-style first class product, arranged in four rows of two-by-two seats.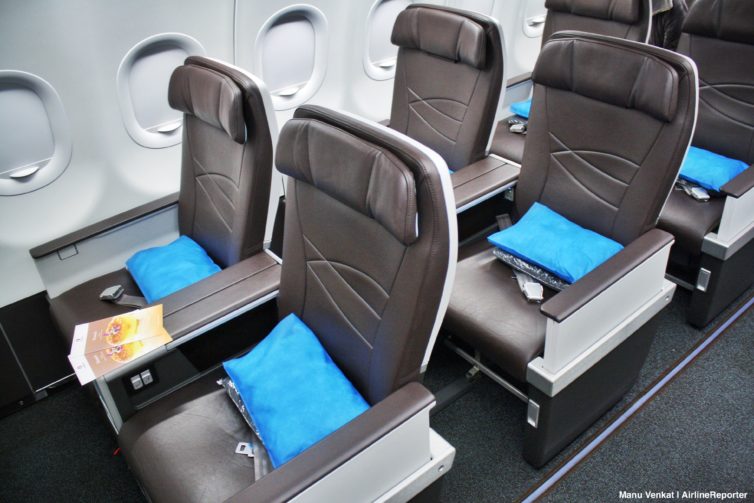 On my flight the leather upholstery looked sleek and was in pristine shape. Notably, there aren't any seatback entertainment screens. We'll talk about that a bit later.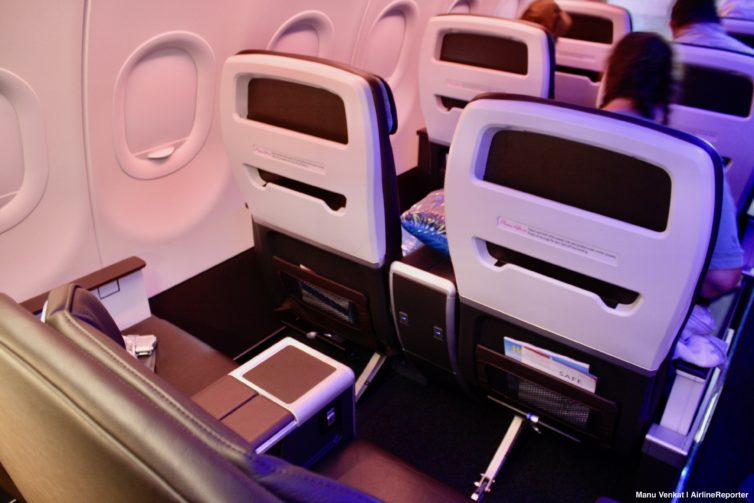 Most of the time the bright white cabin lights were turned off, allowing the A321neo's awesome mood lighting to shine.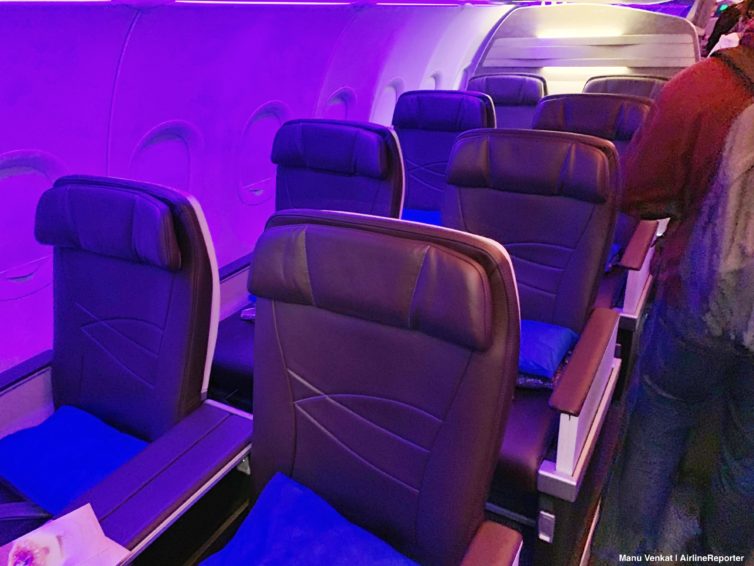 The divider between first and economy classes packs a lot of Hawaiian style into a small space. The wave-like plastic bands — which also appear in their A330 cabin — reminded me of the ocean, while the lighting was like a torch on the beach or the glow from a volcano. Hawaiian's A321neo page has more details on the cabin decor and how it draws from Hawaiian culture.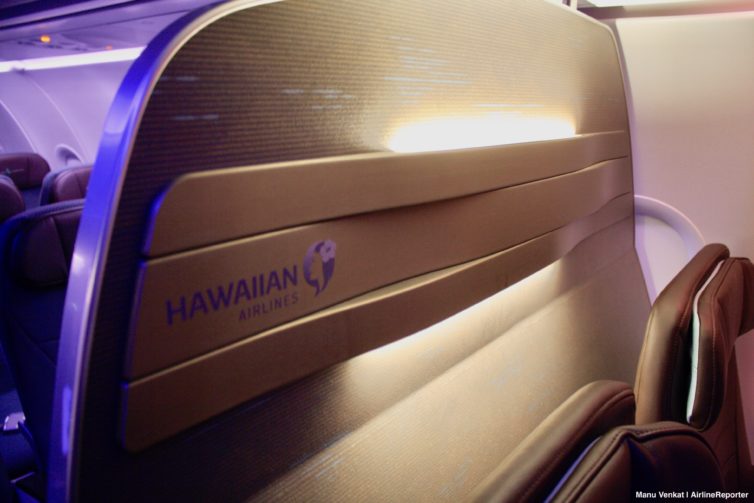 I took a quick look back at economy. The seats looked wide and well-padded.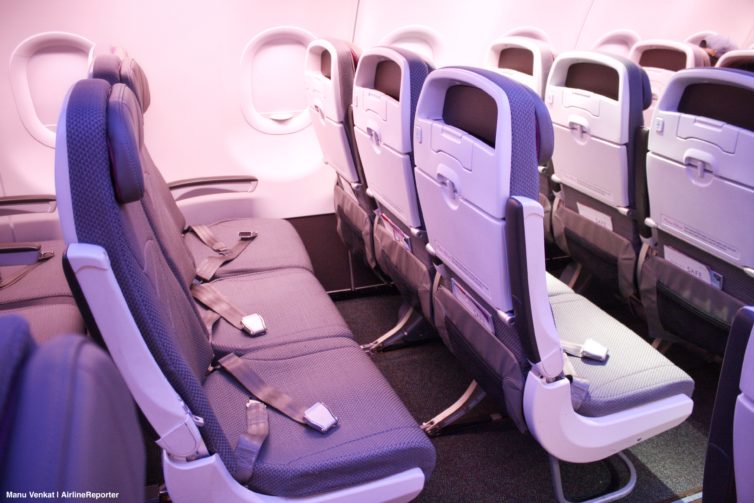 Overall, nothing too surprising for coach. Of note, Hawaiian is one of the few U.S. airlines to serve free meals in domestic economy. We'll publish a separate economy class report from our return journey.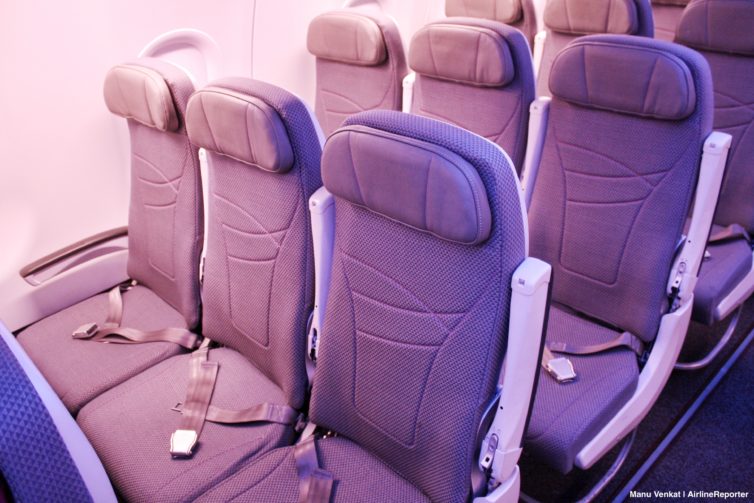 Getting Ready for Departure
Back in first class I sat down and took a moment to appreciate the seat a bit more. There was plenty of storage space, including an eye-level ledge for a tablet, a literature pocket, a water bottle holder at leg level in the between-seat console, and a nook under my armrest. The seat also had a power outlet, USB port, and a drop-down footrest. The seat structure is bulky, so there's not much space under the seat in front of you — definitely not enough for a big backpack. But the curve of the seat base leaves plenty of wiggle room for your legs.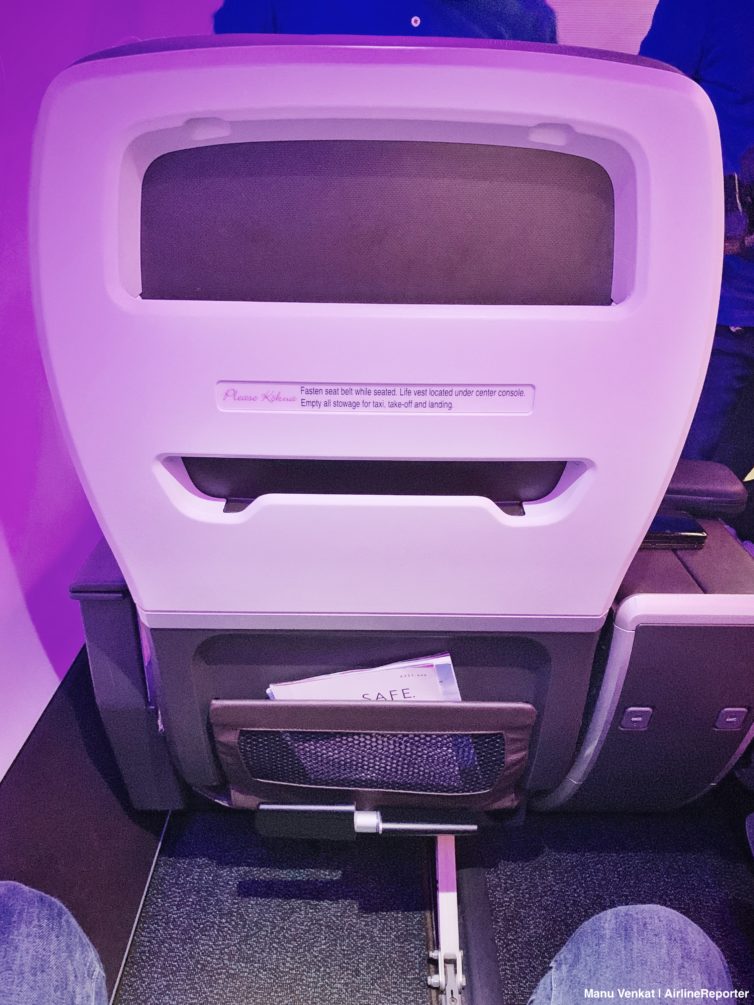 Call me crazy but I spent a long time appreciating the design of the tray tables. They released smoothly with the pull of a latch and had a tablet holder that folded in both directions so that it was useful whether you had the table out halfway or all the way.
Soon enough a flight attendant wearing (what else?) a deep blue Hawaiian shirt came by with a choice of sparkling wine, Mai Tais, or passion orange guava juice.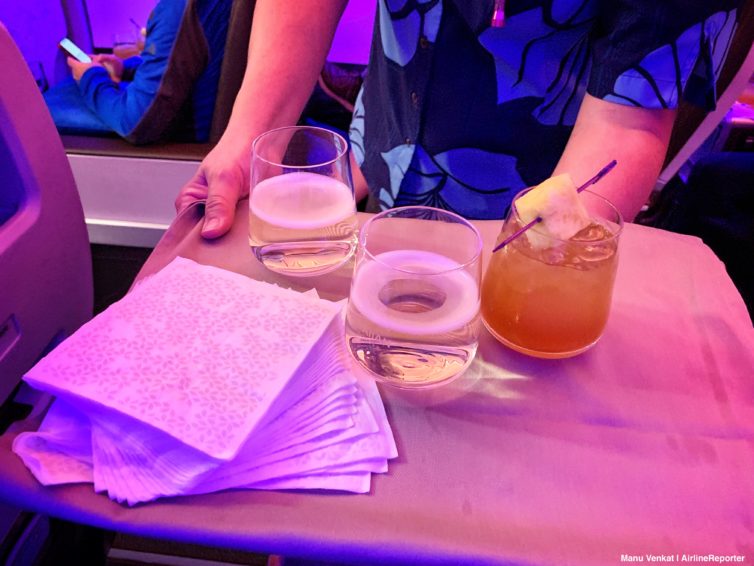 It was early so I went with the mixed fruit juice, which was great — sweet enough but not overpoweringly sugary. Real glassware while on the ground was a small but noticeable win.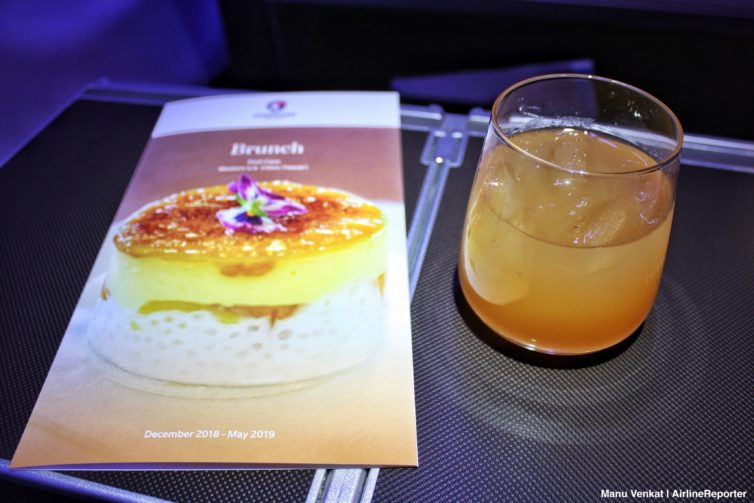 We pushed back just as the sun was starting to rise. On the way to the runway we passed by one of our Hawaiian A321neo's competitors, an Alaska 737. And don't forget: we were on hand here in Oakland back in March when Southwest Airlines launched its own 737 flights to Hawaii.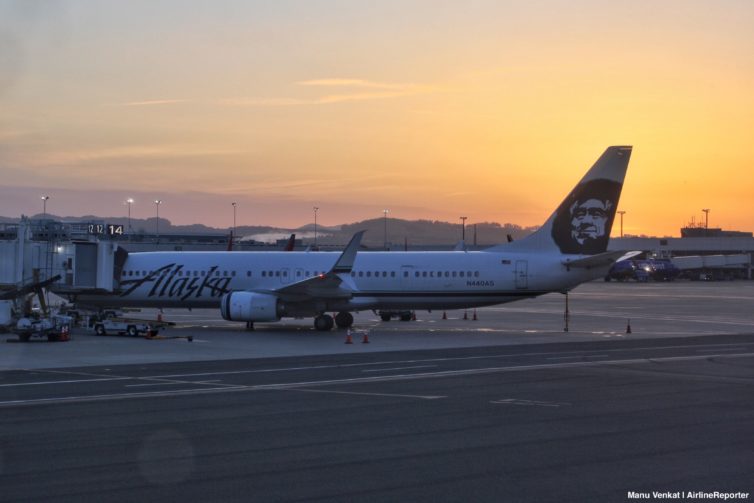 BONUS: Checking Out the Virgin America Influence on the New Alaska Airlines A321neo Experience
Waking up early enough to catch a sunrise flight is always a pain, but the window seat views of sunrise on this flight were well worth it.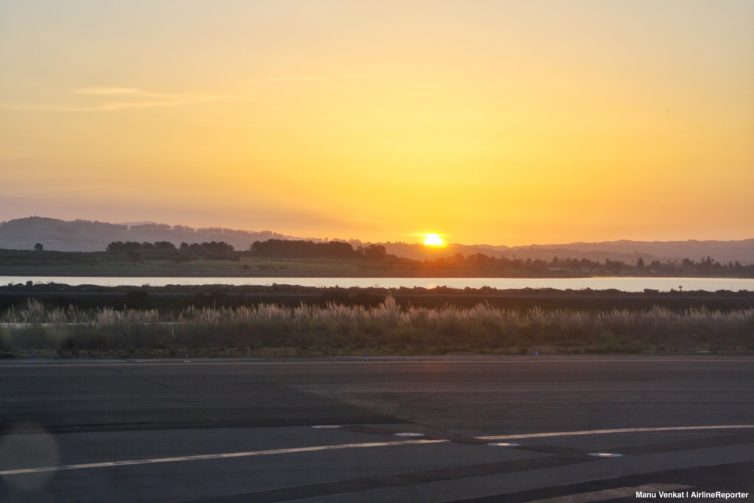 We took off from runway 30 and turned westbound, cutting across San Francisco before climbing out over the Pacific.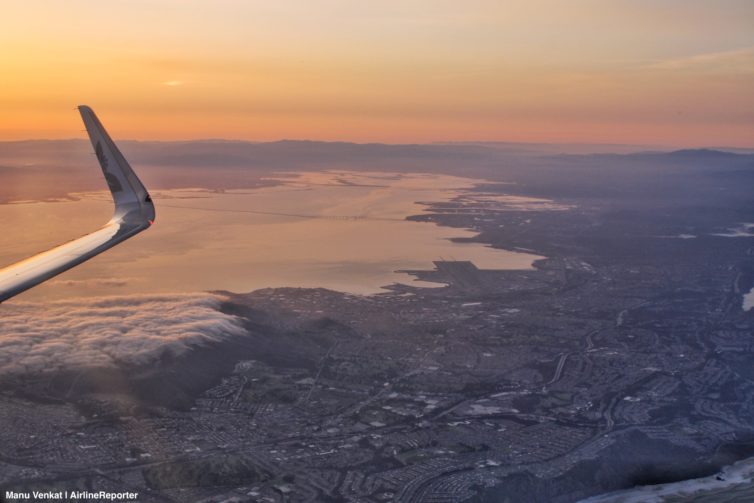 The A321neo's engines were quiet even during the peak intensity of takeoff. And the ride was consistently smooth. For those of you AvGeeks who love to know what's going on under the hood, Hawaiian notes that its A321neos feature "next-generation communication, navigation and surveillance systems '" including a completely digital low-range altimeter, and transponders and multi-mode receivers from Rockwell Collins. The aircraft also includes MultiScan™ ThreatTrack weather radar, which alerts flight crews of potentially disruptive weather."
Breakfast of Champions
As the mainland faded away behind us I took a look at the menu.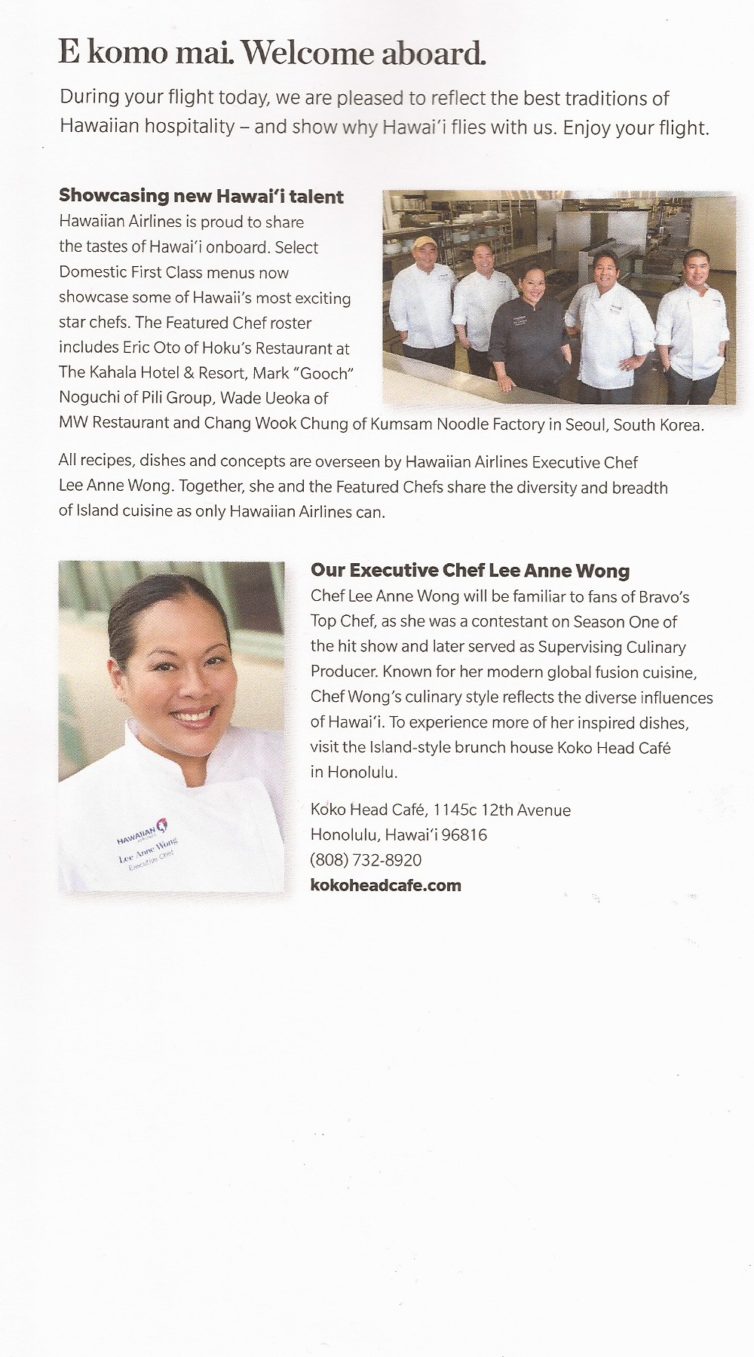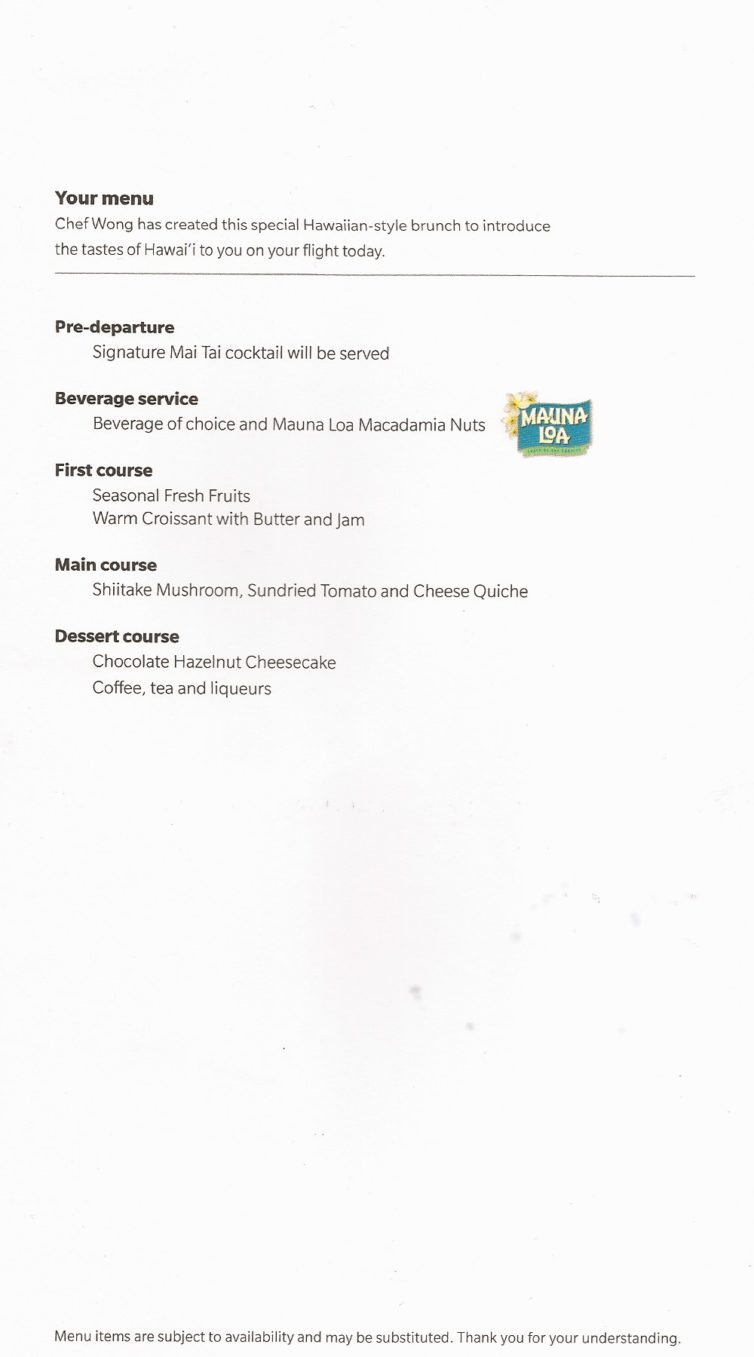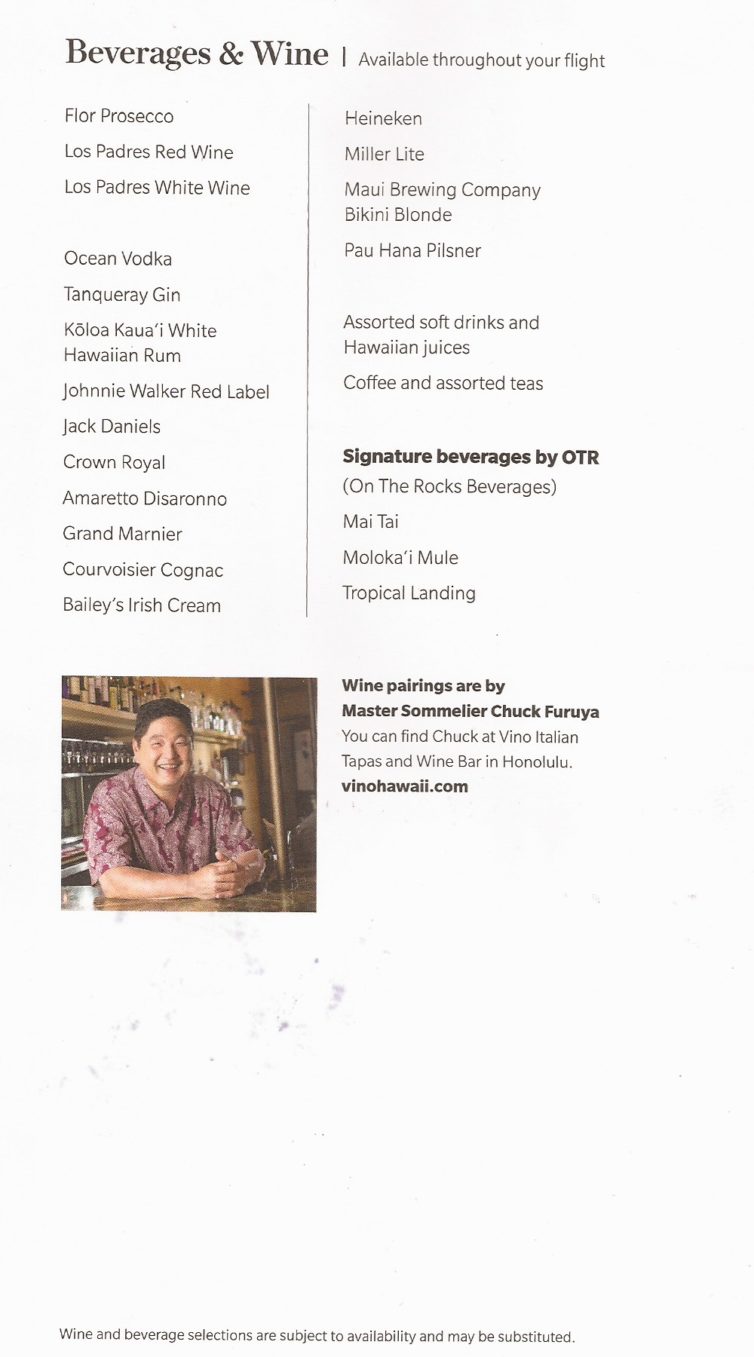 Service started with a choice of beverage and some macadamia nuts, a Hawaiian classic. The mixed fruit juice was so good I went for it again.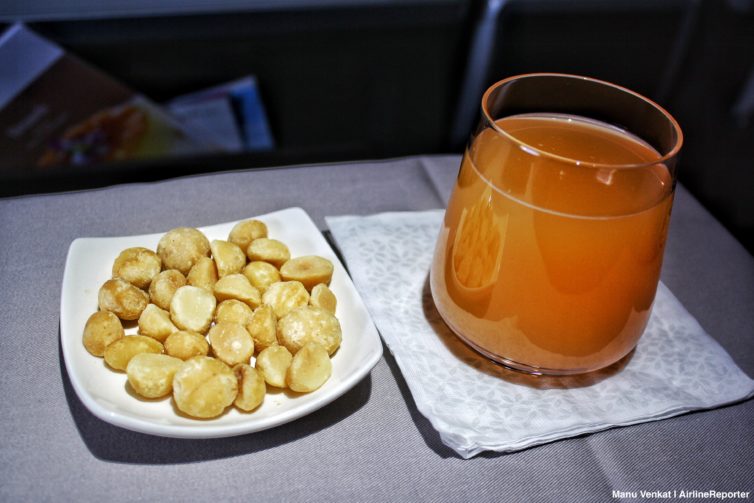 On morning flights, Hawaiian's first class passengers get only one choice of meal. But it's a pretty good choice — usually a quiche, a safer way to deliver eggs inflight than omelets are. We polled you on Twitter on the quiche vs omelet question and y'all definitely agreed with us. Don't forget to follow us on Twitter if you don't already, since we tweet live highlights from trips like these.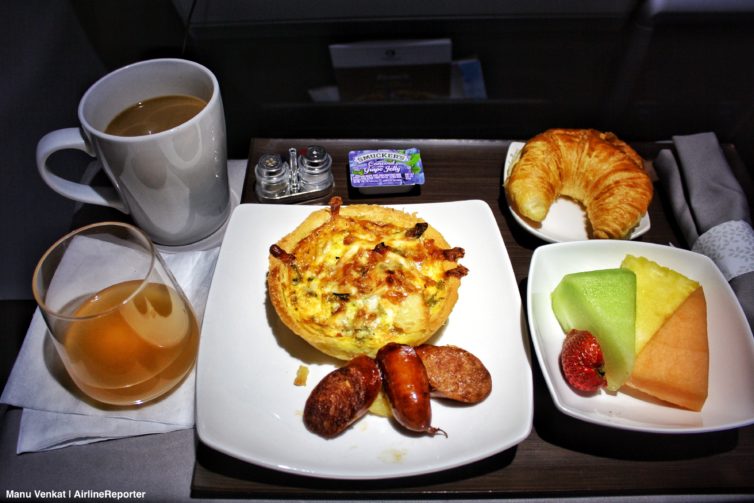 But wait, there's more! We enjoyed a delicious final course of chocolate hazelnut cheesecake. The coffee that went along with it was simple but satisfying.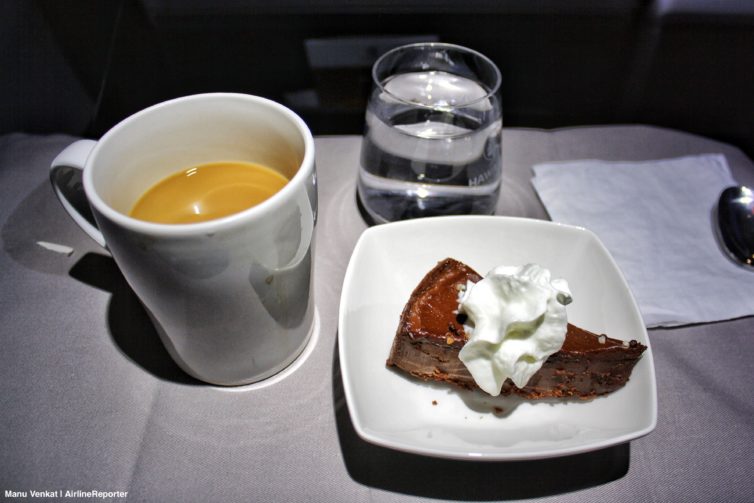 Let's just say I was a very full and very happy guy at the end of this meal.
Neo Style
Maybe it was the post-meal endorphins but I loved the Hawaiian A321neo cabin design touches. The lighting scheme is bold and beautiful, with a fiery orange on the ceiling panels and a cool purple along the side walls.
Each passenger gets a reading light and an individual air nozzle overhead.
How's this for attention to detail: the little M/F icons on the lavatory signs were wearing Hawaiian clothes.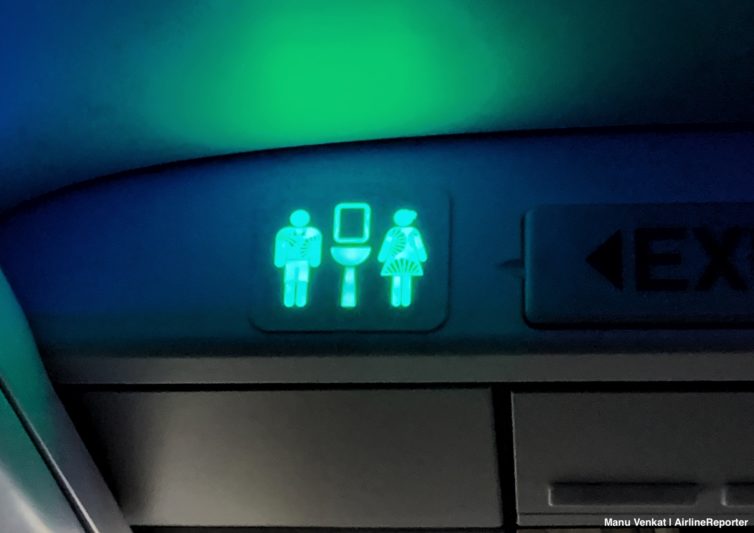 The lavs themselves were roomy enough, looked fine, and were kept in good shape.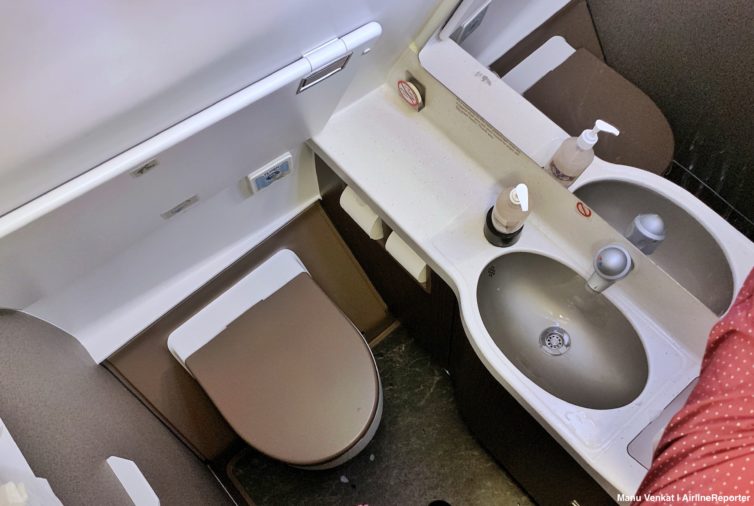 Passing the Time
Hawaiian balked at seatback screens on its A321neos. Instead, first class passengers get a tablet pre-loaded with content. The headphones were on par for a premium cabin product. But the A321neo is quiet enough during cruise flight that there wasn't that much noise to block.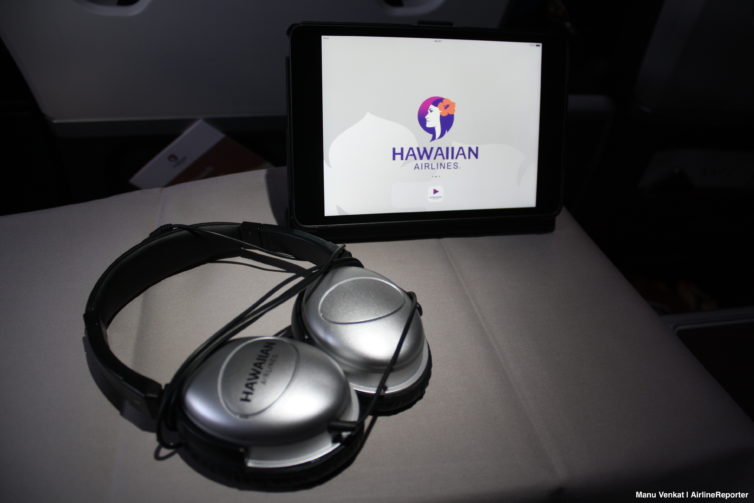 The tablet interface was responsive and intuitive, with far better resolution than most seatback screens offer.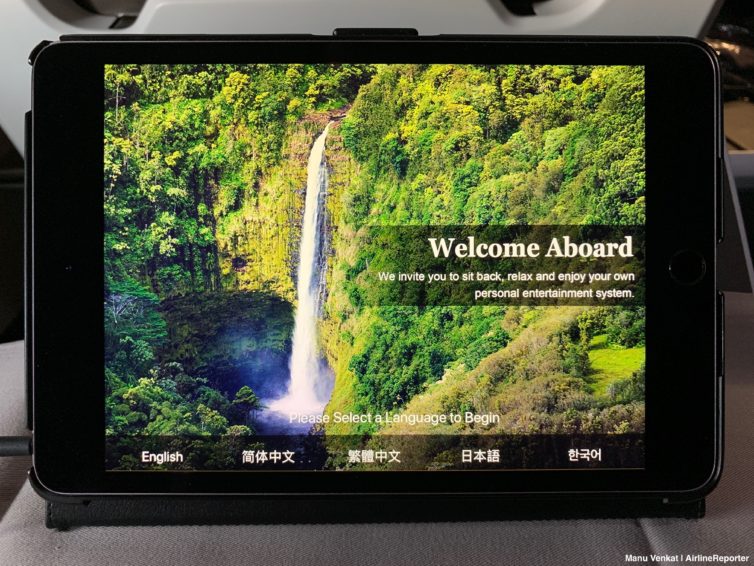 The library of movies was more than enough for a round trip to and from the Hawaiian islands, unless you're really picky.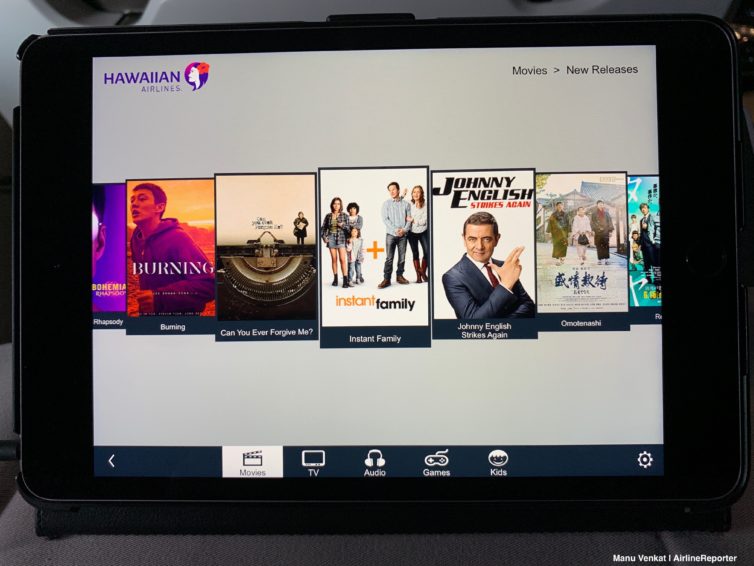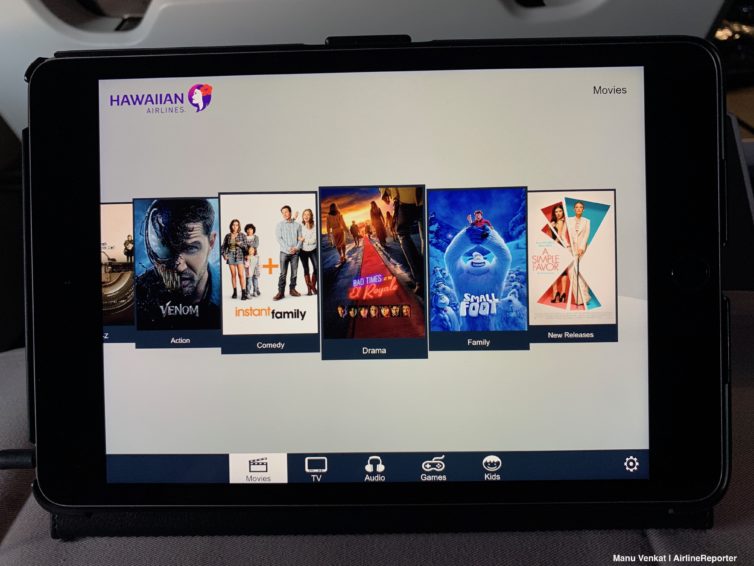 And of course Hawaiian Airlines has Moana for the kids.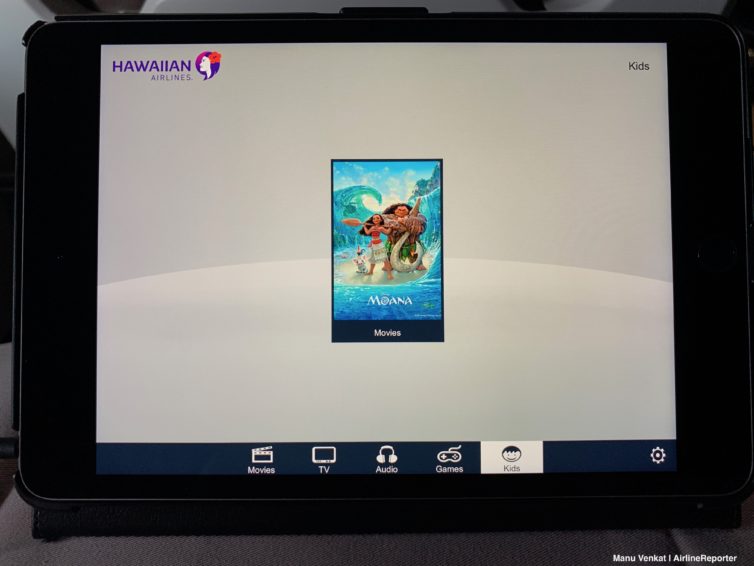 There were a few categories of TV shows, some on-demand audio, and an assortment of games.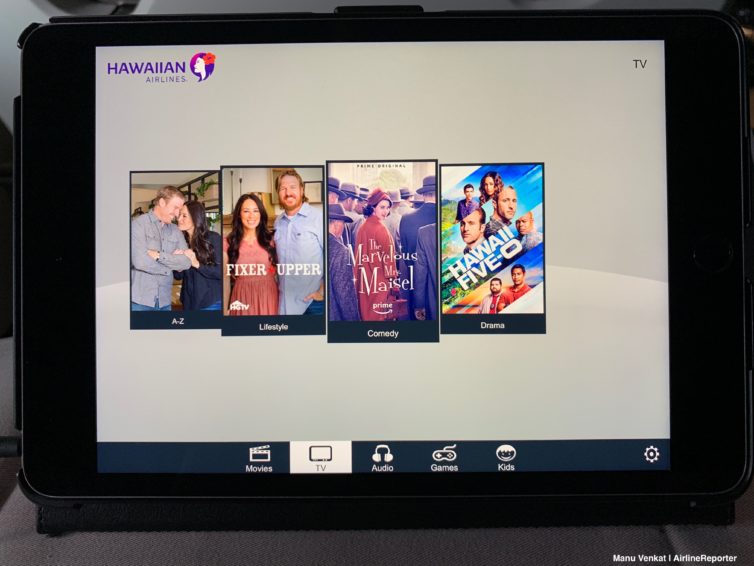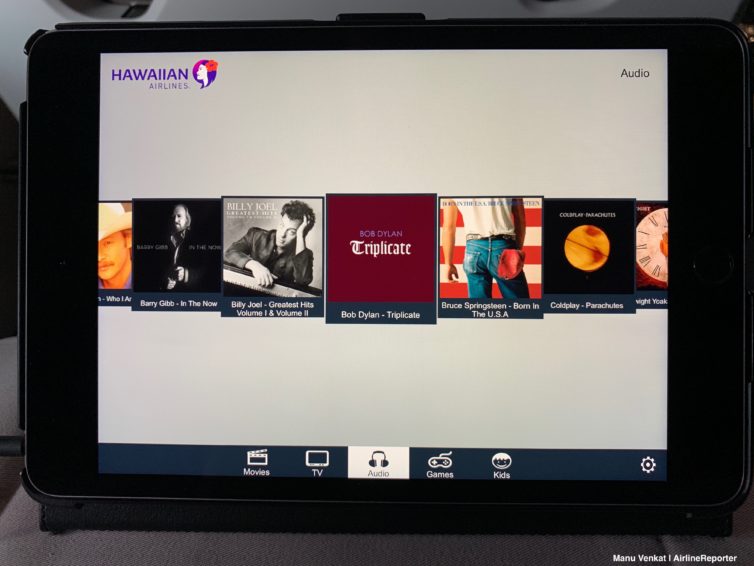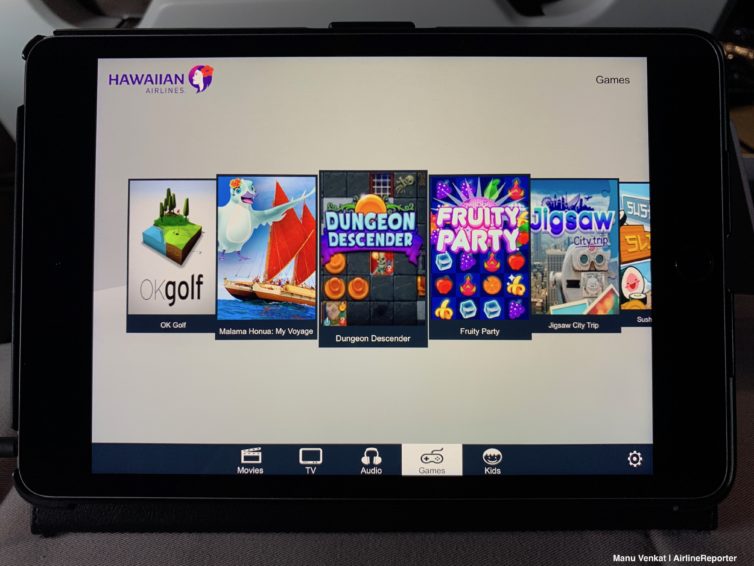 The interface was slick and the library of content was good enough. But the tablet itself was on the small side. It was okay for watching on your tray table, but when I hung it off the back of the seat in front of me it really felt small.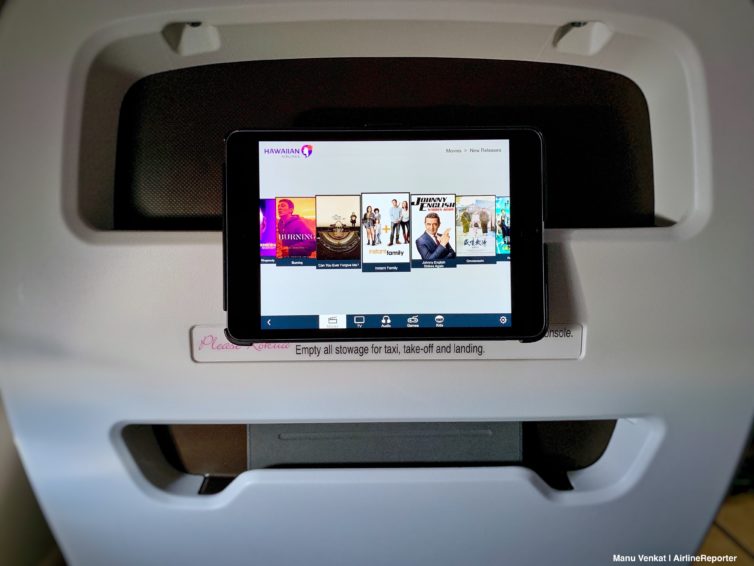 Flight attendants would come by hourly to check up on us passengers. They were genuinely friendly, welcoming, and responsive.
Welcome to Hawaii
Before our descent the flight attendants came around with the airline's signature welcome drink, Koloa rum punch. It's the same passion orange guava juice I got to know and love earlier in the flight, with some Hawaiian rum mixed it. It went great with some sweet Maui onion chips. Since total flight time was five hours and breakfast was so filling, I didn't want anything beyond this light snack. But really hungry flyers may want a bit more.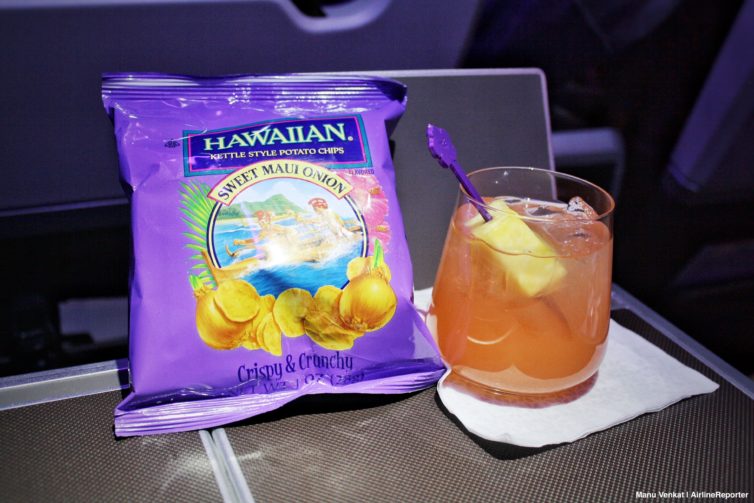 As Maui came into view I was glued to the window…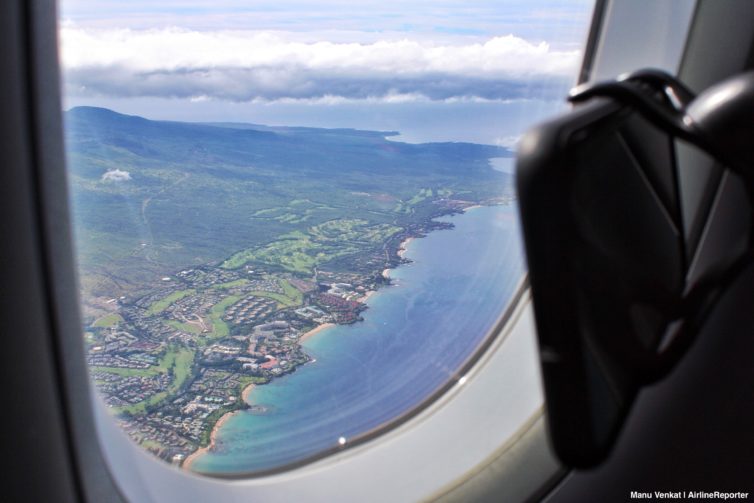 … and for good reason!
Kahului isn't a huge airport but it was buzzing with planes, including Hawaiian B717s that handle inter-island flights.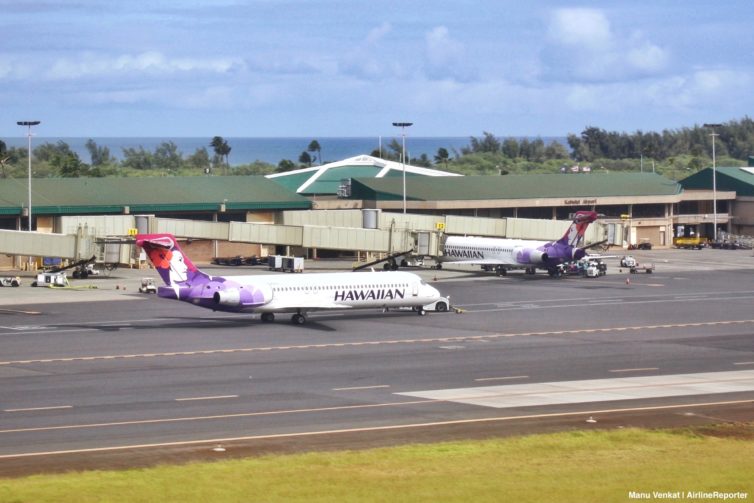 BONUS: Sweet Photos – Plane Spotting (and More) in Aruba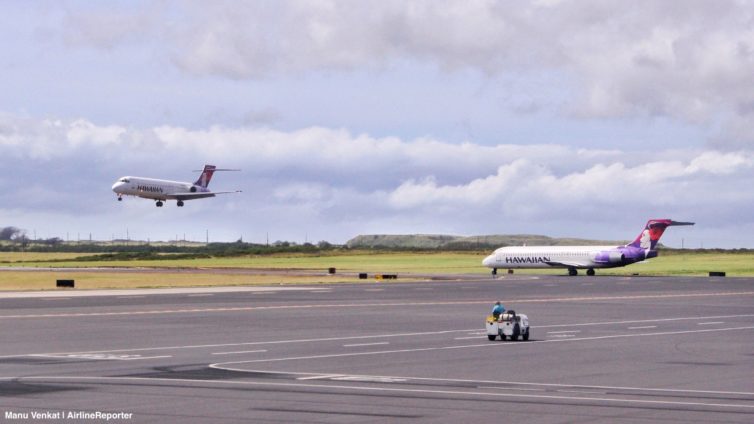 Some other visitors from the mainland included this United 777 and Delta 757.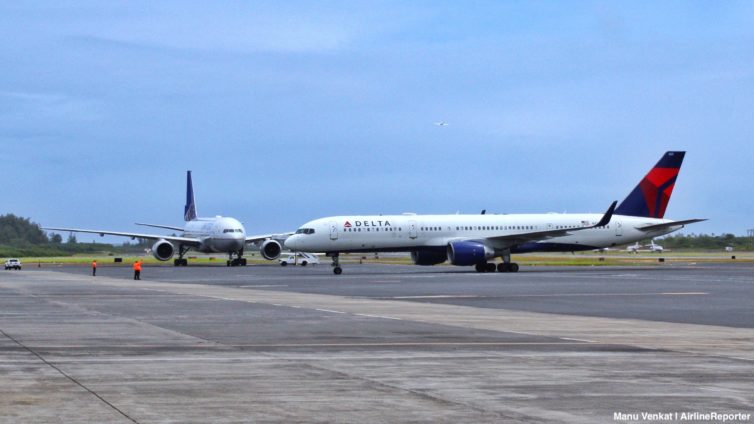 And with that, it was time to get off the plane and head into paradise! Before leaving the airport we interviewed the airline's head of operations at Maui. We'll have that story on the website soon.
The Verdict
This really felt more special than an average domestic first class flight. I'm sure the amazing window seat views over Maui helped, but still there's no denying that Hawaiian Airlines' new Airbus A321neos are beautiful, inside and out.
The new medium-haul first class seat is a great fit for flights between Hawaii and the West Coast, capturing the spirit of the airline but in a package that can compete with the 737s, 757s, and A320s its competitors fly on those same routes. Just remember: you're not getting the same experience on the A321neo as on Hawaiian's A330, which have lie-flat seats, as well as seat-back entertainment in all classes. Still, we love what Hawaiian did with first class seat design on their A321neos — from the plentiful storage space to its sleek upholstery and easy-to-use tray table. Service was friendly. And the food was delicious.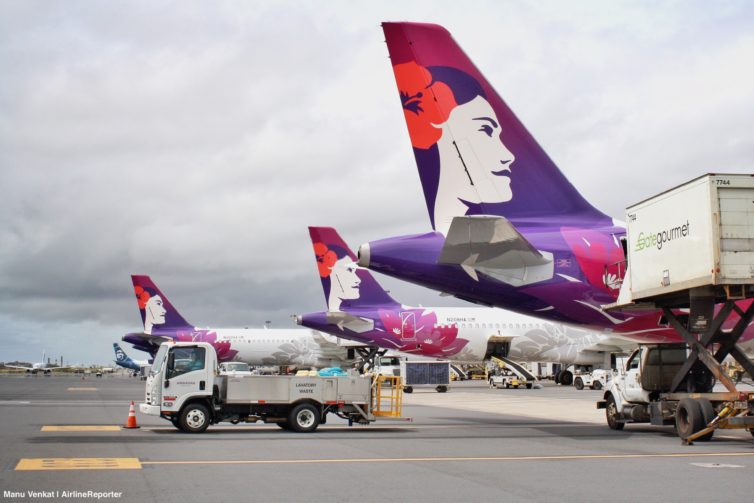 Is there anything I'd want to improve? Tablet-based entertainment systems have their benefits (responsiveness, resolution, easy to swap out if they break) but bigger screens would be better. We get why Hawaii's airline might want you to unplug, but still, inflight WiFi is a conspicuous absence. And a choice of a heartier snack for the second meal service would be nice.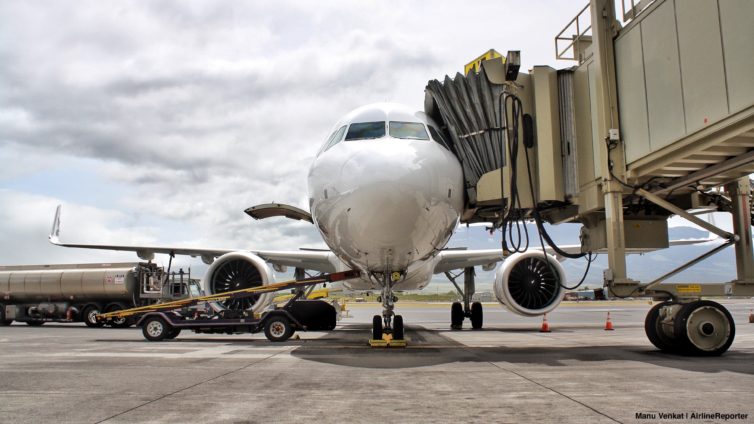 Still, we really enjoyed the experience on this A321neo flight from Oakland to Maui. Flying new(ish) planes is always fun, and we'd recommend this one for getting from the West Coast to Hawaii in style.
Note: We purchased economy class airfare on this itinerary and Hawaiian Airlines provided us with an upgrade to first class in one direction for the purpose of this story. All opinions are our own.