Last year, I wrote about my experience flying with Norwegian Air on the 787-9 Dreamliner from London Gatwick (LGW) nonstop to Denver (DEN). On that flight, we were in their "Premium" cabin, but I peeked back at economy and thought it looked pretty good. It had a standard 3-3-3 Dreamliner configuration, reasonable pitch, and AVOD screens at each seat. The crew was friendly as well.
This year, my family was heading to Paris for the new year, and I had booked our outbound flight with miles (my kids were very excited to be flying business class for the first time, and on the upper deck of a Lufthansa 747-400, to boot!) Given that I needed a one-way flight back from Europe (which are usually obscenely priced on legacy carriers), I figured we'd fly Norwegian again, this time in economy. Norwegian prices their fare based upon the one-way journey, which is what you're used to for U.S. domestic flights. For a very reasonable $511 each, we were booked nonstop from LGW to DEN. Our fare included advanced seat assignments, checked and carry-on baggage, and meals. Everything was going to be just fine. Then I got this text.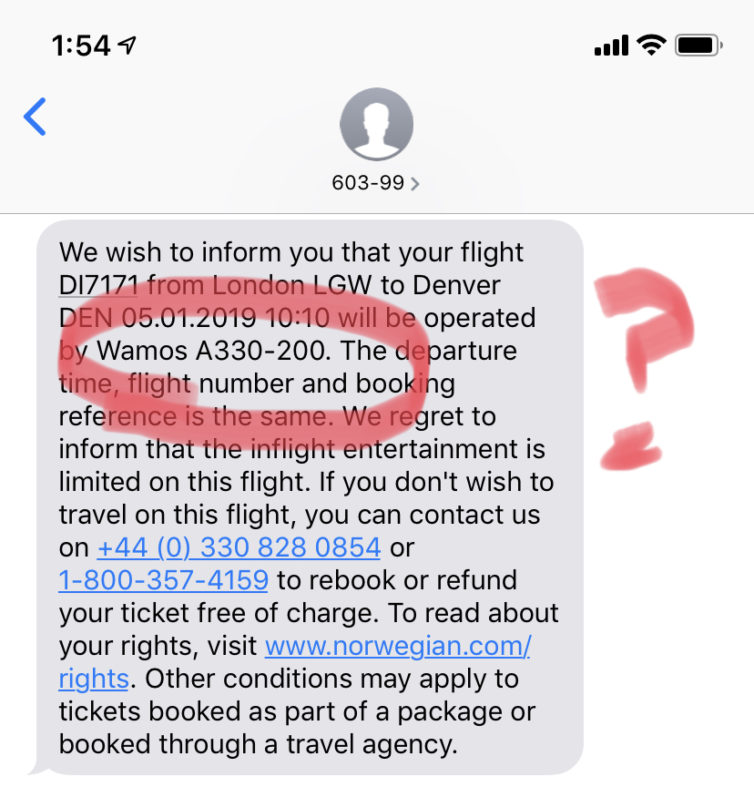 Look, I'm an #avgeek and editor for a site called AirlineReporter, and I'd never even heard of Wamos. I did know, however, that Norwegian had been in a tough spot, given their reliance on a fleet of Rolls Royce-powered 787s, which had been experiencing significant engine issues. Norwegian was calling in lots of charter carriers to replace the Dreamliners.
I jumped in to a Twitter DM with someone who would know who Wamos is, my friend and occasional AirlineReporter contributor Jason Rabinowitz (@airlineflyer). You can see a snippet of our conversation above. Jason was enjoying this far too much.
Here's what I learned. I'd be flying an old A330-200 (ex-Monarch) with 3-3-3 seating in economy. While that is a bit of a squeeze in the Dreamliner (which was originally pitched as a 2-4-2 plane), nine-abreast on a narrower A330 is downright torture. Very few carriers have opted for it, and they're usually leisure/charter airlines.
Once I got the notification text, I jumped online and did as much research as I could, as quickly as I could. I figured there had to be seats that were the least-bad option, and I wanted to select them before someone else did. I subscribe to ExpertFlyer so I can see seating charts and inventory on flights. I also searched google for "Wamos A330" while checking the carrier's (limited) website as well. I totally Blues Clues'd it as quickly as I could.
As you can see in the seating chart above, I selected two sets of two seats where the fuselage begins to narrow. My wife and I were traveling with our two young kids, so I figured this wouldn't be too bad as they're tiny.
Ahead of my flight, I also received a text message that I needed to download the Wamos Air app in order to play their streaming entertainment content.  That's great, but they don't offer any power ports, which makes streaming content, or entertaining my kids on their iPads, pretty tough for a ten-hour flight.
I was dreading this flight, mainly because there was so little information available about Wamos or the experience folks were having with them. So, how was the flight? 

That's right, folks. It was a pretty good flight.
I chose wisely on the seat selection. I had miles of legroom (I'm 6'1″) and was protected from the aisle by the three-seat set ahead of me. One guy came back near my seats, down the incredibly narrow aisles, and said to me, "man, you really hit the jackpot, didn't you?"  Yup. Do your homework, folks! There were a couple of other positives about being on an old plane – we had operating air nozzles at each seat, and the seats were overstuffed and comfy. None of that slimline crap for this flight.
It was crazy being in a 300-person economy cabin that had no bulkheads at all. It was just a sea of seats. The flight was completely full, including a couple of uniformed Norwegian flight attendants seated in economy. I thought they might be there to help the Wamos crew deliver the Norwegian-style service, but they apparently were just along for the ride.
The in-flight entertainment was very much a BYOD situation. There was no wifi. While there was a Wamos app where you could view streaming content, it was severely lacking in said content.  There were only 10 movies, and three TV shows.  That's it.  I was glad I planned ahead for my kids, with extra power packs, so that they could continue to view content on their iPads for this very long daytime flight. One really strange thing to note; 30 minutes before the flight landed in Denver, we were all required to turn off and stow ALL electronics.  Even phones and iPads. The enforcement was firm. Is this something to do with Wamos being a Spanish airline?
One extremely positive aspect of this flight was that the cabin crew could not have been better. They were sharply dressed, extremely warm and friendly, and they worked their tails off (more on that coming up). The crew also looked as though they were all fashion models. Even the worst flight is made better by a great crew.
A very strange aspect of the flight was the first meal service. From beginning to end, it took almost three (3!) hours. First off, the crew went around distributing the special meals, like the child meals that I had pre-ordered for my kids. Then they made a run through the cabin by cart for all the people who, like us, had pre-paid for the "Nice n Tasty" hot meal. This included your choice of drink (including beer and wine, which wouldn't have been complementary on a Norwegian-operated flight). After that, they passed through with a coffee/tea service and trash collection.
Once all of that had been completed, they passed out actual Norwegian menu cards, with food and drink for purchase using a credit card. Carts came down the aisles for anyone who wanted to make a purchase (and a lot of folks did).
There was also a similar meal service (although not as drawn out) prior to landing. I didn't get a picture of it, but it was a small chicken salad sandwich and a brownie.
It was soon time to prepare for landing. We were on time, and I reflected on how much I had been dreading this flight, now for no good reason. Sure, if you hadn't done your homework, you may have showed up unprepared for the lack of in-flight entertainment content. It would have been a long flight reading the safety card. And I don't envy the folks that were crammed in to those 16-ish" wide seats. But for us, it turned out to be an unremarkable, comfortable flight. I'd fly them again.