Time to talk about a part of the world we don't get to write about often: Africa! European and Asian airlines handle the lion's share of the continent's long-haul air traffic. But recently we've seen Africa's own carriers make impressive strides. Royal Air Maroc is using its Dreamliner fleet to operate long thin routes to multiple continents. Kenya Airways recently inaugurated direct service to New York. South African Airlines may be dealing with financial struggles, but remains a juggernaut of the region.
But among the large African carriers, arguably none had a year as big last year as Ethiopian Airlines. Its fleet has been growing by leaps and bounds, and includes fresh faces like the Boeing 787 Dreamliner and Airbus A350. The airline has been launching new long-haul routes to destinations like Manchester and Chicago, and this just week it announced it's bumping up frequencies to Washington DC and Chicago and adding service to Houston, though it's cutting its LAX route. Despite the airline's growth and transformation, it's continued to do well in ratings (at least those from sites like Skytrax) and in showcasing the culture and food of its home country.
Read on for an update on Ethiopian Airlines' major expansion and why the airline is relevant to you, even if you live in the US.
A lot of you — especially our readers based in the Americas — may not have had many chances to fly Ethiopian Airlines. But it's a major airline worth knowing about, with an extensive domestic, regional, and intercontinental route network. Its primary hub is Addis Ababa in Ethiopia, and it operates a number of fifth freedom routes from cities like Hong Kong and Dublin.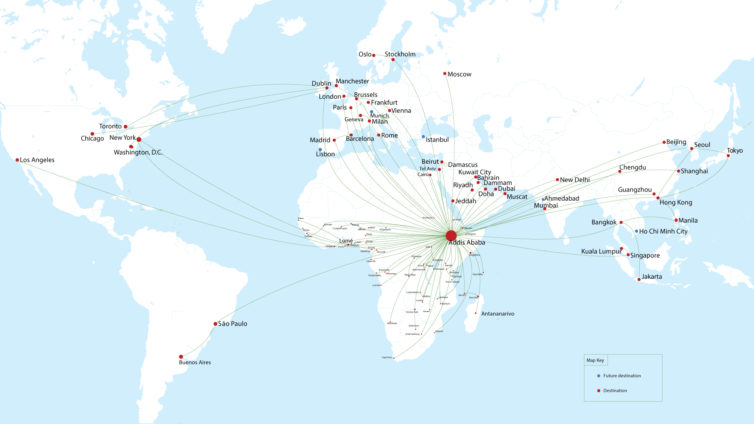 Adding to the fun, Ethiopian owns significant stakes in other African carriers like Eritrean Airlines, Malawian Airlines, and Togo's ASKY Airlines. Some of those airlines were partnerships in which Ethiopian contributed expertise to help African countries get flag carriers off the ground. Considering the Ethiopian Airlines group as a whole, it recently became the largest carrier in Africa, carrying 10 million passengers in a single year for the first time.
Ethiopian is a member of the Star Alliance, and if you book a trip into Africa via another Star Alliance partner, you could easily find yourself on an Ethiopian-operated flight.
A Young Fleet Getting Younger
Over the past few years, Ethiopian Airlines has picked up plenty of new planes to support its growth and save on fuel costs. Its fleet includes ultra-modern models like Boeing's 787-8 and 787-9 Dreamliner and Airbus' A350-900 for long-haul operations. It still has a sizable fleet of 777 aircraft to help with long-haul loads.
For its shorter routes, Ethiopian recently started taking delivery of Boeing 737 MAX planes to add to its 737NG fleet.
BONUS: Ethiopian Airlines Takes Delivery of Their First Boeing 787 Dreamliner (2012)
New Routes to Europe and the United States
Last year saw plenty of updates to Ethiopian's long-haul route network.
Earlier in the year, Ethiopian inaugurated service to Chicago O'Hare, with the westbound leg stopping in Dublin but the eastbound leg flying direct to Addis Ababa. In December, the airline launched service to Manchester in the U.K. on the wings of the Dreamliner.
BONUS: Ethiopian Airlines Inaugurates Flights Between Los Angeles and Dublin (2015)
This this week, Ethiopian announced some big changes to its US network. Its flight to LAX — which is the airport's only direct connection to Africa — is being cancelled. But in its place, Ethiopian will begin serving Houston with a 787, becoming Houston's only direct connection to Africa. Washington DC will go from 7x weekly to 10x weekly flights, and Chicago will go from 3x weekly to 5x weekly. The net result from all the changes is that Ethiopian will serve the same number of US airports as before, but with more total frequencies to the US.
Skytrax Honors
At last year's Skytrax awards, Ethiopian came away with some nice wins, including a four-star overall rating and the Best in Africa award. There's always a bit of controversy about Skytrax ratings, and of course any rating is very subjective. The last time we flew Ethiopian ourselves was many years back. Below you can find links to our coverage from those flights.
Flight Review – Ethiopian Airlines Economy Class
Guest Review – Ethiopian Airlines Business Class, Flying on Cloud Nine
Bear in mind that the onboard product has been updated significantly since we wrote those stories. Though the emphasis on showcasing Ethiopian food and culture as part of the onboard experience is still alive and well.
In short, it's an exciting time for Ethiopian Airlines! It's been growing like crazy and driving the overall expansion of African commercial aviation. We'd love to hear from those of you who have flown the airline recently — share your thoughts in the comments section below.