During the year 2016, my partner and were living 1,200 miles apart. We wanted to spend as much time together as possible without missing work or going bankrupt in the process. We needed to take advantage of every chance we came across to spend as much time together as we could. As it turned out, we learned very quickly the ups and downs of this jet-setting lifestyle through lots of flights on low- and ultra-low-cost carriers (LCC and ULCC, respectively). The ULCC business model is not without its share of controversy, but if they weren't available for us, our year wouldn't have been nearly as great as it turned out to be.
My partner Natalie and I met in early 2015 while I was stationed at Wright Patterson Air Force Base in Dayton, Ohio. I was nearing the end of my assignment to earn a Master's degree with a follow-on assignment to Colorado Springs as an instructor at the U.S. Air Force Academy. Natalie was in the middle of a five-year PhD in Clinical Psychology. Through shared passions for adventure and fitness, we hit it off immediately but we also knew that my move to Colorado would be tough. We started traveling to see each other in the fall of 2015, and developed a rhythm of visiting every three weeks or so. These visits were great and fueled both of our passions for travel and adventure. As winter came, we knew we wanted to spend even more time together despite being so far apart during the week.
For the new year 2016, we set the ambitious goal of seeing each other every other weekend for the entire year. We had two major travel seasons coinciding with the spring and fall semesters of her program. We planned to spend the summer together which would provide a break from the hectic flight schedule and allow time for the bank account and credit card point balances to recharge. With the plan set, we went about attacking a personal travel schedule busier than either of us had ever done before.
As we discovered during our travels leading up to 2016, there were a lot of things were working in our favor:
I was close to Denver International Airport (DEN), a hub for Southwest, Frontier, United, and Spirit.
She was close to four airports with direct flights to DEN: Dayton (DAY), Cincinnati (CVG), Indianapolis (IND), and Columbus (CMH) which pays off big time for fare competition.
High frequency of affordable direct flights from these major Midwest airports to DEN made trip planning much easier.
Credit card bonuses and natural spending to build points would keep out of pocket expenses low.
We started the year preferring the low-cost carrier Southwest (WN). They had a direct flight from DAY to DEN in the evening both westbound and eastbound. This flight maximized our time together on short weekends. Their all-737 fleet is my preferred economy product and the inflight connectivity is best in the industry, in my opinion. We both applied for the Rapid Rewards Premier Card and were able to use the two 50k signing bonuses for flights. The great thing about WN points is that they're treated like cash, which means I could use my points to book travel for her if needed. No other U.S. airline allows this without major status to my knowledge.
We LUVd (see what I did there?) Southwest until April 2016 when the 'œGreat Schedule Reorganization' came out. Dayton lost its long-running direct flights to DEN and became a feeder airport to only Chicago Midway (MDW). This increased DAY-DEN block time from about 2 hours 30 minutes to almost 5 hours including a connection and additional chances for delays and cancellations. We would continue to keep an eye on Southwest, but the higher price and connections killed their viability for us between DAY and DEN.
We needed another airline option, and the ultra-low-cost carrier Frontier (F9) became the clear choice. For many frequent fliers, ULCCs like Frontier are often not even considered because of the tight seating, sparse inflight experience, and frequent delays. And it's not like we were magically able to avoid these pitfalls, but when you have a partner to see and a goal to meet, suddenly any ULCC with good flight availability and low prices becomes a great option.
Frontier reorganized their schedule shortly after Southwest discontinued the DEN-DAY flights. Frontier's new routing proved the obvious choice with single or twice-daily service between CVG and DEN in both directions. Starting in April 2016, F9 had an evening departure at 6 pm from CVG daily and a 2 pm departure from DEN daily, sometimes with one additional flight thrown in there. We would book most flights between eight weeks and four weeks in advance depending on what our schedules looked like. We would also attack fare sales hard.
Frontier issues major discounts by email on a regular basis and there is a pattern to them if you watch closely. One can generally count on a 50% off airfare sale every 3-4 weeks, 10-20% off every other week, and once-a-quarter something crazy like 75% off! If you're diligent and patient, you can score some really great deals. We applied for the Frontier credit card using the inflight promotion to get 40k points each and used them targeting around $100 value for 10k points. For federal holidays, we got creative on the destinations. If we couldn't get a reasonable price to either Ohio or Denver, we'd look for a destination that was cheaper overall. Chicago proved popular. We also made trips to LA and Las Vegas using a mixture of points and unbelievable cash fares.
There are certainly challenges that arise with a personal travel schedule like this. Quiet weekends at home are few and far between, which makes adult things like chores and home improvement projects solely a weekday endeavor. We both ate a lot of airport food and became accustomed to showing up to work very tired on Monday mornings.
My most noteworthy flight was my commute to Colorado from Ohio on a Monday morning. I woke up at 1:30 am Mountain time, drove an hour to CVG for a 6:00 am departure, flew 2.5 hours to DEN in row 41 of an A321, drove 85 miles to work and put in a full day before going home. Or the red-eye flight Natalie took from LAX to CVG to arrive rested and refreshed for classes at 9:00 am after a weekend of skydiving at Lake Elsinore.
So how did it all turn out? Most of our 42 one-way flights were on F9 and WN, with a smattering of Allegiant (G4), United (UA), Spirit (NK), American (AA), and Delta (DL). Our best redemption was a $362 trans-con redeye on DL for 11,000 Skymiles that had been sitting in an unloved Skymiles account for 3+ years. The most expensive one-way was on United from DAY to DEN which was ultimately cancelled, rebooked out of CVG, and caused me to miss a day of work.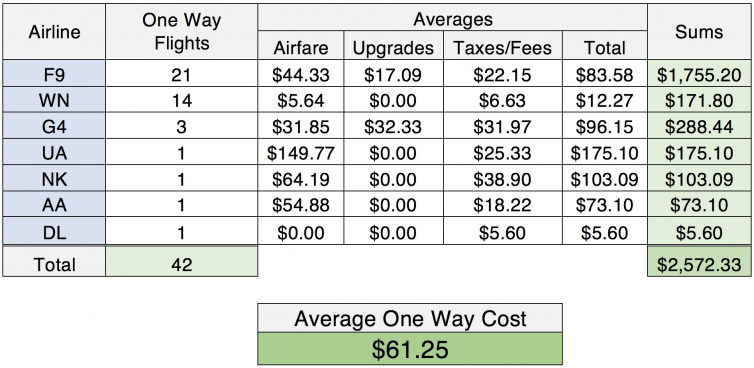 So on average, we paid $61.25 for each one-way for the entire year we were apart. This is only possible due to generous credit card bonuses, points accrual via natural spending, and the LCCs & ULCCs that offer ridiculous fares in the first place! Look at WN, 14 one-way flights for a TOTAL cost of $171.80 through good luck and lots of points… SERIOUSLY! By miles flown, it works out to 5.6 cents spent per mile for the 45,785 miles flown.
Our longest stretch apart for the entire year was only 16 days. We would both do it again in 2017 if we had to, but I'm pleased to report that she concluded her university studies and we are now happily living together in Colorado Springs. So how do we celebrate? A free flight to San Juan, PR, courtesy of Southwest for volunteering for a short delay after attending a wedding over the summer. By the way, these trips weren't included in the stats to pad the numbers because they didn't count as 'œLong Distance Relationship' trips!
This story was written by Kevin Horn for AirlineReporter. Kevin Horn is a Colorado based traveling, skydiving, and distance running enthusiast. He's an instructor of Engineering Mechanics and an officer in the US Air Force. You can follow his adventures on Instagram @altitudelifefpv.