For years I have connected at Dallas Love Field and peered across the aircraft operations area, staring at the home of Southwest Airlines, hoping to one day visit LUV HQ. In the effort of transparency, I've made little attempt to conceal my preference for the airline, and we'll discuss why I think that they're the best in a bit. But here's a hint: It's the culture.
I have a hand-full of friends who work for Southwest and follow a bunch of their employees on Instagram who occasionally post photos from the inside. My desire for a visit intensified when I became aware that the company had recently opened a large addition to their Dallas footprint, just across the street from their long-standing centralized DAL-based HQ. The building, affectionately known as TOPS (for Training and Operations Support), drastically expands the company's capabilities and makes room for employees of the largest domestic airline to spread their wings.
After 12 years in corporate America, I have become a self-described boring, stodgy, business-type guy. I think that's one of the reasons I am so attracted to Southwest's culture.  Because, it's tough to not have a fun time around people who clearly enjoy their careers and are vested in the mission of their company.
On a recent late-night flight, an attendant came over the intercom to tell us they were turning down the lights and that we were welcome to turn on our overhead lighting. "If you want, push the button with a picture of a light bulb on it." She continued, "However, pushing the button with the picture of a flight attendant on it will not turn on the flight attendant."
It was late, we were all tired, and I think it's fair to say the cabin had let their guard down. This unexpected bit of humor solicited a chuckle from me and a large portion of my 737-trekking peers. It's these small, unexpected, fun experiences after a long draining day of meetings, charts, and presentations that I have come to rely upon as a part of my decompression ritual.
Humor is a big part of Southwest's culture. In fact, I'm told that the company tests for a sense of humor when interviewing prospective employees with questions like, 'œHow did you use humor to extricate yourself from an embarrassing situation?'
A lot has gone into the development and maintenance of Southwest's culture, which stands out in stark contrast with the culture of its peers and, quite honestly, most other Fortune 500s.
The Tour:
I arrived at the gates of 2702 Love Field Drive on a Friday morning, eager to get the day started. In fact, I was so looking forward to the visit that I had forgotten to print off my access paperwork to provide to the security guard at the main entrance. The guard gave me a funny look when I told her I had the documents in my email and tried to hand her my phone. We had a playful back and forth while she looked up my appointment and got me cleared.
My first encounter on-site that day was one that, at my own fault, could have been negative. Yet the guard turned it around with a bright smile as she gave me a hard time for being "difficult on a Friday morning." The exchange set the tone for the rest of an incredible day.
As I waited for my host in the lobby, I took the opportunity to look around. This place was different than most corporate HQs I'd visited. Plane models hung from the ceiling basking in natural light. The walls were adorned with quotes from executives, awards, photos, and other decorations. This was a theme that carried throughout the visit. Barren walls simply don't exist at the Southwest Airlines HQ. Even in active construction areas the walls did their part in promoting the culture, educating and enriching those who took the time to to absorb their content.
The tour of the original HQ building was short because much of it was going through an extensive renovation. Of note, however, was the company's rooftop observation deck. Here employees come to enjoy a meal, have a meeting, do some plane spotting, or, on select evenings, even enjoy an adult beverage. Unfortunately, at the time of my tour the runway closest to the deck was closed for maintenance, so no cool photos of Canyon Blue-liveried red-bellies landing just a few hundred feet to the east.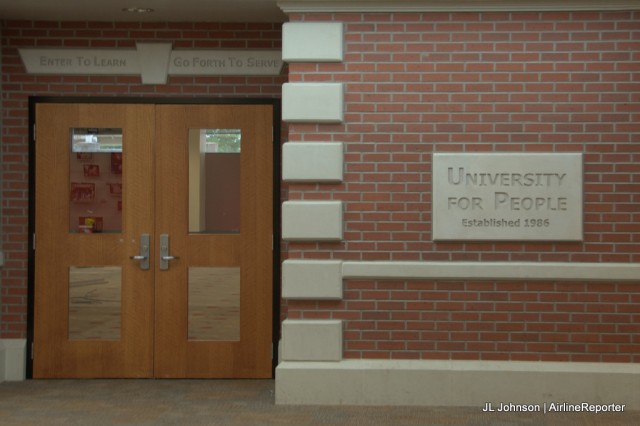 Southwest also places a great deal of emphasis on development of internal talent. In fact, employees are encouraged to participate in free on-site continued education at "University for People", an extension of Southwest's training department, where in many cases employees can earn career-advancing skills and even college credit on company time.
On the way out of the building, we passed through an interesting open-concept sort of multi-purpose area which I would later learn Southwest refers to as a "Culture Center." Essentially, a break room on steroids, which is built around a theme. The photo above doesn't do the concept justice. In fact, the centers are so large that one would be hard-pressed to represent one without a dozen or so photos.
Company spokesperson Dan Landson on the concept: "With the new Culture Centers, we're able to celebrate the Southwest Airlines brand in a way that's truly unique. Within each Culture Center, you'll find more collaborative working space, more open space to take a quick break from your work, and also memorabilia and other items that celebrate one or more of the Company's values, and corporate milestones."
Training and operations support (TOPS)
A quick walk across Denton Drive and the Dallas Area Rapid Transit (DART) tracks, and we'd arrived at the crown jewel of Southwest's campus – the $120 million, 492,000 square-foot building known as TOPS. Much like the other building, the lobby is filled with natural lighting, art, and models that illustrate that which is Southwest.
In this building, however, they take a different approach to models. Rather than hang a dozen or so special-liveried birds, here visitors are greeted by a giant 737-800 model. To say the model is huge would be a disservice.
Across from each set of elevator banks are employee kiosks with large reminders of the companies vision, mission, and values; the foundations for culture. In fact, these are found throughout the building, and for good reason.
The vast majority of new hires must at some point make the trip to Dallas for training, orientation, or more likely a combination of both. During that finite time the company has a prime opportunity to infuse their people with those values they hold dearest through messaging and demonstration of those principals.
As a self-identified social media (SM) addict, frequent Southwest flyer, and proud A-Lister, I interact with the Southwest SM team often and was excited to meet the crew. While I was chatting with the team in their glass-walled "listening room" (Southwest speak for Social Media office) two familiar faces appeared: Herb Kelleher and Colleen Barrett. Now, if you aren't familiar with Southwest you may not recognize the names.
These are the two prior leaders of the company immediately before the current, Gary Kelly. The two leisurely strolled up the hall, Herb smiling, waving at passers by, and Colleen happily distributing hugs as they made their way to what I later learned to be the offices of President Emeritus. There, in their retirement years, they continue to contribute to the success of company, mostly focused on culture initiatives.
Network Operations Center (NOC)
Inside a hardened shell able to withstand the brute force of an EF-3 tornado, the 24/7 Network Operations Center is the nerve center of the airline. Here, planes are routed, equipment is swapped, and incidents are managed in real time. On this day, weather was fair across the network, so it was generally quiet. During irregular operations (IROPS), the 400-seat NOC buzzes with employees managing the largest domestic airline.
The colored dim light is designed to reduce eye fatigue and stress for employees staring at multiple monitors.  Desks come in various configurations, based on role, but a station with 5-7 monitors is not uncommon.
"The Airport Experience"
To provide employees with a true, representative experience of what it's like to work inside an airport, Southwest has built a near-perfect mock-up terminal within TOPS which they call "the airport experience." Complete with a ticketing counter, gate area, baggage office, and jet bridge, there's really something for everyone.
Trainees rotate through stations experiencing real-life scenarios in an environment very similar to what they have at their home airports.
I have long wondered what role a centralized HQ and training center could contribute to culture. After having the opportunity to visit, it has become quite clear that this is one of the many tools in the Southwest culture toolbox that works so well for them.
Along those lines, other airlines could learn a thing or two from Southwest about culture infusion and culture-centric decor. I've visited far too many airline facilities whose office halls are no different than one would expect at any other company: boring, uninspired, and a lost opportunity.
Southwest has long been known for being a maverick and doing things their own way. Who would think something as simple as taking advantage of otherwise boring walls could be so innovative and reinforcing of company values?
As a Southwest fan, this was an awesome experience for me.  Getting to see where the magic happens was something I wish you could have been there for – this story will have to do.