In July of 2012, I saw my twitter feed explode from all of the #OSH12 tweets.  After a week getting insanely jealous of everyone, I decided that for 2013 I would be going to the EAA AirVenture show.  I managed to get myself to Oshkosh from July 28th through August 3rd, which enabled me to see a large portion of the show.
I really only missed out on the mass arrivals on the 27th and the final night show on the 3rd; I could live with that.  This was my first time at Oshkosh, so I was given a whole range of tips from fellow AirlineReporter.com correspondent Howard, who had attended a few years prior.  He also set me up with a contact at EAA for a tour of the grounds, which was helpful, since it can be a bit overwhelming.
My tour of the grounds the first day was an eye opener.  Brady Lane from the EAA team took me around in his 'œGator' and I got my first-ever glimpse of just how crazy the week ahead was going to be.  He showed me around the main areas and when I got my first look at the 'œNorth 40' my jaw dropped.  It wasn't even opening day yet but there was line after line of aircraft and tents.  A quick glimpse showed the 'œSouth 40' was more of the same, though there was plenty of space available (by the end of the week, both areas were filled to the brim).
The first few days of the show (at least for anyone in the media) are full of the big press conferences and announcements.  With briefs by Cessna, Piper, Cirrus, and others, there was plenty to keep me busy.  In between there was quite a bit to see, especially on the flight line or through the main show area (Celebration Way).
With the major aircraft companies displaying their birds, it was like heaven for an AvGeek.  Add in the display pavilions where you can buy the latest gear for your aircraft (or anything, really) and it makes for a busy few days.
Flying displays occurred daily from 2-6pm, with a different program each day.  There were the usual displays of aerobatics and stunts from a variety of performers, but there was also some big draw acts.
This year saw the first display of the Terrafugia Flying Car at Oshkosh.  The remarkable road-legal car that can unfold its wings and fly away did a number of displays during the show.  Two FAA-conforming HondaJets also took to the air on the first day and did a few passes.
One of the big-ticket air displays this year was Yves Rossy, also dubbed 'œRocketman', a Swiss-born pilot and adrenalin junkie.  With his personal flying jet-wing strapped to his back, Yves was due to soar above the OshKosh crowds for the first-ever display in North America.
Just by moving his head or flexing his body, he could change the direction of his small, 4-engined, carbon fiber wing.  Right before his show was to begin, the FAA almost required that the 'œJetWing' be registered as an actual aircraft. He complied and his flying device ended up being registered N15YR.
It was visually disappointing that his displays were completed above 6,000ft since it was extremely hard to see him in the sky. More often that not, all you saw was a speck, if you were lucky.
My favorite flight display this year had to be the Sea Harrier flown by Art Nalls which is the world's only privately-owned Harrier (let alone Sea Harrier).  It's a unique aircraft with the ability to takeoff and land vertically, but it's not cheap to fly – it guzzled a gallon of fuel every 6 seconds.
It was a great display to watch as he hovered the aircraft over the crowd several times, even doing a number of high-speed passes.  The aircraft is incredibly loud; you could definitely hear it coming towards you and, in fact, it seemed even louder when in the hovering/vertical maneuver sequence – not something that I expected.
While EAA AirVenture was celebrating its 60th anniversary, Wednesday, July 31st was also Pratt & Whitney's 50th anniversary of the PT6 engine.
The day was highlighted by a range of PT6-powered aircraft lined up around Phillips Plaza, all from different manufacturers.  Polished and gleaming in the sun, it was a stunning day to showcase 50 years of an extremely versatile engine that has powered a wide range of aircraft (and maybe a car or two).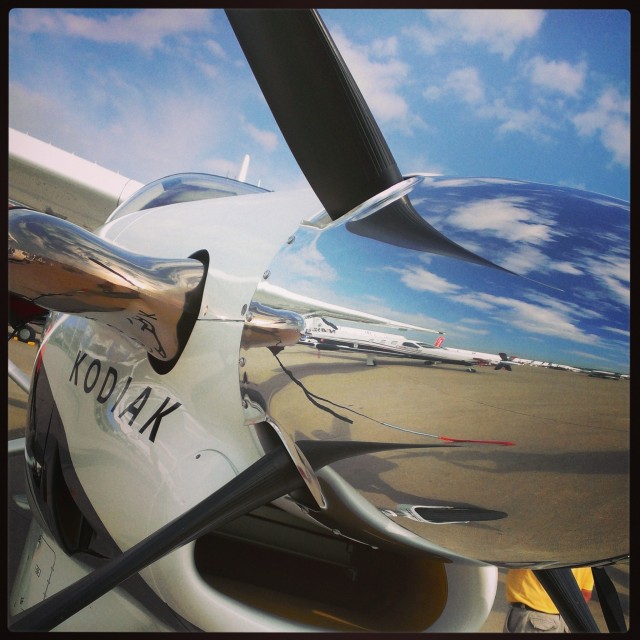 Each night at Oshkosh a movie was shown at the 'œFly-In Theater,' just off to the side of the parking lot and campgrounds.  Essentially a giant screen in the middle of the field, it was a great way to wind down each evening with your new-found friends.
The final Friday night of the show (August 2nd) saw the world premiere of Disney's new movie Planes.  Based on the Pixar film Cars, it imagines a world where planes come to life.  The Director of the movie, Klay Hall, and Executive Producer Traci Balthazor-Flynn hosted the evening and they definitely had a crowd to show it off to.
Nearly 15,000 people tried to squeeze into the small field/theater; some parts were standing-room only!  The movie was great, full of enjoyment for both the young and the young at heart.
Oshkosh was a true AvGeek adventure for me; there was no way that I could cover, or see, everything at the show.  During the time I was there, I did try to at least get around to all the areas, but that wasn't going to happen.
Each day I felt like I was criss-crossing the airport, covering mile after mile (almost 78 miles in total by the end of the week, according to my tracker) and yet, there was so much more I could have done.  Next year, if I can manage it, I definitely want to return.  Maybe I can fly in for the true Oshkosh experience?