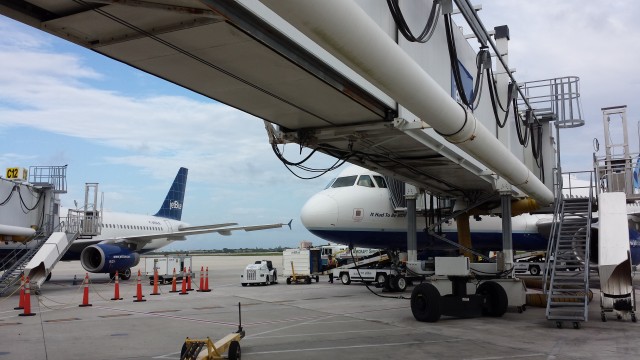 Air travel is expensive, that is a well known fact of life. While the cost has indeed dropped dramatically over time, flying is still fairly expensive once you add up the taxes, miscellaneous fees, and everything else that goes along with flying. Last week, however, JetBlue offered a deal that was simply too good to pass up. 90% off any flight out of New York City? Sign me up!
After three frustrating days of trying to book a trip to literally anywhere JetBlue flies, I was finally able to book a round trip flight to West Palm Beach, FL for a whopping $66.99, $24.95 of which was taxes. That fare, booked the day before travel, was already incredible. At over $400 off the normal price, I was extremely happy. What came next, however, brought the fare down to less than the cost of a Big Mac.
When I arrived to the gate, I expected to see my aircraft waiting for me, as usual. Sadly, the aircraft was missing, and my flight was delayed for reasons I did not yet know. After some time passed, the gate agent informed passengers that the aircraft was in the hangar on the other side of JFK, having some mechanical work finished up. I very rarely encounter mechanical delays on JetBlue, since a majority of their fleet is still quite new. Although this aircraft was one of JetBlue's original A320s, it turns out that the aircraft was "dented" somehow a few days earlier. The aircraft was repaired, but JetBlue was still waiting for Airbus to finish some paperwork on the other side of the planet, and it was taking longer than expected.
Yes, the two hour delay was annoying, but I felt that I was in no place to complain given the fare I paid. In addition, it gave me the opportunity to chat with the pilots for quite a while before the flight. The pilots were extremely cool, and the delay flew by (pun intended) while we talked. After a few false alarms, our aircraft was finally towed to the gate and we were on our way to Florida. Because of the delay, I was now $50 richer in JetBlue credits, as per the JetBlue Customer Bill of Rights. My fare was now only $16.99.
Once on board, I settled into my middle seat (yes, sometimes that happens) and prepared to watch some daytime television on the LiveTV system. Because the aircraft had just been towed over from the hangar, the TV system had to be cold booted. On most of JetBlue's aircraft, this process is a piece of cake. Remember, though, this was one of their oldest planes, a whopping 13 years old.
The satellite TV portion of the system was taking its sweet time to acquire the satellite signal, and passengers were not pleased. The crew assured us that the system would kick in, but because it was one of their older planes, it may take some time. The announcement proved to be correct, as live TV didn't kick in until we were over South Carolina. To make up for the issues, the movie selection was offered free of charge, which was nice. Unfortunately, the 3.5mm headphone jack in the arm rest was not cooperating, and was only providing half channel audio unless I held the plug at a specific angle — a problem I seem to encounter more and more on the airline.
On most airlines, if the IFE does not work, that's just too bad. On JetBlue, however, passengers are entitled to a $15 credit if you let them know. I mentioned my issues on Twitter, and JetBlue offered me the credit. That is an extremely generous offer, considered my flight was already incredibly cheap. I politely turned town their offer, but they would not take no for an answer. After some back and forth, I eventually caved in, and let JetBlue issue the credit. How often do you have to fight with an airline to not give you a credit?
"@AirlineFlyer Nonetheless, you're still entitled to a credit! How can one fly with no TV? ;)"
JetBlue Airways (@JetBlue) July 19, 2013
The cost of my flight was now down to $1.99.
After a few days in Florida, it was time to head back to New York. My flight was delayed once again, but this time due to weather in the northeast. Although this plane was newer, I once again encountered issues with the IFE system. Thankfully, live TV worked, but the moving map and XM Radio did not, and the headphone jack presented the same issues as the last time.
On JetBlue, I expect these things to work. I'm spoiled, I know. This time around, I turned down the $15 credit, as enough was enough already. At the end of the trip, although I was unhappy with the IFE experience, I was very impressed at how well JetBlue handles operational issues. The $50 credit was automatic, and they practically forced the subsequent $15 credit on me. Other airlines can learn a few lessons from JetBlue when it comes to this, and that is how I was one step away from actually making a profit on my flight.
| | |
| --- | --- |
| | This story written by Jason Rabinowitz, Senior Correspondent. Jason is a New York City native who has grown up in the shadow of JFK International Airport. A true "AvGeek", he enjoys plane spotting and photography, as well taking any opportunity he can get to fly on an aircraft. |