If you have been reading the site for a while, you know that I don't take as many trips as I used to life priorities have just changed. When Embraer recently reached out to invite me down to fly on their E195-E2 aircraft, I was all in. 'œBut David, didn't you just fly their E190-E2 Sharkjet about a year ago and don't you always complain about how often you fly the diagcon from Seattle to Florida?' Wow, you do read the site quite a bit and you are right'¦ on both accounts.
First off, I was going to be able to fly the Tech Lion vs the Sharkjet this time… meow! Secondly, as part of the media flight, we flew into the Kennedy Space Facility (KTTS), got a VIP tour, and had lunch with an astronaut (Tang drink included). And if that wasn't enough, I was able to ride jump seat while taking off from KTTS. Yes, this was going to be worth heading down to Florida again to hang out with the fine folks at Embraer, and I was very grateful that I had an invite!
Going to Florida to See an Embraer Lion!
This was a short trip, but that is okay. I woke up in the middle of the night to make my 6:00 am flight out of Seattle to head down to Fort Lauderdale (FLL). I made it there just in time for dinner, then bed time (this old man does no partying). I wanted to see the sun rise, so I set my alarm early again, and it was worth it. Soon enough, I was in a bus heading to Embraer's offices, located on the northeast side of FLL.
Sure, the briefing was interesting (and I share what I learned in the story), but obviously I was giddy to see the plane. Once the briefing was over, it was time to head back on the bus and take a short ride to the hangar with the Tech Lion E195-E2. I have to say, it is quite the impressive livery.
My First Look at the Embraer E195-E2 Tech Lion
As I typically do, I spent a bit too much time with the outside of the plane (they normally have to herd me), so I didn't have as much time with the inside before we started to taxi. I was a bit sad I never made it up to the flight deck, but I did have some time to check out the new first class product.
Those Staggered First Class Seats on the E-Jet
I was pretty excited to check out these staggered first class seats. They were something quite a bit different; staggered, yet still in a 2-2 layout. At first glance I thought they were pretty darn cool and shared that on Twitter. It didn't take long for some of you to voice your concern:
@gordonwerner: "So… For an entire flight… some stranger can literally watch everything you're doing, read your email, etc… right over your shoulder"
@andycr8on: "So when the person in the forward seat reclines and the other person doesn't, is the non-reclining passenger obligated to read a bedtime story to the reclining passenger?"
@seanpeaaa: "How do I sext over WiFi with someone looking over my shoulder" Which I couldn't help by reply with "Just open up a Word doc!"
Hmm… I was second guessing myself. Since I didn't have a chance to really try out the first class seat myself, I reached out to a few of my aviation pals, who did get to take them for a spin.
Paul Thompson, who you might see writing on Runway Girl, told me, "If I had to put the first class of the E195-E2 into two words, they would be 'comfortable and adequate.' Considering the relatively short missions these planes would be flying, a premium traveler would certainly find these seats suitable for their needs."  He also added that they are staggered in such a way that there is still a sense of privacy. That's good.
My other friend (I know, look at me with two friends) Chris Sloan over at Airways News, explained, "With generous recline and padding, these are the most comfortable seats I have ever experienced on a regional jet."
After taking some time to really think about these seats, I like them… I like them a lot. Hear me out. They give the cabin a high-end, long-haul feel. And yes, that does matter. The E2 will likely be used for some longer, thinner routes and add the Embraer Sky Interior lighting (that's what I am calling it) and you have a slick package. The cabin feels bigger, it feels more expensive, and way less boring than another 737 or A320.
Yes, the privacy might be a little awkward at first, but remember this is a domestic, shorter-haul product. Do we really have much privacy in domestic first class as it is? I know that airlines like Delta and Alaska are getting rid of the bulkhead that separates the front and back of the plane. Since it goes from two to three seats, those behind you have a nice view of your business. Plus, these E2-Jet seats give you a whopping 50″ of seat pitch. That's right… 50″… on a regional jet!
advertisement:



All that said, I would be very interested in trying these out in the "real world." So far, Air Peace (in Nigeria) is the only taker. Hopefully I can either make my way out there, or more airlines will order the configuration. I think this will be one of those things that if one does it, the rest will have to follow. I guess we will see. (Editor's note: there's thousands of planes flying with a domestic first class product – why haven't we seen this on your average 737?)
The Embraer E2-Jet Economy Section
Whew… okay, that was a lot on the first class section, let's head on back to economy, where it seems much more familiar and less controversial (hopefully).
A while back I said that the E-Jet is my new favorite domestic plane to fly in, and that hasn't changed. You have the 2-2 layout, less people (quicker to get on/off), and you still might board from the tarma…err I mean ramp.
Of course an airline is going to customize their own interiors, but the economy product in the promotional aircraft was pretty standard and quite nice! I was thankful for that, since I chose seat 20A, just behind the wing, for our journey into (the) space (center).
Most times when a media flight is over, I am sad. This time, I was excited. Of course that had more to do with what was to come next.
When our plane was parking, I could see a NASA T-38 parked on the ramp, which was a pretty nice welcome. Before we could board the bus, we had to go through a security check – a pretty legit one, at that. You see, not just anyone can land at this airport — we had to get special permission. You probably know this airport, since it is where the Space Shuttles would sometimes land when they were still in service. I felt pretty honored to be standing on sacred ground!
I haven't been able to tour the facility since I was a child, so this was a real treat and I realized that I need to make my way back to spend some more time there. But it wasn't long until we loaded back up on the bus and to our awaiting golden cat.
When I got on the plane this time, I made a turn to the left. I was about to have one of the best experiences I have had to date: riding in the jump seat in the flight deck while taking off where the Space Shuttles would land. I have been lucky enough to fly in the jump seat while taking off (and landing) a few other times, but nothing quite like this. I can't even stop smiling while writing about it now.
I will say at 6'1″ and 250-ish lbs, the jump seat is pretty cozy. But I was able to maneuver myself to make sure that my knees were out of the way. I said "hello" to the pilots and thanked them for allowing me to be in their flight deck, then I went silent. I didn't want to cause any distractions for them during take off.
It was okay, I didn't need to chat. I had lots and lots of amazing eye candy to keep me occupied. We started to taxi out to the very long runway, but obviously we wouldn't use too much of it.
That moment when the captain puts his hands on the throttles and moves them forward is amazing. You cannot help but start feeling giddy and get a grin from ear to ear. I am not a physicist, but I am pretty sure that the G forces actually experienced in the flight deck is the same in the last row in economy. However, it sure doesn't feel that way. Maybe it is because you can see the world speeding up to you in the front windows. Whatever it is, I like it. Nah… I love it!
(I did asked my friend, who is an aerospace engineer, about the gforces thing and he said something about superposition of acceleration vectors and the distance from the center of rotation during rotation, but I just started to glaze over and stopped listening. I am pretty sure I ended up being correct. School me in the comments, if you know better!)
Full throttle and we lifted off right after passing the Space Shuttle Inspiration. It might have just been a mock-up space shuttle, but seeing it as we got to speed was truly (wait for it) inspiring!
We lifted off very quickly. And I was told later that they actually delayed the takeoff so folks on the ground could get some photos. An almost empty E195-E2 sure is one rocket! Once we lifted off, the captain encouraged me to put on some headsets so we could chat. Heck yes! Now I could start asking about all the things I have been watching: how the autopilot worked, the TCAS system, how they would handle an emergency, and just about the plane in general. Talking about planes anywhere is cool, talking about them while flying in a cockpit is hard to beat!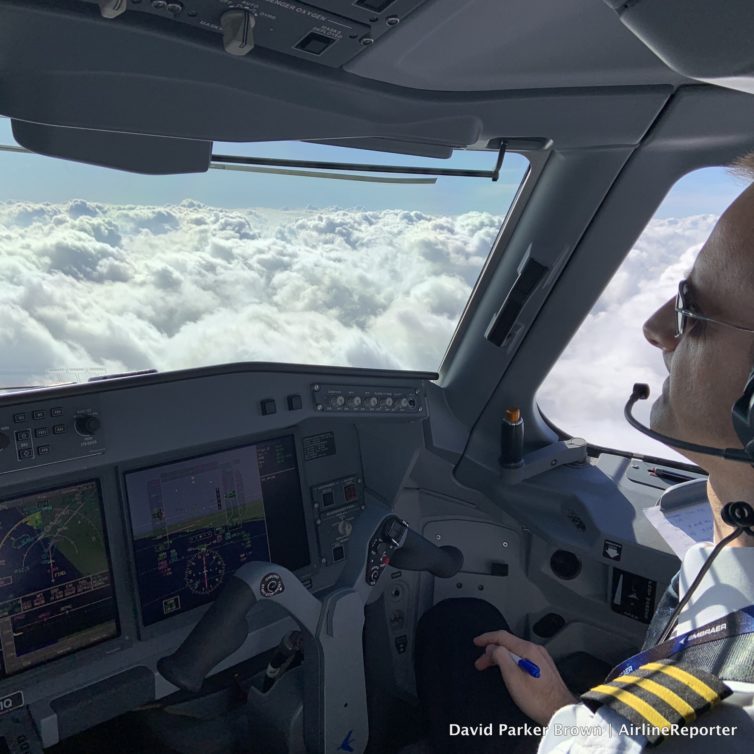 I was only supposed to be in the flight deck for takeoff, but no one came to relieve me. I was more than happy to give up my spot to another passenger, but you better believe I wasn't going to go out of my way to do it! As we started our descent, I finally got the tap on the shoulder. It was my pal Chris Sloan (that I talked about earlier) telling me he was on deck. So, I made my way to find a seat in economy for our final into FLL.
I had a pretty tight connection with my flight back to Seattle, so I had a car waiting for me once I deplaned and I was on my way home.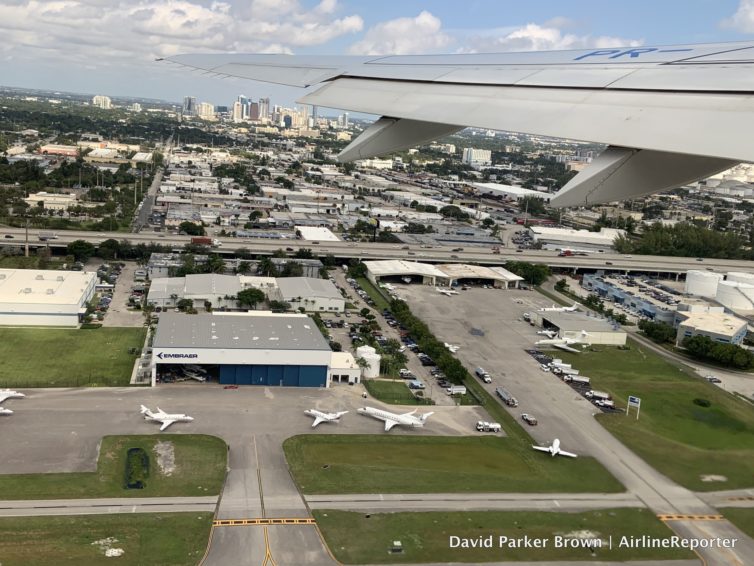 In the end, I will keep saying that I love this plane! I haven't yet flown on the Airbus A220 (I have toured a few), so I cannot say which one is better overall, but I have a hard time seeing a 2-3 configuration beating out one that is 2-2. However, I'd rather fly an E-Jet (E1 or E2) or an A220 any day over a 737 or A320.
With Boeing about to take an 80% stake in Embraer and heated competition from Airbus, plan to see a lot more coming from this segment. As a passenger, and an AvGeek, I think this is a very good thing!
Note: Embraer covered the my airfare & costs to do this story, however all opinions are all mine.