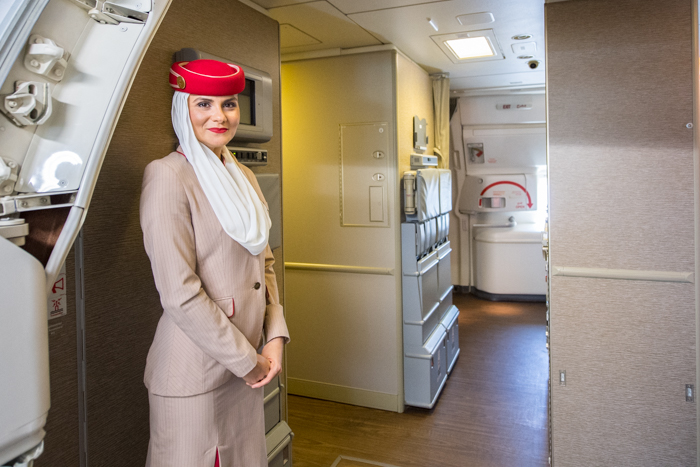 Emirates recently invited AirlineReporter for a tour of their new business class cabin in their reconfigured 777-200LR aircraft. The beautiful cabin is laid out in a 2-2-2 configuration. Fort Lauderdale is the first gateway to feature the newly refurbished aircraft. This also provided a nice setting to sit down with some of the airline's leadership to learn more about this new product and their direction.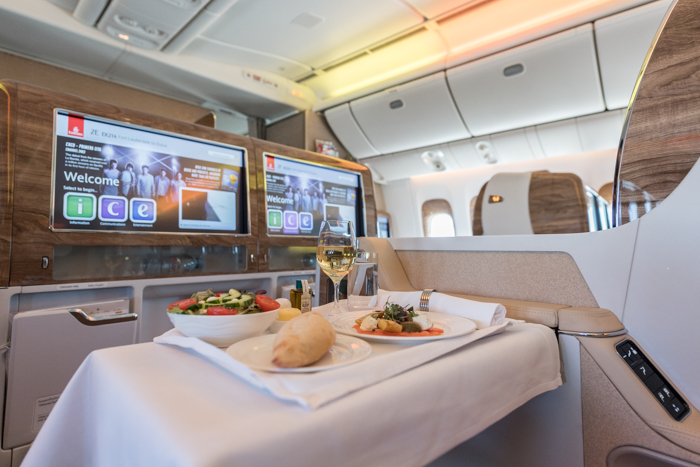 Emirates plans to invest over $150 million to refurbish their existing 10 777-200LR aircraft. The two-class configuration features 38 business class seats and 264 seats in economy class. I was excited to get on board and see for myself the changes. Although not revolutionary, they will allow Emirates to better compete.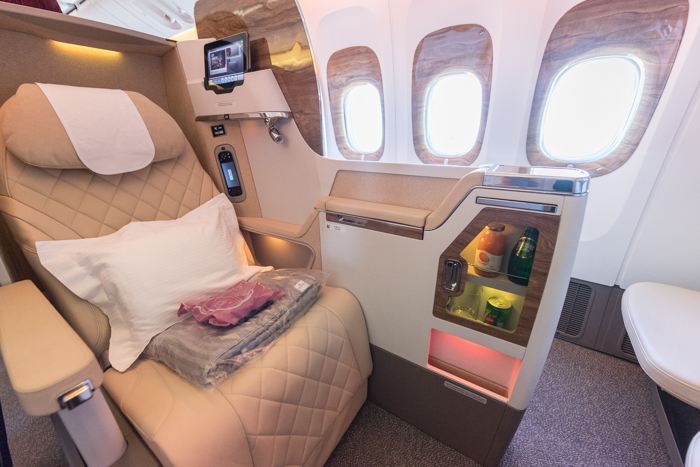 The new business class features electronic window shades, a social area where guests can help themselves to premium snacks/beverages during the flight, and larger in-flight entertainment screens (from 17' to 23').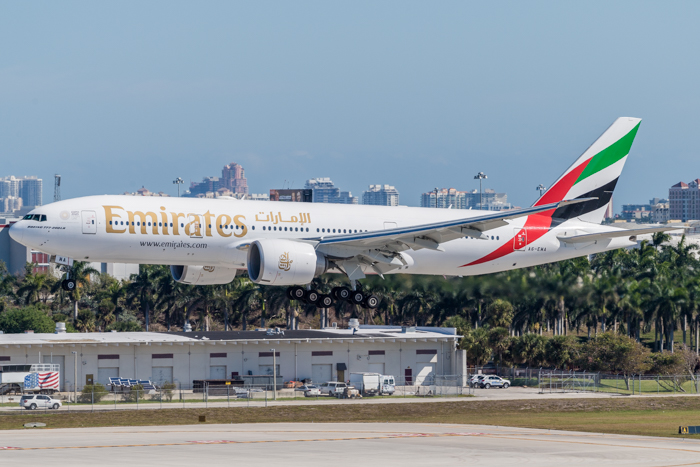 The updated economy class features seats with full leather headrests that have flexible panels that can be adjusted, and the seats have been refreshed with the newest color palette. While still in a 10-abreast configuration, the airline is hoping the premium amenities will sway passengers.
While in Fort Lauderdale for the unveiling of Emirate's new Business Class, I was able to sit down for a quick chat with Matthias Schmid, Senior VP North America – Emirates. Here is our conversation…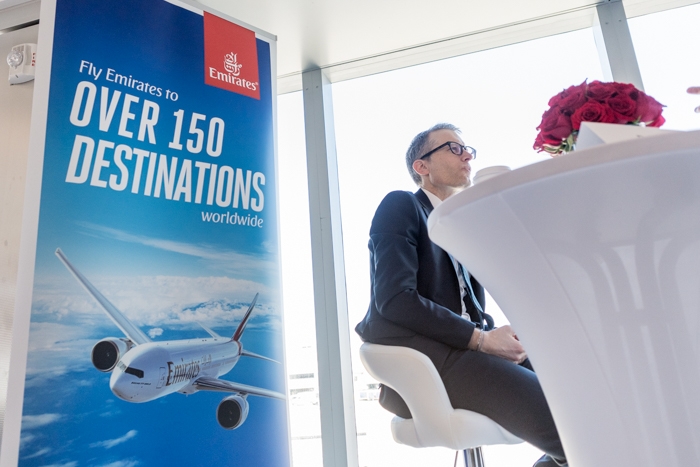 Q: Can you tell me a little bit about your day-to-day job responsibilities?
A: I'm the Senior Vice President for North America – Emirates. I'm responsible for the entire Emirates operation in the U.S. and Canada, the major focus is really on the commercial side. We have 80 people on the commercial side that manage all of the relationships with our distribution partners, corporate accounts, etc…. We have a relatively large freight operation here in the U.S., certain destinations are operated by dedicated freighter aircraft in addition to the passenger aircraft so we have around another 80 colleagues that are on the Emirates SkyCargo operation. We fly in North America to 13 airports, so we have 13 airport service managers with their teams at respective airports. In four airports we operate our own lounges, so we have our own lounge staff that are taking care of our lounge operation. We have the finance organization which is based in New York and the HR organization is based in New York so I'm really trying to coordinate all the different activities here in the North American market, but my background is really a commercial background so the thing that still excites me is in the morning to look at the forward looking developments, so I really try to have my ears and my eyes on the street to really understand what's going on.
Q: In your current role at Emirates what would you say has been your biggest challenge?
A: Every job has its challenges, I started in Europe and got transferred to Dubai where I had more of a global strategic role and I was transferred to the U.S. five-and-a-half years ago. I think the biggest challenge was, I joined the U.S. team when we really just started with this massive expansion that we've seen. So in September 2012 I think we had 49 weekly flights into the U.S. with six gateways and, now five years later, we fly to 12 gateways in the U.S. with 101 weekly flights. So it's really managing this massive growth and making sure that you also structure the organization in a way that you can manage the growth in a sustainable way.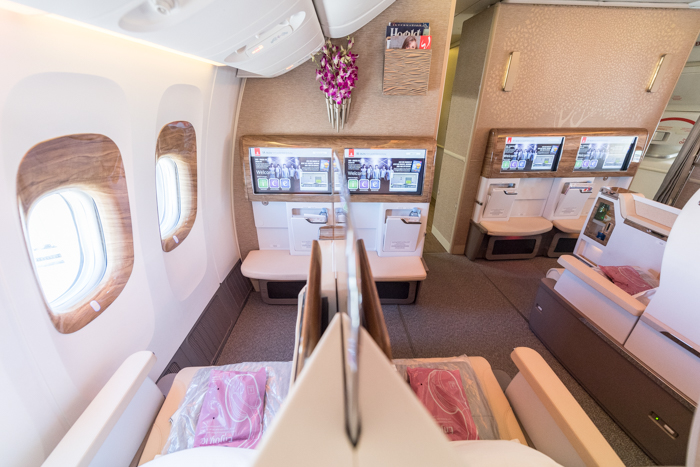 Q: In 2017 Emirates had to deal with the electronics and travel bans; now that it's been resolved have your capacity numbers returned to pre-ban figures and are you maybe working a little closer with the FAA/US government so that Emirates is a little more ahead of the curve in the case there are more obstacles that may come up in the future?
A: We already, before the ban, worked very very closely with the FAA & Homeland Security. We have an entire department in Dubai (group security) who are basically in daily contact with authorities around the world. It was no doubt a very challenging year for us. With the travel ban first in January and then in March the electronics ban and yes it had an impact on our passenger numbers from the U.S. and also into the U.S. Certain flows were more affected than others, but now yes, we are really back on track and I would say the recovery really started in July/August of last year already when we really came back to previous year figures. Now we're in the March so the first quarter for us was very strong and I also think it's a sign that we put additional capacity again on U.S. routes. We're going from five weekly to seven weekly at Heathrow and the same in Orlando, we're upgrading Houston to an Airbus A380 from a current 777 starting June 1st so we are seeing moderate growth again on U.S. routes. (Editor's note: after this interview took place, Emirates announced some service frequency reductions to Fort Lauderdale and Orlando.)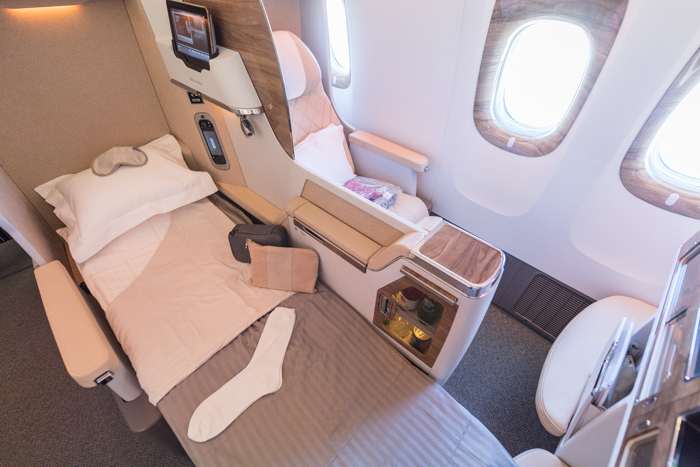 Q: You're a little over a year into serving the Fort Lauderdale market, tell me a little bit about how that's going and where do you see Emirates position here in Fort Lauderdale in five years?
A: I think one of the key questions is always why Fort Lauderdale and why not Miami? So for us its really serving the South Florida catchment area and the reason why we operate in Fort Lauderdale is because of our strategic partnership with JetBlue so Fort Lauderdale is a core focus city for JetBlue and that really allows us to develop traffic beyond. We currently get between 20 and 25 passengers on each of our planes that connect onto JetBlue or that come from JetBlue and it really allows us also to get a bigger footprint in Latin America and in the Caribbean so that was the whole idea of why we started Fort Lauderdale.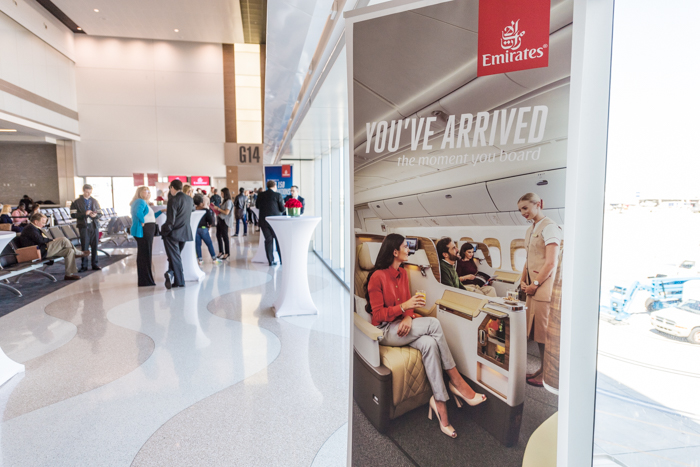 Q: You've spoken in the past about capturing the cruise business here in Fort Lauderdale, how's that going?
A: That's actually going very well, so the cruise business is really core, we call it baseload for us because it's typically business that books well in advance so the booking cycle is very very long which is nice for us, but on the other hand if you miss that booking window you can't really make it up later on and we're changing a couple things for the summer schedule. Starting March the 25th in order to capture even a little bit more cruise traffic the key change that we do is currently we have a 10:55am arrival which is a little late so now we pushed it to 9:59am as of March 25th and that is really primarily because of the cruise segment so for the cruise operators its key that all their crew members clear customs before noon, that gives them enough time so basically if they clear customs by noon they save an entire rest day for the crew so for them financially its quite attractive because then they can deploy the crew already on the following day on the vessel.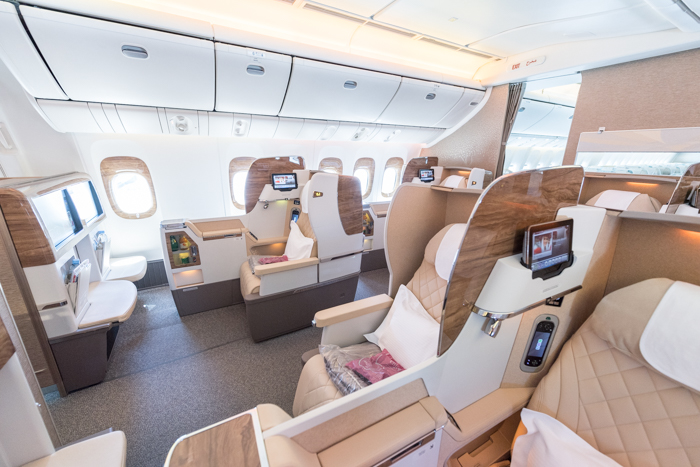 Q: You mentioned Houston is upgauging from a 777 to an A380, what's the next market to get the A380?
A: I think there are a number of markets where there is potential for an A380. The big limitation that have is that certain airports aren't really ready for the A380. If you talk about Seattle for example they cannot handle an A380, but there are a number of A380-capable airports that we operate into. Chicago is one, Boston is one, and Dallas is A380-capable and if we see strong demand and growing demand then those are the natural gateways that we have on the radar.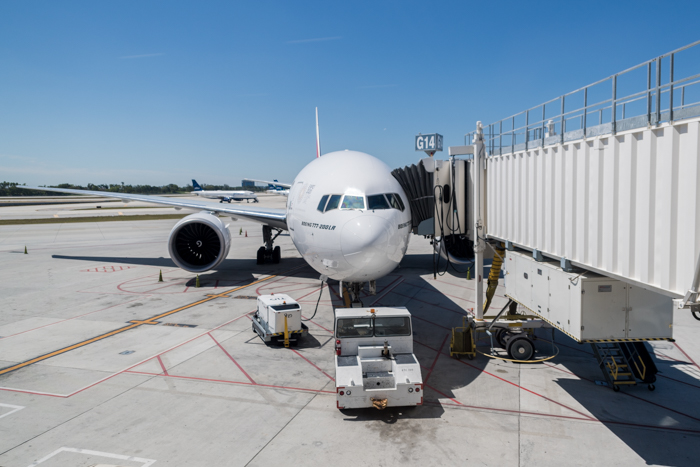 Q: Any chances of Orlando maybe upgauging to an A380 (which is my home airport)?
A: No, because Orlando was also one of the routes that we reduced. We started at seven times a week and we're currently at five times a week and we're going back to seven times a week starting March the 25th and to just to give you a little bit of a number so going from five times a week to seven times a week is a 40% capacity increase so that's 700 more seats per week so let's focus on that capacity increase and then worry about future growth in a couple months.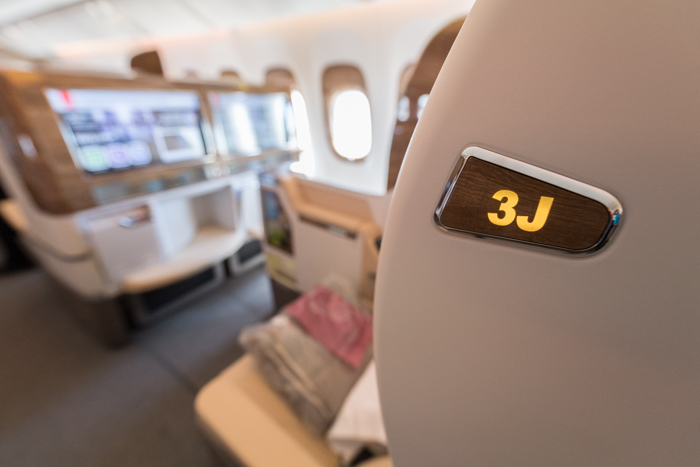 View more photos of my Emirates business class product tour.