My working holiday in Hong Kong at the end of April started with a delightful journey on Cathay Pacific (CX). I upgraded from Premium Economy to Business for the nearly 12-hour overnight flight on a 777-300ER out of Heathrow's (LHR) Terminal 3. Now a long day's work always deserves a beer. And I was also on a mission to sample a Betsy.
My business ticket granted me access to CX's lounge in LHR T3. I therefore scurried over to discover it and to crack open a CX-inspired cold one. Reopened in November 2016, the revamped Cathay lounge is slick and elegant, finished in brown wooden panels and marble.
Naturally enough, it also had an authentic Asian feel and the noodle bar was tempting.
However, I headed straight to the (drinks) bar like a parched beer monster and ordered a bottle of Betsy. Who and what is Betsy, I hear you say? Well, here she is:
Cathay Pacific and the Hong Kong Beer Co. have combined to produce a craft ale that has been scientifically brewed for 35,000 ft. The beer takes its name from CX's first aircraft, a Douglas DC-3, purchased in New York in October 1945. It is currently only served in the CX lounges and in first and business class on board. So I decided to put it to the test. Obviously.
I plonked myself down on a black leather lounge chair, with a nice view of the runway.  I then nibbled on a small portion of chickpea tagine and a few mini samosas so as not to booze on an empty stomach. Then came an unashamedly giant first swig of Betsy… It had a rich malt taste and was considerably sweeter than I was expecting. At ground level, I found it pleasant enough. I must confess that it was a little too rich and sickly sweet for my palate. However, I would entirely reserve judgement for tasting session part 'deux' on board.
It was wonderful to be reacquainted with Zodiac's reverse herringbone seat, having enjoyed and played around with Air France's biz product on the Dreamliner from LHR to CDG a few months ago. Instead of 45 minutes, however, I was getting about 12 hours! Overnight! I have never looked forward to a night flight more and wondered whether I'd really be able to sleep. I am not someone who can generally sleep just anywhere or in an upright position.
I sipped some champagne whilst listening to those GE90 bad boys spool up just below my window. Push back was slightly delayed, but I wasn't paying any attention to the time. Avgeek heaven, folks.
As we climbed into the London night sky, I browsed the IFE for a suitable movie to enjoy over dinner. I'm still not sure what possessed me to choose Mel Gibson's Hacksaw Ridge. It's a decent enough WWII film, but not really a dinner companion. It didn't matter. I salivated at the menu, having never tried smoked coffee crusted salmon before.
Well, I can recommend coffee crusted salmon. Delicious. However, I tucked in too quickly. I should have waited for my Betsy to arrive first in order not to contaminate my palate with too many strong flavors. Food critic protocol 101, right? Nah.
Betsy is indeed a different proposition at 35,000ft. The menu describes the beer, brewed using Hong Kong-sourced "Dragon Eye" fruit and English Fuggle hops, as having travel in its DNA. I concur – up here she's a less sweet, sharper and punchier pale ale that would compete nicely with other microbrewery creations worldwide, in my view. Physics dulled my palate and also made Betsy taste magical.
For my main course, I chose chicken with oyster sauce, shiitake, wood ear, carrots, celery, and dried shrimp with steamed jasmine rice. There's no photo of this dish, served in white china bowls, because I inexplicably forgot. No, that's not true. There is an explanation. I loved the way in which the air hostess practically sang its arrival, "ready for your chicken and rice? Please enjoy!" so much that the camera sat idle.
I wolfed it down – it was tasty, but I found the oyster sauce somewhat overpowering – and gratefully agreed to sample the cheese selection (a blue, Cornish yarg, and some Cotswold brie). Washed down with a glass of Beaujolais Crus.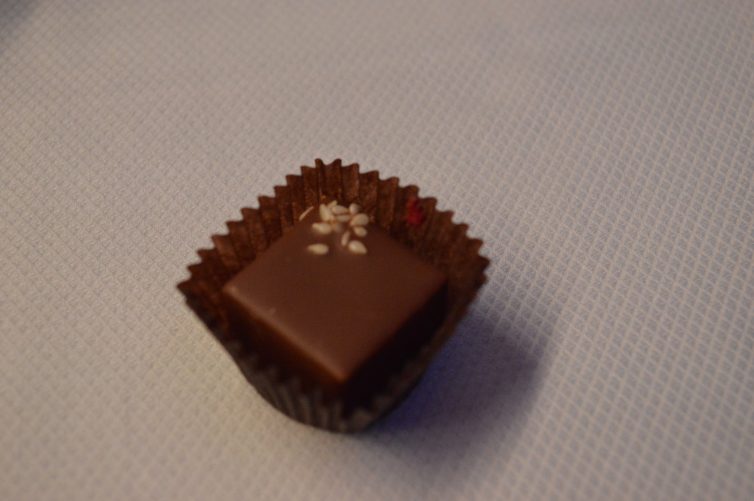 CX praline – Photo: Alastair Long | AirlineReporter
On a serious note, the trademark warm Cathay hospitality is a real asset to the airline. This goes right down to the smiley chap who served me a praline from a box with a mini set of twongs. Awesome. I was now starting to flag and was ready to sleep. The lights had long been dimmed and it was time to go night night. Down went the flatbed.
Incredibly, I got approximately seven hours of comfortable slumber. I briefly raised my two window blinds to see an early evening sky somewhere over China. My body clock obviously told me it was about 6:00 am. I felt good though, and ready for breakfast.
I freshened up with my CX amenity kit and briefly stared down the aisle as other passengers began to stir.
I strolled back to my seat, the whiff of coffee brewing already in my nostrils. The flatbed had done a sterling job of enabling me to sleep through sporadic light turbulence.
I am not a fan of muesli, but this Bircher stuff with blueberries went down a treat with some strong coffee.
I followed it up with a full English breakfast. I should really have tried the chicken and mushroom congee with goji berry or the stir-fried noodles with seafood and X.O. sauce. Noodles for breakfast? I'm being a cultural philistine I know, but that's just not cricket.
We gently touched down at just after 5:00 pm local time and I felt the excitement of visiting a new place mix with a crazy twinge of sadness at the end of the journey.
Rolling along to find our stand, I did a final browse of suitable music to accompany the arrival. However, Mr. Mozart did it for me in the end.
Like all legacy airlines, CX is having to become ever more competitive in the face of growing mainland Chinese airlines and, more widely, meet the global challenges which impact the industry. However, they have a superb product and their customer service ethos is strong. I wholeheartedly enjoyed my experience on board. Long may the Cathay dragon continue to roar!