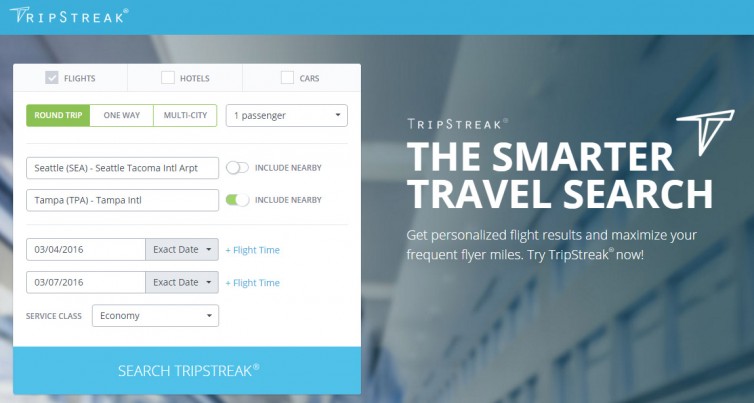 There are so many travel-related websites out there, it can become a bit overwhelming — especially if you are looking to receive the best rewards possible. A new player to the field, TripStreak, is the only flight search that allows you to select and save your travel preferences, resulting in customized results that go beyond fare and schedule.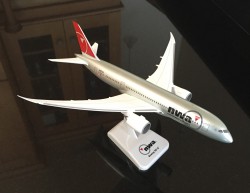 Many of you probably do not just care about schedule and pricing. You want to know how many Elite/Premier Qualifying Miles (EQM/PQM – to earn status) or Redeemable Miles (RDM – to get tickets/upgrades) you can get with each transaction.
With TripStreak®,  you can rank your priorities among nine different aspects of travel: preferred airline/frequent flier program, miles/points type, type of aircraft, layover duration, fewest connections, lowest cost, prefer/avoid redeye flights, refundable flights, and WiFi onboard. Sweet!
And oh yeah… keep reading and you can end up winning a model of a Northwest Airlines Boeing 787 Dreamliner. Yes… they do exist!
I  had the chance to give TripStreak a spin and it is pretty amazing. Looking at a future trip from Seattle to New York, I was able to create my account, select my priorities and get my results. Next to my flight options was the TripScore, which is based on what I want most out of my flight. There are also plenty of other filters to better fine-tune my search as well.
If you look at the screen shot above, you might wonder why the top listing is not the cheapest. That is because of the filters and priorities I set. Based on those, TripStreak is suggesting a flight that might cost more up front, but is giving me the things that are more important to me, such as more EQM miles and shorter layover duration. This, no question, saves some time (and frustration) not having to calculate all the cost benefits on my own (yes, I will often use spreadsheets to compare).
The site uses the data you offer (don't worry, they aren't doing anything evil with it) to give you the best search results possible. You can save your itinerary to TripIt with one click to make it easy to organize your travels.
They also plan to add on hotels and rental cars to maximize your rewards even more!
THE GIVEAWAY CONTEST
NOTE: The contest has now ended. Comments have been closed. 
Oh right… the contest.
I recently had the chance to speak with TripStreak CEO, Charles Ralston — an AvGeek and pilot (flown aircraft from the Cessna 172 to seaplanes to the Super King Air 200). When we brainstormed on how to introduce TripStreak to our community, he was all-in for giving away some cool stuff, because who doesn't like that? He chose a Northwest Airlines Boeing 787 Dreamliner model. Of course, that livery will probably never see the Dreamliner (one can always hope for a special retro livery), but what a slick looking model!
So how do you win? Easy.
Simply do a flight search on TripStreak.com, and leave a comment below to let us know what you think (it doesn't have to be a real flight — you can just take it on a test drive flight)!
You need to be in the US, only one comment per person, and the contest will close at 11:59pm PST on February 15, 2016. At that point a random, qualified person will be selected and mailed the goodies. Good luck!
Comments are closed here.