International first class is something special. It's something that very few people will ever be able to pay for, but for those putting down the cash, they expect an experience beyond anything else available.
British Airways skipped a first class option on its Boeing 787-8 Dreamliner deliveries, but with the 787-9, it decided to give their well-liked first product a bit of a refresh. The global first class market is quite competitive. Many airlines have totally given up on it, while others keep trying to offer the biggest, best, and most expensive options. In a world of apartment-like products, showers, bars, and full private suites, I wondered how British Airways now stacks up. The end result is one of the nicest seats that I have ever had the pleasure of flying in.
My experience began at London's Heathrow Airport (LHR) with a visit to the Concorde Room. British Airways has multiple lounges at Heathrow, but the Concorde Room is something more exclusive. It is reserved only for passengers flying intercontinental first class on the airline, and affords passengers extra niceties and amenities. One of the most interesting perks is what it calls a Cabana. The Cabanas are little private rooms within the lounge, where passengers can shower, take a nap, or simply watch television. While airports can be super stressful, this was the exact opposite. We were already off to a great first class start!
I was able to get some relaxation in and then, after a quick breakfast in the lounge, it was time to board. It always feels good to walk onto the plane and turn left into the premium cabin, instead of turning right.
The intimate cabin has only eight seats, the smallest first class offering in the British Airways fleet. At first glance, the seats (really more like suites) look like they were originally designed to be in a high-end sports car. Sleek lines, two-tone black and silver coloring, and a backlit Speedmarque on the bulkhead set the scene and remind the passenger they they have taken a step above Club World (British Airways' business class product).
Abigail Comber, Head of Brands and Customer Experience for British Airways, says the new first seat is more about refining the prior generation after listening to passenger feedback. Passenger favorites, such as the side lamp and jog wheel, were left in place but slightly refined. Passengers asked for more storage space, so (wait for it…) more storage space was added. A simple concept, but it makes a big impact with more storage being within arm's reach of the passenger.
I actually lost count of how many storage areas there were around the seat. A coat closet to the left, a shoe storage cubby under that, phone and tablet bin with power outlet to the right, and another hiding area for who knows what near the window. If you have something to store, there's a space for it in this seat.
The jog wheel control took some getting used to, but after a few moments of tinkering, I got the hang of it. Each feature of the seat, from the side lamp to lumbar support, is controlled via a press of the button and then manipulated by turning the wheel either way. This allows for some pretty fine control of features, but limits the seat to only three adjustments (recline, lumbar support, and headrest movement).
The cabin was so new that the in-flight entertainment remote hadn't even been placed in its permanent stand yet. Everything I did, whether it was plugging my phone into one of the two USB ports or putting my bag in the overhead bin, it was the first time anyone had ever done that on this aircraft. That was kind of a cool feeling. Heck, the plane still had the "new plane" smell.
The new first seat is packing what is probably the largest in-flight entertainment screen that I have used, weighing in at a massive 23 inches. While that leaves a ton of screen space for a creative user interface, British Airways and partner Thales kind of went the other way on this one. Pretty much all interaction with the system is performed on the tethered, smartphone-sized remote control in the seat console. Sure, the screen was too far away for touch input (though it was touch-enabled anyway), but forcing all interaction down the the handset was a misstep. Why not give the passenger a choice?
Whereas the main screen would provide ample space for a user interface, the remote does not provide enough. Movie titles were often truncated and the text was a bit too small for most eyes. The interface was a bit laggy, and touch input did not always quite line up with where I thought I was pressing.
The menu system and level of content was quite nice, though. Movies and TV shows were sorted by category so no list was too long, and it was easy to navigate. I still prefer the menu on the main screen, and I hope this does not become a new trend.
With a movie playing since I sat down (the system offers true gate-to-gate functionality), it was time to decide what I wanted to eat during the 10-hour flight.
In first, British Airways uses a 'œdine on demand' system, rather than the traditional static meal services. Since this was a flight where I was supposed to put everything to the test, I ordered a bit of everything on the lunch menu.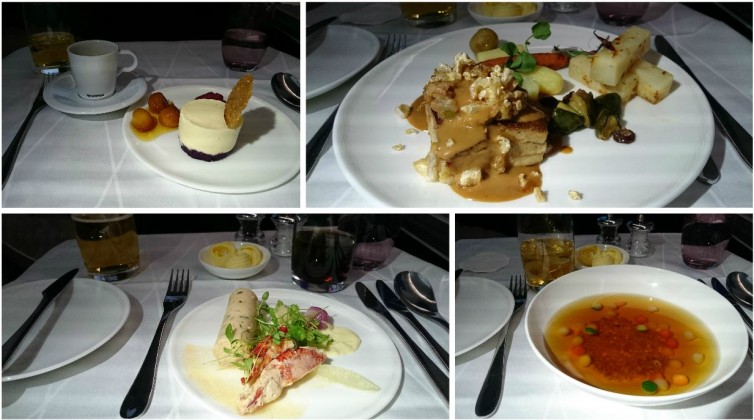 To start, I had the 'œsalmon, crab boudin and poached lobster with lemon, pickled Thai shallots and salsify puree' and 'œautumn chicken broth with pearl barley.' For the main course, I picked the 'œglazed pork belly and popcorn pork crackling with cocotte potatoes, roasted baby apples and Calvados sauce.' For those of you who actually read all of those words, I'll just tell you that everything I had was outstanding. I don't know how they managed to serve a juicy helping of pork belly on board an aircraft, but they did it. This was a meal I would pay for in a fine restaurant and be more than satisfied.
The lie-flat bed looked comfortable and I heard from others that it was. The problem was — it was a day flight and I wasn't tired. However, there was plenty of room and it gave a private feeling to get a good, comfortable rest.
I haven't really talked about the service from the flight attendants, since the whole first class cabin was made up of journalists and it wasn't a true feel of what it would be like for a regular passenger, but I expect it not to be too much different — high-end. Like most other airlines, British makes sure that their best and most well-trained crew serve the front of the aircraft.
As the nearly 10-hour flight closed in on Austin, I was not a happy passenger. I felt robbed, almost. Not that British Airways hadn't delivered on a nice product, but that I didn't have enough time to fully enjoy it. I wanted more. More time to watch movies on the large screen, maybe another course from the lunch menu. If those are biggest complaints about the new seat, it must be a pretty damn good seat.
For a while, I have felt that the business class option on BA has been a bit cramped and awkward since the layout is forward-reverse. Many global airlines have a much less dense configuration in business class. On its own or compared to other British Airways products, passengers will – no question – find this new first class impressive. When comparing to other first class options out there, it might not make it in the top of its class. If BA offered this as their business class product and more of a suite for their first, they would have an unstoppable combination.
No matter what this product is competing with, the cabin really offered great attention to detail, which resulted in one of the most aesthetically pleasing and comfortable seats around.
Should passengers look to book a ride in the new first seat over Club World? If the price differential isn't huge, or you're booking on miles and have the balance to spend, go for it! The additional level of comfort and amenities provided in first result in a large enough "passenger experience gulf" where the difference matters. Certain airlines struggle to differentiate business and first, but British Airways has absolutely no trouble on this front. If you can afford it, it is worth it.
See more photos of my British Airways first class experience.
Note: British Airways covered my flights to and from London. All opinions are my own.