Lines. Queues. Waiting. Standing around. Wasting time. These are the things any frequent traveler goes out of their way to avoid. No passenger wants to see a 45 minute line full of clueless people in front of them, separating them from the safety of the airline lounge. On return from a trip abroad, the line for customs and immigration can be even worse, lasting for hours.
Global Entry and TSA Pre Check, two separate but cooperating programs, have set out to eliminate long lines for frequent flyers. These programs, however, are not available to everyone. There are multiple ways to join each program, so lets take a look at who is eligible for what, and how they can apply.
Global Entry
Global Entry is like a speed pass for customs and immigration, allowing "trusted travelers" to breeze through the entire process in seconds. It all starts by filling out a rather lengthy application, which requires a ton of background information and previous travel data. First off, only U.S. citizens can apply, as well as citizens of the Netherlands who are enrolled in Privium and Korean Smart Entry Service members. Oh, and also citizens of Mexico, but not Canada (more on that in a moment). The cost of applying for Global Entry is $100, but there are a few ways around this non-refundable fee. If you live near a land border (i.e. Mexico and Canada), membership in NEXUS and SENTRI automatically enrolls you in Global Entry, and the price tag is a bit lower. If you have the right credit card, such as the Platinum Card from American Express, you'll end up paying nothing at all.
Once you send in the application, it should hopefully be processed within a few weeks. With the government shutdown, however, who knows how long it will take. After you receive a conditional approval, the real fun begins. An interview at a Global Entry office must be scheduled, and this is often the part most people have difficulty with. Appointment blocks are opened up randomly, but you should be able to find something within a few weeks. If all else fails, visit your local office and see if they will accept you as a walk-in. At the interview, a CPB officer is supposed to ask you questions about prior travel and your employment, but at my interview, we talked about the Yankees. It comes down the luck of the draw, I suppose. Once the interview is over (and, hopefully you pass) your Global Entry privileges begin immediately.
Using Global Entry is a piece of cake, once accepted. Members simply approach a kiosk, scan their fingerprints, smile for the camera, and take a receipt. Depending on the backup at customs, this could save you hours on the very first try. Even when Global Entry is facing some technical issues, members can jump to the front of the line.
In my first few uses of Global Entry, I was amazed at how quick the process is. On several occasions, I raced from aircraft door to curbside in under five minutes at JFK. On one particular occasion, customs was so backed-up that passengers were not even allowed to exit the aircraft, unless you were a member of Global Entry. I estimate that this one use saved me at least two hours, if not more.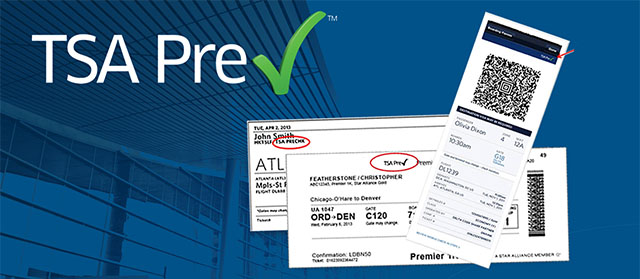 TSA Pre Check
While Global Entry helps get you into the county fast, TSA Pre Check helps you get to the gate just as quickly. Pre Check is a form of expedited screening, where some of the modern security screen rules don't apply. Members have their own dedicated lines, can keep jackets, shoes, and belts on, leave a laptop in the bag, and walk through an old-school metal detector. The TSA recently announced that Pre Check would be expanded to 100 airports, and that a handful of existing airports will receive expanded Pre Check areas.
Pre Check can only be used in conjunction with a small group of domestic carriers. Alaska, American, Delta, US Airways, United, Hawaiian, and Virgin America currently participate in Pre Check. There are several channels to apply, the first being via Global Entry, which automatically includes Pre Check, as does SENTRI and NEXUS. Previously, those who wanted to participate in Pre Check needed to be invited by an airline, but this policy is changing. Starting soon, anyone with $85 will be able to sign up for Pre Check independently from Global Entry. Those passengers invited by an airline, however, are not always guaranteed Pre Check privileges every trip. Signing up via the TSA directly should greatly increase your odds of success.
Since signing up for Global Entry, I have had the chance to use Pre Check numerous times and I have not been disappointed. The security process felt just like it did pre-2001. From start to finish, I breezed through in less than a minute. This is partially due to the expedited screening, and aided by the fact that passengers in this line know what they are doing. Recently, however, there have been reports of Pre Check lines being longer than the regular lines, which is disapointing. Hopefully the expanded check points coming in the future will remedy this.