Recently, I received a lovely little gift in the mail, all the way from the other side of the world.  In the envelope was my new Virgin Australia Velocity frequent flier card.  When I looked closer at the card, though, I noticed something different.  The back resembled a debit card; in fact, it was a prepaid Visa card.  It made me think about what has been happening lately between airlines, their frequent flier programs, and credit cards.
Over the last 12 months, two of the largest US-based frequent flyer programs have introduced minimum spending amounts to attain or maintain elite status.  In 2014, United's MileagePlus program will require a minimum amount of Premier Qualifying Dollars (PQD) along with the usual amount of miles or segments.  Your PQD has to be made up of ticket spend on United-issued tickets or by purchasing upgrades to Economy Plus.  To maintain your Gold Status into 2015, a Premier Gold flyer would not only have to earn 50,000 Premier Qualifying Miles (PQM), but they would need to spend $5,000 on airfare (taxes don't count, sadly).
United's move was almost a carbon copy of Delta's SkyMiles program, however they just changed the words around.  Replace 'œMedallion'  for 'œPremier' and hey, presto'¦ welcome to SkyMiles!  A very similar arrangement, but unlike United where all the tickets have to be issued by United, Delta allows you to earn your Medallion Qualifying Dollars (MQD) with partner airlines (but what qualifies as a partner is a whole story of its own).  United only allows partner earning when booked through United.
One way around that Delta spending requirement is to use your co-branded Delta American Express card.  If you spend over $25,000 in a year (that may sound like a lot, but most points junkies will tell you that every dollar adds up'¦. fast) on the card, you're given a waiver on your MQD requirements.  So if you don't make $5,000 in minimum spend directly with Delta (like by flying plenty of cheap tickets that cover long distances) but you spent over $25,000 on your card, you're still going to make it.  United has allowed it's co-branded Chase cardholders the same thing, but so far only for 2014; no word has been released if it will continue after that (though my guess is that it will).
On the other side of the globe, Virgin Australia and Qantas laid out plans for very similar frequent flier benefits.  The new cards being offered would not only act as the usual recognition of status, but would also serve as a pre-paid debit card.  The cards could be pre-loaded not only with Australian dollars but a multitude of other currencies, and then are able to be used around the world without being charged foreign exchange fees.  It would be as though you were spending in local currency.
Virgin Australia's 'œVelocity Global Wallet' has access to a total of nine different currencies (though only four can be loaded on the card at any one time).  It can be used anywhere that Visa is accepted.  Qantas' 'œQantas Cash' card sees them partnering with MasterCard and has access to nine currencies as well, however it can load the full nine all at once. The feature with either card is that you can spend around the world as though using local currency.
What both of them offer to the frequent traveller/points junkie (like me) that's so attractive is the fact that you earn points on anything you spend.  I could go overseas, spend in local currency, earn points at the same time'¦ SOLD!
Both Qantas & Virgin Australia offer 1 point for every dollar spent (1:1) in foreign currency, and when spending in Australia 1 point for every $2 spent (1:2).  Not so good for use in Australia, but great when travelling and that's the main point, right?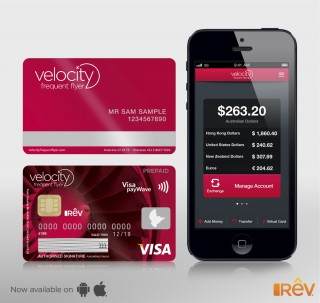 Each card has different benefits that make them unique.  The Virgin Australia card comes with a very handy app (both Apple & Android versions) that allows you to manage your card on the run.  Handy for that frequent traveller who lives in their phone almost 24/7 and can't travel without it.  The Qantas Cash card comes enabled with a 'œQ Chip' built into the card.  Really an RFID chip, it allows the card to be used as a boarding pass or to check-in with the wave of a card at airports around Australia.
Different parts of the globe have had changes to frequent flyer programs that are very distinct from each other, but both show one common theme; it is not all about flying anymore.  Credit card companies are now more and more inter-twined with your frequent flyer program experience.  Of course, some of the easier ways to earn points is by using your credit card and it looks like some of the frequent flier programs agree.  But are these two new changes a sign of the times, trying to not only get you to spend more on airfare, but also on products and services linked with the airline (more than likely earning them money too)?  Or is it a sign of the future, that it won't all be about how many flights you take or how far you fly'¦ but how much money you're worth to the airline as well?