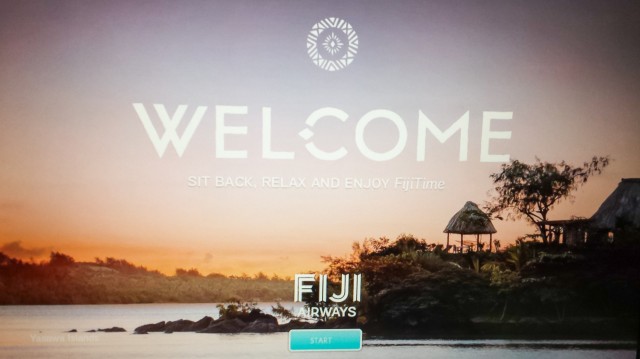 The tiny Pacific island of Fiji has a national airline just as tiny. Air Pacific, however, dreams big and their dream just came true. In just a few short days, the Air Pacific name will be retired, ushering in the era of Fiji Airways, and more importantly, a new fleet.
After a time of financial difficulty, Air Pacific has rebounded to profitability, and decided it was time to replace their aging 747-400 long-haul fleet. Initially ordering and later cancelling a fleet of eight Boeing 787s, Air Pacific ordered three Airbus A330-200s in late 2011, the second of which was delivered last week. These airplanes represent everything that is new about the tiny airline, inside and out.
Let's Start With The Outside
The first impression any passenger has with an aircraft occurs before they ever step foot inside. Upon laying eyes on the airline's new Airbus A330, passengers will immediately know that things have changed. The old, worn, Air Pacific livery is gone as a part of a larger re-branding effort.
The airline payed considerable attention to their new livery and design, and it really shines through. Other airlines might spend years and millions of dollars for an external firm to design and create a new symbol and livery. Fiji Airways, however, didn't go that route.
The airline's new livery, which is arguably one of the nicest out there at the moment, was designed by a native Fiji artist. The artist is a wonderful woman named Makareta Matemosi, from the Fiji island of 'Namuka-i-Lau, which just happens to be the name of the 2nd A330. Makareta designed three specific "Masi motifs" that represent the airline and Fiji.
BONUS: Watch Fiji Airway's A330 landing at LAX
The first Masi, referred to as a Teteva symbol, is at the center of the tail, and "represents the friendliness of the Fijians and their deep caring nature." (Yes, the Fijians are extremely friendly.) The second Masi motif, called the Rova, is ringed around the two engines, and "symbolizes the warm greeting Fijians extend to visitors." The last Masi, the Makare, which surrounds the Teteva, "evokes the allure of clear water and white sandy beaches."
Not every airline livery is able to capture the attention of passengers, while looking good doing it. Fiji Airways hit the combination just right. It's beautiful.
It's What's On Inside That Counts
Past passengers of Air Pacific who have flown on their Boeing 747 didn't have much to get excited about. The airframes were acquired from other airlines after they were deemed to be too outdated and not much updating was ever done. It's like flying in 1989, but in 2013, which might excite some #AvGeeks, but most passengers won't share that excitement. The new Fiji Airways A330, however, is a whole new ballgame. Bright, lush, roomy, and high tech is how you can explain the new aircraft.
These aircraft are packed with everything one might expect out of a new airliner in 2013. In economy class, there are 249 seats in a 2-4-2 configuration.  The seats generally have a 32″ pitch (though some seats have 31″) with a total of 7.5″ recline, including 1.5″ of bottom articulation. The seats are actually quite comfy, with enough legroom to keep most taller passengers happy for a long haul flight.
The aircraft is fitted with new technology from front to back. The old 747 did provide personal IFE, but only to the extent of 12 channels of looping video, which really showed its age. The A330 sports the incredible Panasonic eX2 entertainment system, with 10.6″ LCD screens throughout economy. The eX2 system, which is top of the line, provides a massive database of movies, television shows, games, and music. Yea, that's a big upgrade.
Power hungry passengers can breath easy, as Fiji Airways has you covered. All seats have a dedicated USB port, which every other seat has access to an EmPower power, which is able to provide power to laptops. Most U.S. based airlines don't even provide this kind of support for personal electronics.
The entire cabin is also bathed in LED lighting, allowing for mood settings such as sunrise and sunset. This may not sound like a big deal, but when waking up passengers after a long overnight flight, turning the florescent lights from "off" to "super death kill bright" is harsh. The sunrise mode gently brings up the LED lights over a period of time, to gently wake up passengers. It doesn't sound like a big feature, but anything helps on a 10 hour overnight flight.
Biggest Changes Are Up Front
Throughout the entire aircraft, the biggest changes from the 747 to the A330 can be found up front in Business Class, or "Tabua" Class. The 747 featured 28 old school recliner seats, while the A330 has 24 "lie flat" seats. While the recliners on the 747 only had one trick, reclining, the A330 seats are feature packed.
The seats are configured on a 2-2-2 layout, so each seat is either an aisle or a window seat. With the new layout comes greater privacy, which passengers love on overnight flights. While the seats have 60″ pitch, they are not completely lie flat. Instead, they stop just short at about 8 degrees. While the new seats are light years more comfortable and adjustable than the old reclines, some may still find it difficult to fall asleep at an angle.
Technology wise, Business Class is just as feature packed at Economy. The Panasonic eX2 system screens get bumped up to 15.4 inches, and must be controlled via the tethered remote. The system up front is not touch screen, and some controls may be a bit awkward, but you should get the hang of it in no time. Every Business Class seat has its own USB and EmPower port as well. While a majority of passengers have access to power for laptops, sadly, there is no internet connectivity, nor should passengers expect it anytime soon.
One feature that Fiji Airways seems to be lacking in Business Class is the distribution of noise cancelling headphones. All passengers receive the same type of headphones, which are really not very good. Even with the volume cranked up all the way, it might not be enough for those with sensitive ears. The headphone jack throughout the aircraft is the three prong type, so unless you have an adapter or headphones that are compatible, you are out of luck.
The seats also feature several stowage areas under the entertainment screen, as well as a few bottle holders. Every passenger should, of course, find a bottle of Fiji Water in the bottle holder. What else would you expect, really?
Little Airline, Big Product
The product on this rather modestly sized airline is anything but modest. The design is bold, the interior is fresh, and the product is world class. The people of Fiji are proud of their national airline, and they have every right to be. Any passenger who boards these new A330s is going to feel the warmth and kindness that Fijians so proudly display. In a future AirlineReporter.com post, we will take you inside Fiji, and our wild ride on the delivery flight to Fiji!
This story written by Jason Rabinowitz, Senior Correspondent.

Jason is a New York City native who has grown up in the shadow of JFK International Airport. A true "AvGeek", he enjoys plane spotting and photography, as well taking any opportunity he can get to fly on an aircraft.