Change happens — sometimes for the good.
I have spent the past four and a half years building this website and creating a brand that has become well respected around the world (still a shock). I have been very lucky having help along the way, but to continue growing, I will need more help.
Over the past few months, you might have noticed that some stories have been written by guest writers. As I move forward this will be more prominent and the site will move away from me being "the Airline Reporter," to the site providing the same great quality of content, produced by multiple people. Do not worry, I am not going anywhere and will remain in charge and the main person creating content.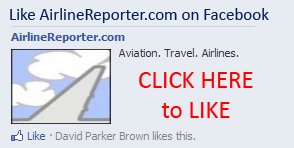 These won't be major changes, but somethings to look out for in the coming weeks/months:
I have (finally) made a Facebook fan page for AirlineReporter.com. I will slow down my blog postings on my personal account and be using the fan page much more — so be sure to like it.
For now, I will operate my Twitter account as before and Tweets will only be made by me.
In the next few weeks, you will start to see stories posted directly by the writers who created them (versus me re-posting them under my account).
I will continue posting guest stories under my account to buildrelationships with potential future correspondents or to provide one-off stories.
Additional correspondents will be introduced as I have been able to build a strong relationship of trust and quality.
I am happy to say that Malcolm Muir (who has written multiple stories for the site and is currently publishing his series on the Qatar Airways 787 delivery) has become my first official correspondent.
I have upgraded my server to allow for faster load times and less down times to handle the increased traffic and demand.
If you are interested in trying to help out, I would like to hear from you. Either a story idea, a one-time guest blog or even trying to build a longer term relationship.
Writing stories takes quite a bit more than a passion for aviation (although that helps). I am looking for people who can show dedication, ability to write, can take fancy looking photos, has at least a basic understanding of social media, can network and will represent my brand well (aka can network and be professional).
If this sounds like something you might be interested in, send me an email (david@airlinereporter.com) with a copy of your resume and give me a story idea or two and we will see where it goes. I can't make any promises and since this is new, I am not sure how this whole process will work yet, so please have patience.
I feel that this will make AirlineReporter.com bigger, stronger and able to get you additional cool content (without making me go crazy). Change can sometimes be scary, but in this case I am very excited — I hope you enjoy the ride!