Last Monday Airbus took its first step towards being an around the clock aircraft maker as it broke ground on its new Mobile, Alabama A320 plant.
When we say around the clock we literally mean it, with the new Mobile factory this will be the 4thA320 factory in the world with others in China, Germany and the company's headquarters in Toulouse France. When the A320's begin to be built in this factory the sun will never set on the baby bus.
At the ceremony, Airbus President and CEO Fabrice Brgier acknowledged how important and significant it is for the company to open a facility in the US, 'œBuilding an A320 family assembly line in Mobile is truly groundbreaking for Airbus. Our customers need more aircraft that cut fuel burn, emissions and operating costs. With this assembly line we will be able to meet our customers' need at their doorstep, in addition to the worldwide demand for these efficient aircraft. When the line opens, we will be the only maker to assemble aircraft in Asia, Americas and Europe.'
The new line will be located at the Mobile Brookley Aeroplex and will be able to assemble the entire A320 family: the A319, A320 and A321. The airline to receive the first US built A320 will be JetBlue. "We're excited to welcome our long-term partners at Airbus to the United States and we look forward to taking delivery of the first U.S.-produced Airbus in 2016," JetBlue spokesperson Mateo LLeras explained to AirlineReporter.com.
BONUS: Check out the Airbus mini-site dedicated to the new Mobile location
Major construction is set to begin this summer and be complete by late 2015 with the first aircraft set to be delivered in early 2016. Once they get the dust settled and Airbus hopes that the assembly line will produce four aircraft per month. The manufacture plans to deliver aircraft from Mobile to North and South America airline customers.
So why is Airbus making this move? Well you have to go back to 2005 when Boeing was originally awarded the US Air Force (AF) Tanker contract. There were too many question surrounding fraud, that the Air Force was required to re-bid. Airbus wanted in on the contract and to make their bid serious, the aircraft maker purchased land in Mobile that it intended to open an A330 tanker factory if they won. In 2008 Airbus was awarded the contract to build the A330 Multi Role Tanker (MRT), so they went through with the purchase the land.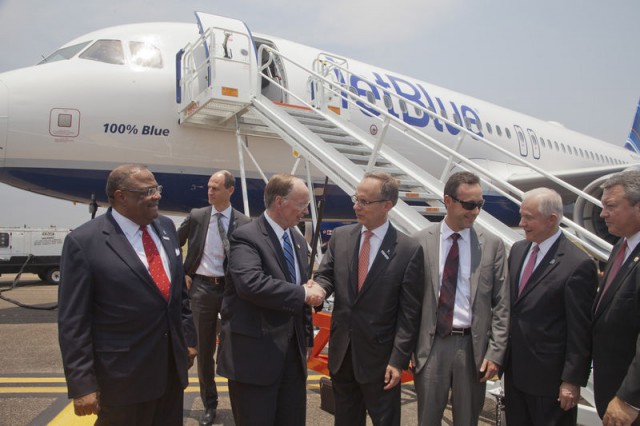 After an appeal by Boeing, the Air Force decided to re-bid for a third time where Boeing won with their 767MRT. But now Airbus had all of this land and once they learned that they lost the contract Airbus announced that it still intended to bring a couple thousand jobs to the Mobile area and create an A320 plant instead of trying to sell the land.
One question that we are all curious about at AirlineReporter.com is that by having this factory in the US now can Airbus sway major US Boeing customers to come its way such as Southwest Airlines, United Airlines or Delta Air Lines who have do already (with an exception to Southwest) have Airbuses in its fleet but only cause they acquired them through mergers with other US major airlines, not from its own purchases.
Also there is potential for Airbus to acquire more land in Mobile, could we see a second line down the road or another type come to the US all together? This could get interesting.
SEE MORE MOBILE ALABAMA AIRBUS GROUND BREAKING PHOTOS
| | |
| --- | --- |
| | This story written by…Brandon Farris, Correspondent. Brandon is an avid aviation geek based in Seattle. He got started in Photography and Reporting back in 2010. He loves to travel where ever he has to to cover the story and try to get the best darn shot possible.@BrandonsBlog | RightStuffPhotography | Flickr |