The sun had yet to rise over the control tower at New York's JFK Airport on the cold December morning, but the party at Terminal 8 was already well underway. This was no ordinary day at JFK. For the ninth consecutive year, American Airlines was beginning a long day of charter flights, celebration, and remembrance with the Snowball Express program.
Since 2006, Snowball Express has partnered with American Airlines to provide a weekend of fun for families that have lost a family member in active military duty since September 11, 2001. American Airlines provides the flights from around the country free of charge for all families, and the scope of the operation is absolutely massive.
Throughout the day, flights operate from their origins and converge on Dallas while picking up additional passengers at 62 cities. This year, American utilized ten aircraft to support Snowball Express flights, ranging from regional jets to Boeing 757s and Airbus A321s. In total, over 150 American Airlines pilots and flight attendants donated their time to the charter flights. The Snowball Express operation is larger than that of some entire airlines.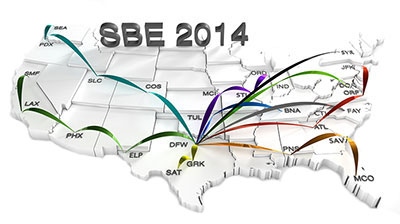 The Snowball flight out of New York, operated by a Boeing 737-800, made two stops along the way to Dallas – Norfolk, Virginia, and Atlanta, Georgia. Before departing JFK, the day kicked off with an upbeat party adjacent to the Admirals Club, complete with DJ, photo booth, and emotional support dogs dressed up like Santa. Before long, it was time to depart for Norfolk, but not before a touching send off from the NYPD, FDNY, Port Authority Police Department, TSA, and JFK employees. Once on board, however, the real fun began.