How many times have you looked out the airplane window and wondered what it was you were viewing? What's that curious rock formation? Is that a volcano?! Why is the water in that lake differently colored than in surrounding bodies? These are the sorts of questions the perpetually-inquisitive flyer might briefly ask themselves. Sadly, these are often fleeting inquiries which never get the attention they are due.
Even the best in-flight entertainment systems provide limited detail, if any. And of course, it's tough to research over often sketchy in-flight internet. Besides, where would we go to look up these geographic curiosities anyway? Fact is: It's a chore to answer the simple "what's that out my window" question.
Well, it was. Enter the free, geeky, and delightfully informative Flyover Country App…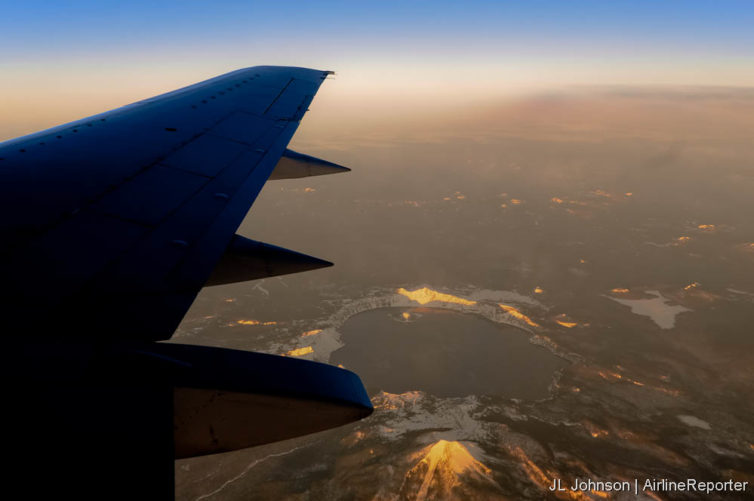 Flyover Country app background:
Flyover Country is a free app available for most devices and in most stores. "Free" typically comes with various caveats on app stores. Readers will be pleased to know Flyover Country it is not ad supported. It's also not "freemium" (free at first with paid-upgrades.) Instead, the project receives funding in part via grants from the National Science Foundation. "[The] NSF saw the app as a way for them to get some of the wonderful publicly funded science […] back into the hands of the general public," says Shane Loeffler, project lead, and University of Minnesota earth sciences academic.
I asked Shane about his reasons for creating the app:
Looking out the airplane window became a bit of an obsession of mine (it's about the closest to going to space that I'll ever get!) The view was always amazing, and as an Earth Scientist, I had a special lens that I could interpret the stories and history of the landforms I was seeing below. Most people glancing out the airplane window don't have that lens to interpret the view though, so they might be missing out on a lot of the splendor of the things they were seeing. I was good with technology and quickly came to the conclusion that some sort of app would be the perfect way to provide a way for people to take full advantage of the unique vantage point of the airplane window.
Flyover Country app walkthrough:
The Flyover Country app concept and design are impressive. No in-flight internet connection is required to experience all that the app has to offer instead, the app downloads and caches rich data on points of interest along a user-defined path. The key is to save the data while an internet connection is available. I typically find myself downloading data while seated and waiting for boarding to complete. Despite the app caching a wealth of knowledge, the overall data commitment is shockingly reasonable. For a recent flight from Aruba to Ft. Lauderdale, my cache was just 24 megabytes. That's roughly equivalent to a half-hour of "normal" quality music streaming storage-wise that is equal to a handful of smartphone photos.
Once in-flight, the user loads a saved path. The app determines location via the device's GPS and the user's location appears just as it would on any map service. Users will find items of interest highlighted in selectable orange circles. In explaining the app to friends and family, some were surprised to learn that GPS does not require an internet connection. Rest assured that GPS location determination works fine in airplane mode.
In the example above, we flew right over Musha Cay which I soon learned was David Copperfield's private island. The app provides detailed snippets in-frame, but full-text articles are available. Out of curiosity I read further and discovered Google co-founder Sergey Brin was married on Musha Cay in May 2007. Without the Flyover Country app's insights, Musha Cay would have been just another unnamed island we flew over.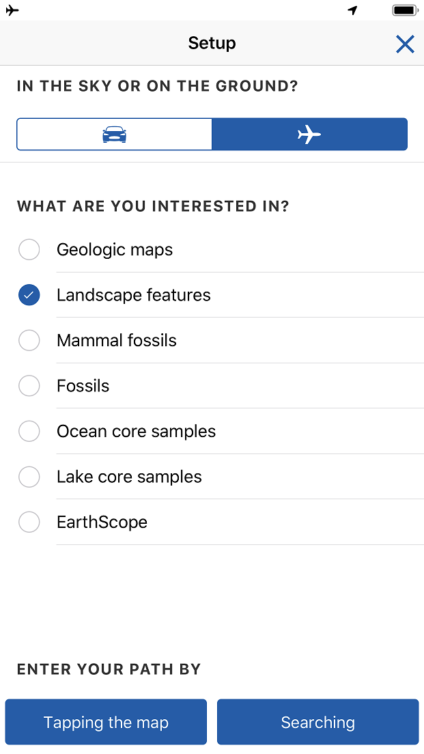 Pro-Tips for using the Flyover Country app:
Customize the datasets as per your taste: The option for landscape features is the must-have default choice for most users. Other datasets are available depending on your interests. My suggestion would be to start with all of the options selected and then see if they add value while in-flight. In speaking with Shane, they just released a new dataset, "volcanoes, [will be] great for public consumption. They're from the Smithsonian Institute and contain great pictures and brief descriptions of volcanoes from all over the world, even under the sea!" I have to admit; I'm excited to try that one out.

Take advantage of the bonus reading material: Included by default are articles concerning the identification of clouds and various geographic formations. The guides are well-written and genuinely entertaining.
Show some patience: Flight path entry isn't as easy as entering two airport codes. Choose cities or find the airports via their full names. The team says they are considering making entry by airport code an option. Here's hoping. It is worth noting that it is normal for GPS to drop or become inaccurate periodically during flight.
Consider "drawing" a wider path: The Flyover Country app defaults path width. Sometimes, such as in the case of AUA-FLL, the most optimized path (over Cuba) isn't the reality flown. American carriers sometimes avoid unnecessary Cuban flyovers. There was a brief period in which we flew over territory not in my offline cache due to our deviation. The easiest option for path definition is the entry of two points. Advanced users might consider drawing their paths with some overlap.
Flyover Country app final thoughts:
Your in-flight experience will fundamentally change after downloading the Flyover Country app. I have long said that staring out the window is my favorite form of in-flight entertainment. Flyover Country takes the IFE experience to a whole new level. Each new route and associated path brings new excitement and lessons to be learned.
Have you tried the Flyover Country app? We are anxious to hear about your experiences and discoveries. The creators will be following along so please leave your anecdotes in the comments below.