As I headed to the eighth annual Alaska Airlines Copper River Cook Off I was excited, but a little nervous about my story angle. For six years I shared a pretty similar story about the first Copper River salmon of the season being flown down from Alaska. How the huge (and delicious) fish is walked off the plane, cut up, cooked by a few fancy restaurants, and one dish is chosen as the winner. Do not get me wrong, I have loved every year participating, but I didn't want to be that guy, telling the same story over and over again.
Last year I was pretty darn lucky to get a chance to fly up to Cordova, Alaska, watch all the boats go out to get the fish, and follow the fish back to Seattle and into my belly. Even with all my airline adventures, I have to say flying with the fishies has been one of my favorites (flying with fishies good, sleeping with fishies bad).
Last Friday, I was still very sleepy when I got to the Alaska Air Cargo parking lot at Seattle-Tacoma International Airport waiting for this year's plane to land. I started chatting with Halley Knigge, Alaska Airlines Media + Content Editor, and she mentioned that Alaska was retiring their first 737-400 Combi (half cargo, half passengers, all 737) out of their fleet the following week (aka this week). Oh thank you once again AvGeek Writing Gods… I had my angle.
Okay, before we dive into the whole airplane thing, let's talk about the fish. Every year I hear the same stuff — either from Twitter, my stories, or even my family and friends — "who cares?" Sure. You can think that the fish is not that big of a deal. That it is not worth the price. That it is silly that so many people make a big deal when it is first flown to the mainland. But guess what? It is still big business.
From the family fisherman out there, to the processors, shippers, distributors, stores/restaurants, to the customer; as long as there is a demand, a solid supply, and a large gap between the two, air cargo is going to be an important part of the equation. And look how we nicely transition into talking about the 737-400 Combi, which I think is the coolest part of getting that fish onto my plate.
The first 737-400 Combi to say goodbye is N762AS. Its last revenue flight was on May 19th from Anchorage (ANC) to Cordova (CDV) and then it officially retired yesterday, the 25th. This aircraft started life as a 737-400 passenger plane delivered to Alaska on July 27, 1992. Then in 2007, it was converted over to a Combi. Now, almost on its 25th birthday, it will start its next adventure.
This is the first of five Combis that will end up retiring this year.  Three more will go this summer and the final one is expected to be retired in September. But do not fear, these bad boys have some life left in them. They will be flown up north to Canada and will be converted to full-on freighters and continue to move cargo around the world (maybe not Copper River Salmon though).
Obviously Alaska Airlines still has cargo needs. Soon, they will be taking delivery of the world's first converted-to-cargo Boeing 737-700 aircraft. The first is expected to join the fleet near the end of June and the rest not too long after.
Moving cargo to and from Alaska is important. Not only to get their seafood around the world, but to also make sure goods are getting to the people of Alaska.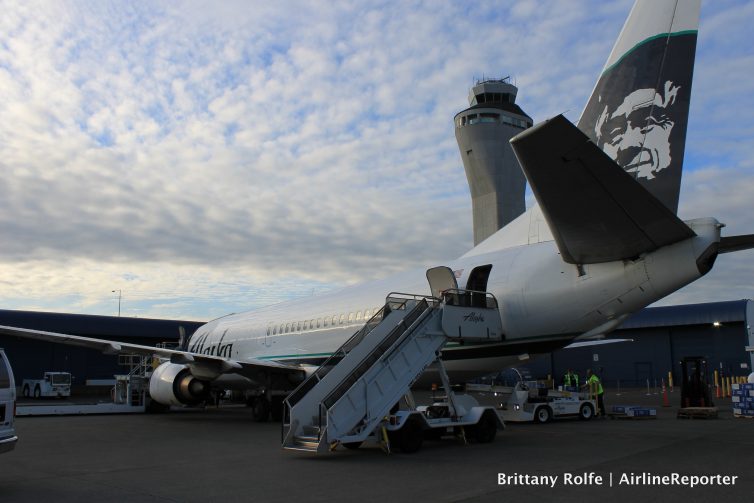 If you want a shot at flying on one of these birds, you'd better hurry. And this is great timing, since the state of Alaska is pretty well known for being beautiful this time of year!
See more photos of the 2017 Copper River Salmon event (taken by the awesome Brittany Rolfe)