We are a go! The merger between Alaska Airlines and Virgin America is official. To help celebrate, and welcome new members to the family, Alaska created a special "More to Love" livery on one of their Boeing 737-900ERs. What better way to bring two airlines together?
It is not a big surprise that the merger finalized, but the journey wasn't exactly easy. Although many questions still remain, when things are said and done, the new combined airline will have about 1,200 daily departures to 118 destinations, with hubs in Seattle, San Francisco, Los Angeles, Anchorage, Alaska, and Portland, Oregon. They will also have a fleet of about 286 aircraft — the future of the Airbus fleet has not yet been finalized.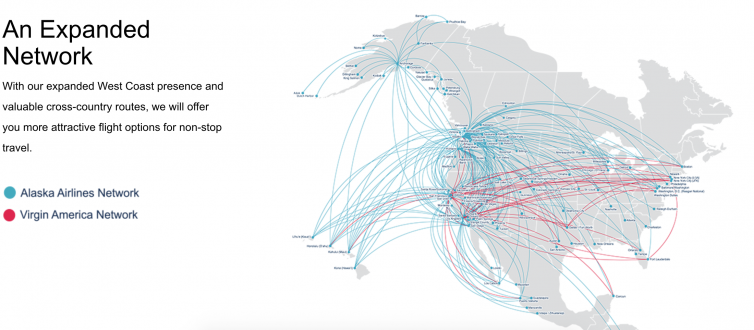 The rumors of Alaska merging or being bought out have been going on since I can remember. Because Alaska is my hometown airline, it has a special place in my AvGeek heart. I am happy that this move better positions them to survive for the long-term.  However, it is hard because I also love Virgin America.
When Virgin America first started operations in 2007, they were no question my favorite airline to fly. However, time went on and other airlines caught up. Even though they still offer a competitive product, it doesn't have the excitement that it once did and the purple lighting only goes so far.
Although Alaska doesn't fully know what it will do with the Virgin America brand, my guess is it won't be around for the long-haul. That might make good business sense, but it will be a loss for the airline industry.
Although Alaska has stated it wants to integrate Virgin's culture into their own, they are pretty different. "Their brand is more edgy. Sometimes people think of us as conservative and stiff," something Andrew Harrison, Executive Vice President and Chief Commercial Officer said during an interview with Brett Snyder on CrankyFlier.com. Maybe Virgin America will help Alaska become one of the cool kids. But is that something that passengers want?
Many questions still remain with this merger. It will be interesting to not only see how the cultures will combine, but also the fleets, products, customers, and routes.
I understand the excitement, fear, and sadness that many have about any airline merger. There are almost 3,000 employees at Virgin America who might have a bit more fear about what's next. But as we all know, the airline world is forever changing and airlines come and go. Some with smiles, others with tears. Many with both. I hope this one works out best for everyone and I look forward to hearing more about the details of this merger.
What do you think of this merger? Good deal? Bad idea?