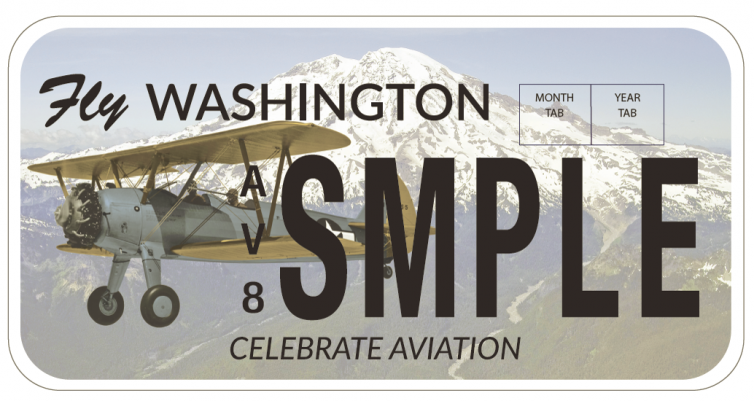 One of the things that I love most living in Washington state (especially Seattle) is all the aviation. It is hard to think of a place that has more of an aviation culture — heck Seattle is even called "The Jet City." What better state to have a special aviation license plate? With your help, we might be able to make this a reality. If you live in Washington or you know of an AvGeek that lives here, it is time to make a difference in the aviation community (and to your car).
The State of Washington's Department of Transportation Aviation Division (yes, that is a thing) is working with several aviation organizations, represented by the Washington State Aviation Alliance, to make a specialty license plate that celebrates aviation in Washington. The concept of the plate can be seen above and shows a Boeing-Stearman Model 75 flying in front of Mount Rainier. Very fitting if you ask me, plus I like the "AV8" vertical letters chosen.
A big chunk of the funds raised will support aviation-specific initiatives such as airport infrastructure improvements to support statewide disaster response and recovery operations; economic development opportunities to enhance public access to airports; and statewide aviation awareness programs that promote public participation at airports. If you have other ideas, put them in the comments… I will be sure they see them.
%CODE1%
A minimum of 3,500 signatures are needed before the specialty license plate can be considered by the state's Legislature in 2017 (they need about another 400 at the time of writing this). I want to give a big shout-out to Washington state Representative Tom Dent (representing the 13th district) who is the one backing this plate!
I know we have readers all over the world, but I am calling on those of you in Washington or those who know people that live here to sign this petition. How realistic is it that this is happening? I am told "very." They just need to first need to show the demand… so let's do that (but please no cheating the system)!
SIGN THE ONLINE PETITION NOW >>>