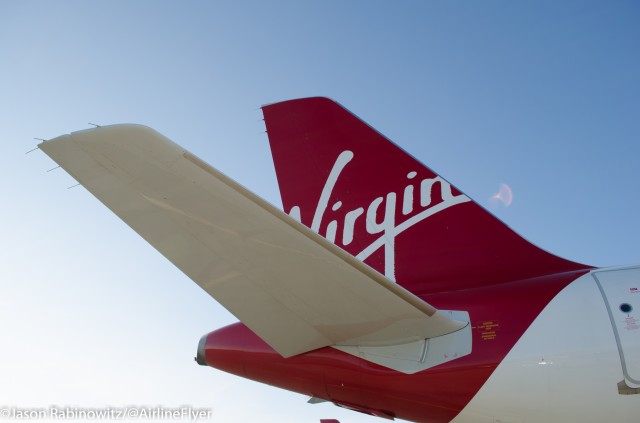 I talk about airlines and airplanes a lot; it's a part of who I am. Fairly often, my conversations about such topics end up on Virgin America. At this point, I am forced to divulge the fact that I had never been on Virgin America, a statement which is often met with a blank stare followed by the response, 'œreally?'
Most of my domestic flights are on JetBlue and Delta, simply because of their much larger route network out of New York, where I am based. When I finally had the opportunity to give Virgin America a try, I immediately jumped at the chance. I flew from New York's John F. Kennedy International (JFK) to San Francisco (SFO) and back in 12 hours as part of a media event, so travel was paid for by the airline (note: the airline paid for my trip, but all opinions are my own).
At JFK, Virgin America is based out of Terminal 4, which mainly houses international carriers. Virgins gates are in the A concourse, which is simply not where you want to be. With extremely limited restaurant and shopping options there, you will want to spend as little time as possible at the gate. Thankfully, Terminal 4 is undergoing a massive renovation which will remedy this issue. The terminal is in the process of unifying the two security checkpoints, and when complete, passengers will have access to a markedly wider selection of restaurants and shopping.
Virgin Americas gate at JFK T4 does not stand out in any way over any other domestic airline. There is no fancy seating, no nice lighting, and not so much as power outlet in sight. However, the instant you board the aircraft, things immediately start to change.
Most passengers will quickly notice the colorful mood lighting, which is a great upgrade from the typical dim white fluorescent tube lighting.  At first it might appear the lighting is all LED, like we are seeing in new Boeing interiors, but it is actually a combination of fluorescent tubes and white LEDs with a color gel on them.
It's warm, inviting, and just overall pleasant. Once settled, I found the seat to be quite comfy. The adjustable head rest is a great addition to the black leather seat. At 6'2'', legroom was not an issue, as I had room to stretch, something becoming increasingly rare in economy.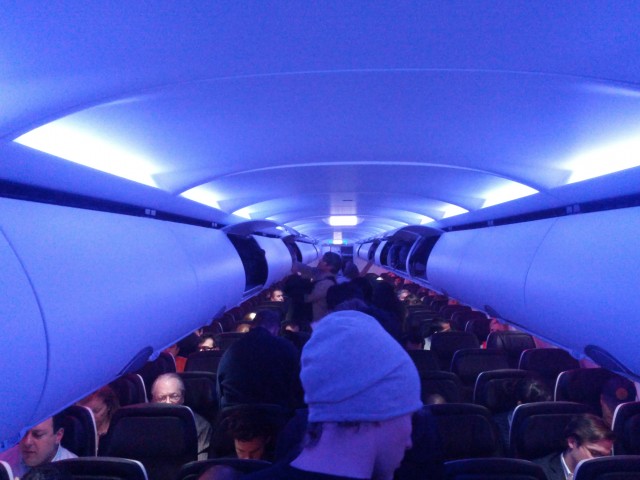 Virgin America features one of the most advanced in-flight entertainment systems I have ever used, and I took this opportunity to put it to the test. The system, called RED, features movies and TV shows on demand, live satellite TV, food and drink ordering, and other information features. What I liked most about the system was how responsive it was. I never encountered any lag in the system, which makes the user experience quite enjoyable. I was thankful that the live TV was free, as I found the other selections a bit too expensive for my taste.  The satellite TV selection is limited to 18 channels compared to 36 on JetBlue, and certain channels did not work, but I was always able to find something to watch.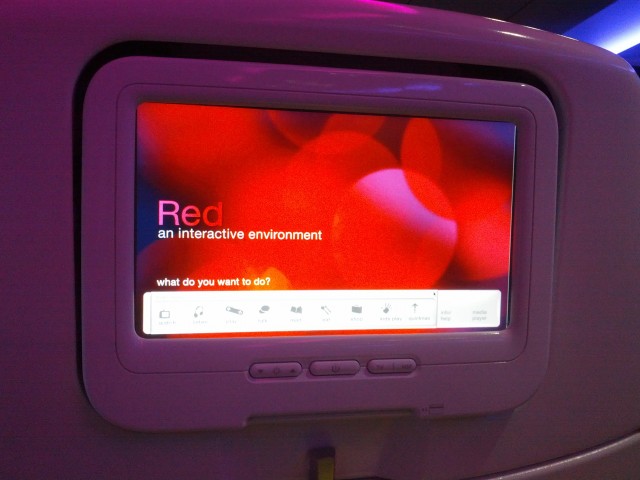 One thing that did irk me about the entertainment system was that there seemed be a lot of features that either didn't work, or weren't yet available. For instance, on the main menu there is a button labeled 'œread,' but when clicked, a message told me that the feature is not yet available. A feature that is not yet activated should not be displayed as an option to the passenger.
I was able to follow up with Virgin American and they explained to AirlineReporter.com that they are, replacing the Read section with an Info Section, "that includes static content that will be updated every six weeks, but that relates to travel, destination and other info that is more 'evergreen' and that fits better with what guests want to engage with in-flight."
Similarly, I had some issues with the program guide for the live TV. I would click on it and an error message would appear. That must have just been an isolated instance.  Additionally, I would like if some on-screen reference was made to the tethered remote in the armrest. Had the passenger next to me not removed it first, I probably would never had known it could be moved.
My favorite part of the Virgin America experience was probably the in-flight ordering process. Virgin has done away with the traditional cart down the aisle system, and instead passengers order what they want through their screen and a flight attendant delivers it. I was extremely impressed at how simple the ordering process was, and how quickly items were delivered. If I could change one thing, it would be the inclusion of any free food option, even if just a small bag of chips. All food is purchase only in economy, no freebies except for drinks.
Once arriving to SFO, I made my way to my hotel and did not really check out the terminal. The following day, I made an effort to arrive at SFO early in the morning and was relieved to discover how beautiful Virgin America's terminal was. Wide open spaces, bright, restaurant choices to satisfy even the most picky of eaters. This terminal clearly reflected Virgin's attitude.
Unlike the terminal at JFK, SFO features lovely seating areas, classy furniture, free wifi and power outlets everywhere. These upgrades go a long way when it comes to unwinding after passing through security, and I wish any of these features were present at JFK.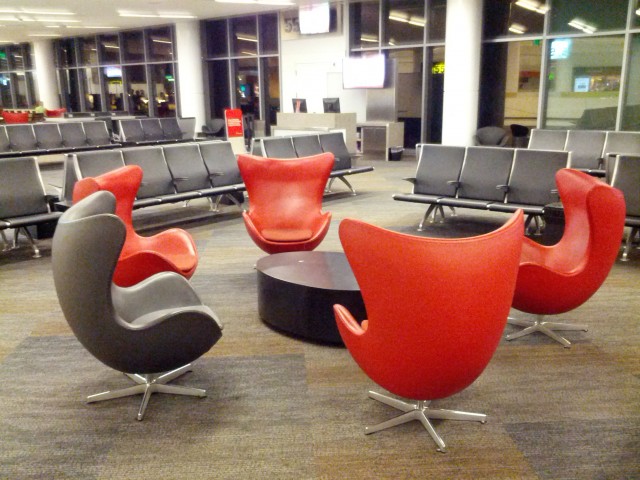 Now that I have finally flown Virgin America, I can give an honest opinion of this high-tech, feature packed airline. While the airline did not disappoint, I'm not sure I would pay a premium over other airlines such as JetBlue for the privilege. The entertainment system may be more advanced and the mood lighting may create a brighter atmosphere, but overall, I felt the overall experience was different, but comparable. However, when compared to some legacy carriers that fly the route, I would absolutely consider upgrading to Virgin America.
The flight from SFO to JFK was a special media flight to fly the San Fransisco Giants World Championship Trophy to New York… stay tuned.
This story written by… Jason Rabinowitz, Correspondent.

Jason is a New York City native who has grown up in the shadow of JFK International Airport. A true "avgeek", he enjoys plane spotting and photography, as well taking any opportunity he can get to fly on an aircraft.

@AirlineFyer | FaceBook |