I am an AvGeek that happens to write for AirlineReporter.com. Now, being a correspondent, I have access to connect with airline and Boeing PR people to get confirmations on things like deliveries, but recently, I tried some old fashion AvGeek-ness to try to find out how many 787s did Boeing really delivered recently.
On Thursday the 20th December I noticed a tweet pop up from @boeingairplanes that sparked my interest:
I had seen the flight line at Everett a bit over the last few weekends and there was a number of 787s all lined up ready to go and I knew that they had been doing plenty of test flights lately to push those 787s out before the end of year break.  I decided to dig a bit deeper.
Consulting several sources including Flightaware for both Paine Field & Charleston AFB, where the two 787 factories are located, it was evident that this was entirely possible.
At that first stage only be four deliveries: three from Everett and one from Charleston.  Where were those missing two?  I was able to track the following deliveries:
I was starting to think that the other missing two must have been just financial deliveries. Then, on Friday the 21st another Tweet appeared: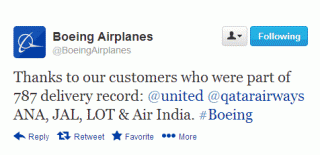 Hmm, I felt it  was time to get some official confirmation from Boeing.  Scott Lefeber from the Boeing 787 Communications team confirmed via email that a total of 47 787's had been delivered to date, and that a 787 delivery record had most definitely been broken;  The record for the most amount of 787 aircraft ever delivered in one day.
At the time of publishing (I will update the story when I find out), Lefeber is unable to get confirm exactly how many were delivered. In question is a second787 for Qatar that had popped up on Flightaware while we were emailing.
By days end it was evident that a total of seven 787s were being delivered in the span of 36 hours.  With the four deliveries listed above there was also:
It was great to see a fantastic accomplishment by the Boeing team with managing to get so many aircraft delivered in such a short time frame. Seven aircraft to six of the eight current operators is a good record.  With all the bad press that has come about in the 787 program as of late, it is good to see something positive for once. Just in time for the new year.
| | |
| --- | --- |
| | This story written by…Malcolm Muir, Lead Correspondent. Mal is an Australian Avgeek now living and working in Seattle. With a passion for aircraft photography, traveling and the fun that combining the two can bring. Insights into the aviation world with a bit of a perspective thanks to working in the travel industry.@BigMalX | BigMal's World | Photos |