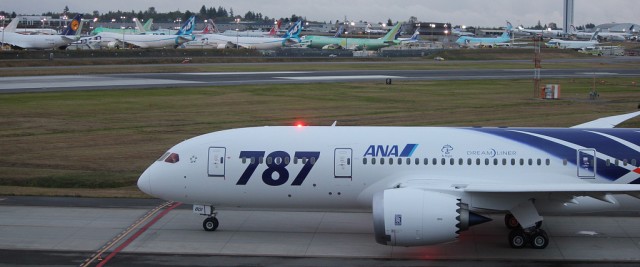 TOKYO June 19, 2012 '" ANA today announces an adjustment to its order for Boeing 787 Dreamliners. The four B787-8 aircraft due to be delivered from fiscal year 2013 onwards will now be replaced by B787-9 aircraft. The decision to order more of the larger 787-9 variant will give ANA greater flexibility as it expands its international route network. The total number of aircraft on order remains at 55, split between 36 B787-8 aircraft and 19 B787-9 aircraft.
ANA is the launch customer for the Dreamliner and has so far taken delivery of seven of the 55 aircraft. The aircraft has entered service on domestic Japanese routes and Haneda – Frankfurt since last autumn. ANA plans to launch long-haul 787 services from Tokyo to Seattle and San Jose on the US West Coast in the current fiscal year.
Note: This is pulled directly from ANA's Press Release. This post will not show up on the blog's homepage and will not show up in syndications… you need the direct link to access.