How does an airline get a plane made to fly only about 3,000 miles from Seattle, WA to Kigali, Rwanda? I am not really sure, but I bet it involves a lot of fuel stops. This Thursday, RwandAir is set to take delivery of their first Boeing 737-800 with Sky Interior. The airline is very excited to operate the first Boeing aircraft with Sky Interior in Africa. The new interior option is a feature for 737s that gives it an updated look. I have previously had the opportunity to fly from Seattle to Dallas to check out the Sky Interior with American Airlines and was very impressed. Now, I will have the ability to experience the Sky Interior and RwandAir's newest 737 for a bit longer, since I am lucky enough to be invited for the ride from Seattle to Rwanda.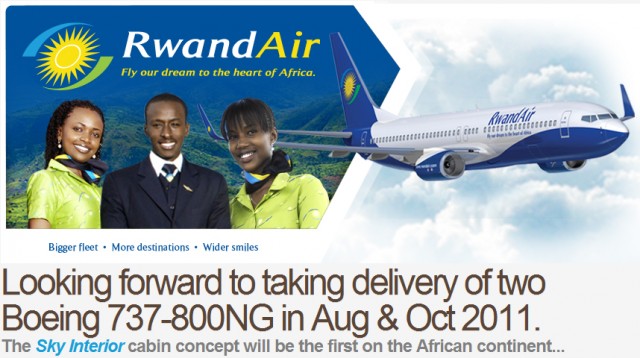 The 737-800 will leave Boeing Field at about 11am on Thursday and we are supposed to land in Kigali sometime during Saturday. This is going to be a long flight for sure and one probably only an airline geek could love. What is it going to be like to ride in an airplane half way across the world that is designed to barely fly across the US? I am not sure, but I feel an adventure coming on.
At this point, I do not even know what route we will take. I am assuming we will fly over to the eastern side of the US, then over to Iceland and Greenland before getting to Europe. I know that we will be stopping in Istanbul, then down south to Rwanda. Anyone want to take a guess to the exact route (I will update this post with FlightAware tracking information when it is posted)? You better believe I will be taking a lot of photos and sharing some stories when I am done. Until then, I will be running some guest blogs and pre-written content.