This is a guest blog from Dan Webb, who writes his blog Things In The Sky. Here are his thoughts on JetBlue at Washington's National Airport:
Many thanks to David for inviting me to share a guest post while he's busy having an awesome time in Mexico. In my blog, I often enjoy writing about and analyzing airline strategy. So, when JetBlue announced its schedule for Washington-National Airport, I figured it'd be a perfect topic. 
The carrier announced that it will begin service from Boston to Washington's National Airport seven times a day, in addition to one flight each to Orlando and Fort Lauderdale, all starting on November 1. This move is part of JetBlue's recent announcement of a partnership with American Airlines, which includes an interline agreement between the two carriers, and two slot swaps. JetBlue is giving some JFK slots to American, and in exchange American is giving JetBlue eight slots at National. JetBlue received a ninth slot after petitioning the FAA for the use of an unused slot pair. JetBlue stands to grow more at National as well, if the FAA approves the slot swap compromise suggested by US Airways and Delta, part of which includes US Airways transferring five slots to JetBlue. 
So why does JetBlue want to fly Boston to National? Because fares there are frickin' high! I delved into some DOT air fare data for the third quarter of last year, the latest data that is currently available. I was surprised to find that JetBlue had the highest market share in the Washington market, with a 32.2% market share and an average fare of $118.15. But the data set I looked at was for all of Washington, so both Dulles and National were included. Fortunately, another data set divides it by airport, so I looked in there, and threw Baltimore into the mix as well. It becomes apparent why JetBlue would like to get in on the action here. The airline is hoping that lower fares (they advertise that theirs will be 73% lower than before they announced the route) will stimulate demand.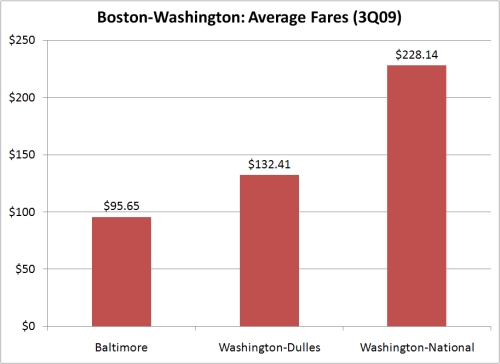 So I'm currently wondering a few things. First, what does this mean for JetBlue's existing service at other airports? The airline has been flying to Dulles for awhile, and started flying to Baltimore after Southwest announced the route, and AirTran is a player there as well. As one might expect, fares have been pretty low. Right now, JetBlue is planning to maintain its service to these airports. In November, flights to Dulles go from seven to six dailies, but the airline tells me that is part of a normal seasonal reduction, and the airline is actually flying one more winter flight to Dulles than it did last year. 
I'm also wondering how US Airways will respond here '" if at all. The airline is currently running hourly flights between Boston and Washington with Airbus A319 aircraft, so its schedule is definitely more convenient than JetBlue's. And JetBlue isn't throwing a huge amount of capacity into the market with seven frequencies, and plus all of its flying out of National will be with Embraer 190s. Right now, we haven't seen US Airways make a move '" it hasn't matched JetBlue's fares at all here, which is odd in comparison to its quick matching of Southwest's Boston-Philadelphia fare. So we'll have to see what happens with fares and if US Airways thinks having A319s is still worth it. (LaGuardia service is now flown with Embraer 190s). Perhaps some of the flying here is by business travelers whose companies have contracts with US Airways, but we'll see.
Meanwhile, there are a couple of other carriers on the route. American flies ERJs, and Delta flies a mix of mainline and regional aircraft. It will be interesting to see what they do. They could have some decent corporate flying here as well, but I wonder how they will adjust with a new competitor on the route. When JetBlue (and Southwest) announced Baltimore flying, Delta quickly dropped the route. 
Whether it be changes by JetBlue, US Airways, American, or Delta, we still have plenty of time to sit and watch. Since we're just about six months away from the start of service, there's still plenty of time for the airlines to adjust their schedules as they analyze bookings. 
But enough about Boston. Let's quickly talk about Ft. Lauderdale and Orlando. Fares in these markets are not nearly as high as with Boston-Washington, and the differences between fares at National, Dulles, and Baltimore are far less. That can probably be traced to the presence of low cost carriers at National on these routes '" Spirit flies to Fort Lauderdale and AirTran flies to Orlando, and US Airways flies to both. So why fly there? One reason is probably connecting opportunities '" both flights offer easy connections to JetBlue's Caribbean destinations. And I do think JetBlue could compete product-wise here. For example, I would say that JetBlue's domestic product is far better than Spirit, so informed consumers might be willing to pay a bit more to fly on JetBlue. 
On a side note, this move by JetBlue should send a message to the DOT/FAA when it comes to the slot swap proposed by US Airways and Delta. This move by JetBlue and American shows that carriers can and will engage in slot transactions on their own, without government interference. 
Anyway, I hope you enjoyed my post. If you enjoyed it, it's pretty normal for my blog. I'd love for you to visit at ThingsIntheSky.com!