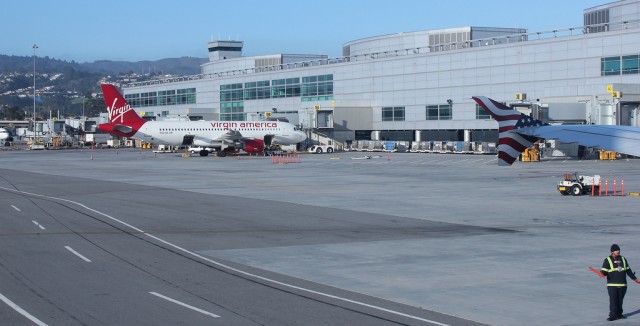 Directly from Virgin America's Press Release:
San Francisco '" June 11, 2012 '" Virgin America, the award-winning U.S. airline, announces today that it is requesting U.S. Department of Transportation approval to place the Virgin Australia code on Virgin America services from Los Angeles to Boston, Chicago, Dallas, Fort Lauderdale, Philadelphia, Portland, Seattle and Washington D.C.  Once approved, this will be the first-ever codeshare agreement for the California-based carrier, building on a 2009 interline agreement with Virgin Australia that paved the way for a more seamless travel experience for guests flying between Australia and the U.S. This will offer seamless booking on a single ticket for guests traveling from Australia to multiple destinations in the U.S.  Virgin America's recent move to a new reservations system allowed the carrier to initiate this first codeshare alliance as well as significantly expand its interline partnerships in recent months.
'œWe believe this partnership will be welcomed by travelers on both sides of the Pacific, especially our most loyal guests '" those who seek out the upscale service and amenities that the Virgin branded carriers are known for around the world,' said Diana Walke, Virgin America's Vice President of Planning and Sales. 'œWith touch-screen entertainment, an international grade First Class, a premium Main Cabin Select product and an award-winning Main Cabin '" our product offerings are uniquely matched to Virgin Australia.  With this new partnership, U.S.-Australia travelers will be assured best-in-class guest service in three well-aligned classes of service '" throughout their journey.'
Earlier this year, Virgin America announced an enhancement to its Elevate® frequent flyer program that allows members to earn and redeem  points across the combined route network of the Virgin family of carriers.  And last month, all three award-winning Virgin airlines '" including Virgin Atlantic '" joined forces for the first time ever to launch a joint entertainment, digital and out-of-home 'œVirgin Skies' advertising campaign to convey the unique Virgin in-flight experience in the Los Angeles market and mark the airlines' global frequent flyer partnership.  The centerpiece of the campaign includes the creation of an independent short film shot entirely on three commercial Virgin flights while at 35,000 feet.  For more on the campaign, including behind-the-scenes footage from the filming, visit: www.flyvirgin.com/#film
'œThe United States is a very important market for Australia; it is the third most popular international destination for Australian visitors and our fourth biggest source of overseas visitors to Australia,' said Virgin Australia Group Executive of Alliances, Network and Yield Merren McArthur.  'œToday's announcement means Virgin Australia guests can connect seamlessly to key leisure and business hubs and earn frequent flyer points and status credits in the process.'
The new codeshare agreement will not change the airlines' existing interline agreement, through which guests already enjoy a seamless 'œVirgin' experience at Los Angeles International Airport (LAX).  Under the codeshare, guests will check-in once and receive all their boarding passes. Domestic to international connections at LAX are within the same terminal (Terminal 3), so guests traveling from the U.S. to Australia do not have to re-clear security.  Both airlines will transfer baggage between connecting flights and to guests' final destinations '" with customs clearance of guests and bags still required for travelers coming from Australia to the U.S.
Note: Press Release posts do not show up on the blog's homepage and will not show up in syndications… you need the directly link to access.